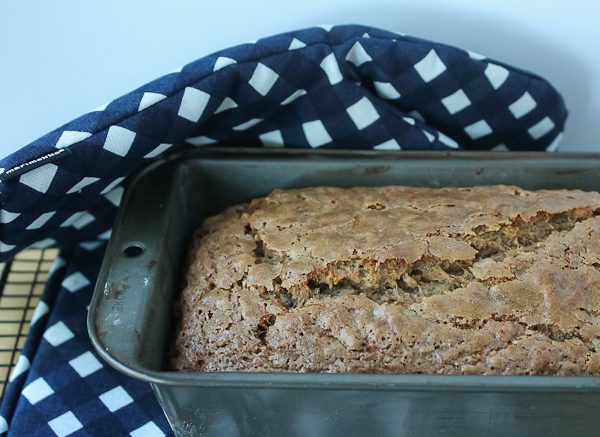 He had me at cardamom and brown butter.  Put those two together with bananas and you have a marvelous complex flavor.  The ever-popular Christopher Kimball of his new Milk Street Kitchen, has many more recipes to come.  Go to his site and read about his exciting new venture!
Back to this marvelous banana bread.  It really is one of the best I have ever tasted.  Of course I am very partial to cardamom since I am lucky enough to have my daughter bring me back the spice direct from Finland.  It's better than any I have found here.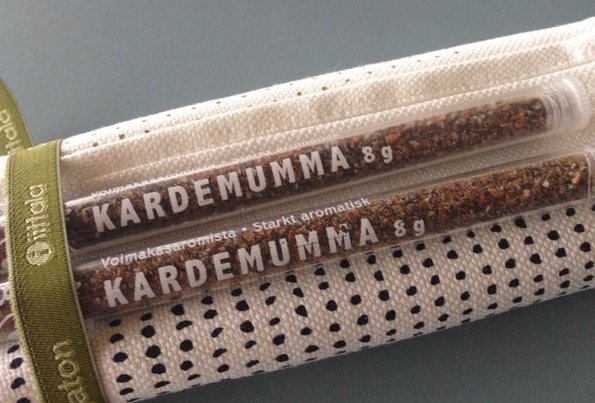 Also notice the Marimekko oven mitt and pot holder in the first photo from Finnish cousin Leena, who is an incredible baker.  Finns are known to be wonderful bakers and use cardamom frequently.  In this bread, butter is melted and simmered until browned and fragrant then the cardamom is whisked in to bring out its spicy aroma.  You will want to stick your face in the pan!
The bread is so easy to make and makes one 9-by-five-inch loaf.  The recipe says it is optional to sprinkle a tablespoon of sugar on top, but don't make it optional – do it!  It makes the top crunchy, shiny, and delicious.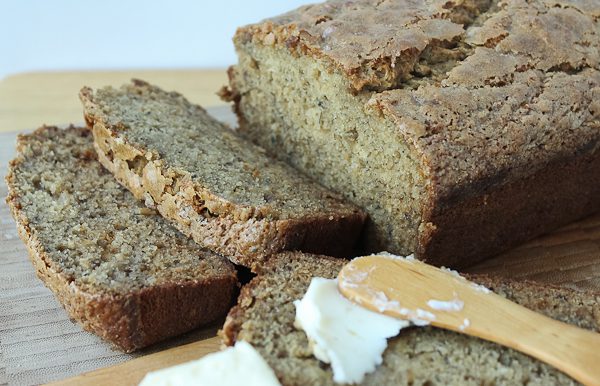 Brown Butter-Cardamom Banana Bread
Author:
Christopher Kimball
Ingredients
2 cups (10 ounces) all-purpose flour
1 teaspoon baking powder
1 teaspoon baking soda
1 teaspoon kosher salt
8 Tablespoons (1 stick) salted butter
1-1/4 teaspoons ground cardamom
2 cups mashed bananas (about 4 large very ripe bananas)*
¾ cup packed (5-1/4 ounces) dark brown sugar
2 large eggs
2 teaspoons vanilla extract
1 Tablespoon white sugar (optional) **
Instructions
Heat oven to 350 degrees F. with a rack in the upper-middle position. Mist a 9-by-5-inch loaf pan with cooking spray. (I am old-fashioned; I still grease and flour pans!)
In a large bowl, whisk together the flour, baking powder, baking soda, and salt; set aside.
In a medium saucepan over medium heat, melt the butter. Once melted, continue to cook, swirling the pan often, until the butter is fragrant and deep brown, 2 to 3 minutes. Remove the pan from the heat and immediately whisk in the cardamom. Carefully add the bananas (the butter will sizzle and bubble up) and whisk until combined.
Add the brown sugar, eggs, and vanilla, then whisk until smooth. Add the banana mixture to the flour mixture and, using a rubber silicone spatula, fold until just combined and no dry flour remains.
Transfer the batter to the prepared pan and sprinkle evenly with the white sugar. Bake until the loaf is well-browned, the top is cracked, and a toothpick inserted in at the center comes out clean, about 50 minutes, rotating the loaf halfway through.
Cool the bread in the pan on a wire rack for 15 minutes, then turn out the loaf and cool completely before serving. Cooled bread can be wrapped tightly and stored at room temperature for up to 4 days or refrigerated for up to 1 week.
* Don't measure the bananas by number, as differences in sizes can throw off the balance of ingredients. Mash and measure using a dry measuring cup. I actually used 5 bananas.
** I know he says optional for sprinkling on the sugar, but be sure and do it. It makes the top crunchy, shiny, and so good!