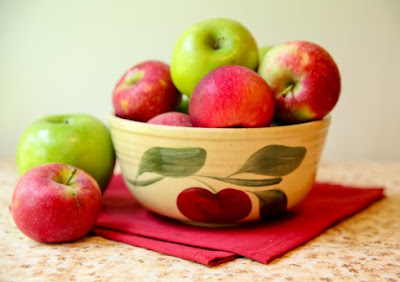 Classic apple crisp is always a favorite when Fall baking begins.  No better time than now to start baking with apples because October is National Apple Month.
This is my go-to recipe for apple crisp.  It's so simple and delicious, not to mention the aroma is intoxicating!  The cinnamon-sugar mixture caramelizes while baking and the oatmeal mixture on top gets nice and crispy.  The crisp can be served warm, room temperature, and it's even good cold if you have any leftovers.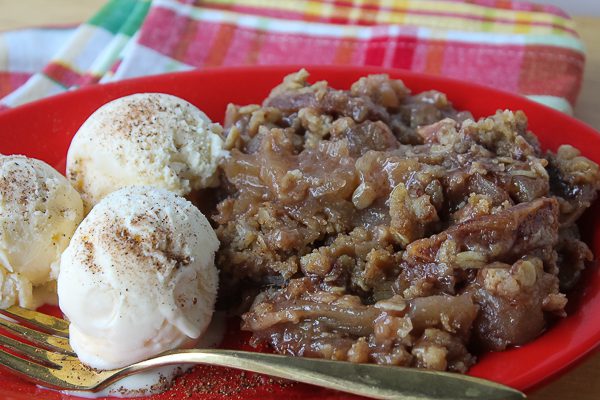 I like to sprinkle a little nutmeg on the vanilla ice cream for added flavor.  You could also serve the crisp with whipped cream if you prefer it over ice cream.

Comforting Apple Crisp
Ingredients
Softened butter for coating baking dish
About 6 to 8 Granny Smith apples, depending on size. (or use your favorite apple variety)
1 cup white granulated sugar
1 teaspoon ground cinnamon
½ cup packed light brown sugar
½ cup all-purpose flour
½ cup old-fashioned rolled oats (not quick-cooking or instant oatmeal)
½ cup cold butter, sliced into small pieces
Vanilla ice cream (or whipped cream) for serving
Ground nutmeg (optional)
Instructions
Heat oven to 350 degrees F. Butter a baking dish (about 2-1/2 quart) with softened butter; set aside.
Peel, core, and slice apples rather thin. Pile into the prepared baking dish.
Stir together the 1 cup sugar and cinnamon in a small bowl. Sprinkle mixture evenly over the apples in dish, shaking the baking dish slightly so some of the mixture seeps down; set aside.
In a medium mixing bowl, stir together the brown sugar, flour, and oats. Using a pastry blender, cut in the ½ cup cold butter pieces until coarse crumbs form. Sprinkle evenly on top of sugared apples in baking dish.
Bake for about 50-55 minutes until bubbly and top is nicely browned. Let set a few minutes before serving. Serve warm with scoops of vanilla ice cream sprinkled with a little ground nutmeg, if desired.
The crisp is good warm, room temperature, and even cold. Whipped cream can be substituted for ice cream, if desired.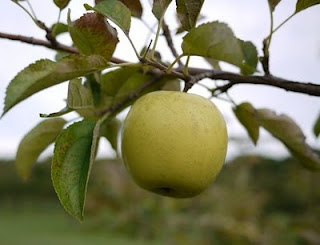 Here are some fun apple facts!