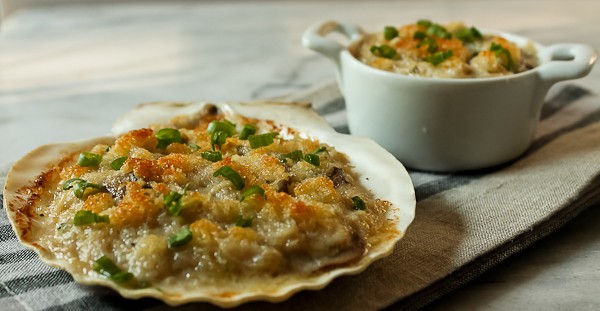 I love crab anything, especially Dungeness crab that I learned to love when I lived in the San Francisco area long ago.  I loved watching the crabs being prepared at Fisherman's Wharf and even liked the pungent seafood smell while walking around.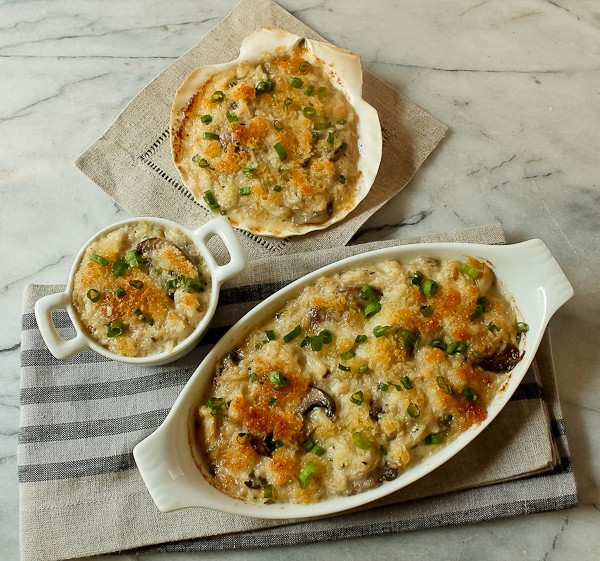 In fact, I bought those shells and gratin dishes at Cost Plus in Fisherman's Wharf decades ago and they are still in great shape.  The tiny pot is from Italy; it's only about two bites worth of something, but very cute for appetizers of all kinds.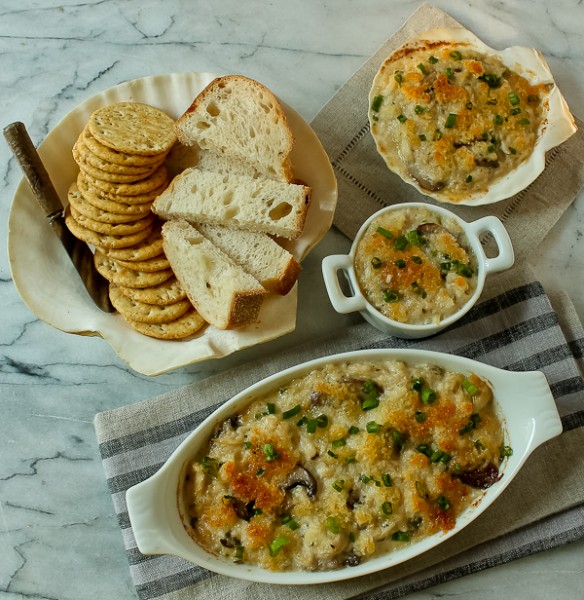 Serve the crab hot with crusty bread or crackers for an easy and comforting appetizer to bring in the New Year.  There are dozens of variations on hot crab dip to be found.  This happens to be one a neighbor gave me when I lived in California and Dungeness was abundant and inexpensive at that time.  It's pricier now, so use your favorite crab, but please, not the imitation stuff!

Crab au Gratin
Ingredients
1 cup fresh crab meat
1 cup sliced fresh mushrooms
2 green onions, sliced
1-1/2 Tablespoons butter
2 teaspoons cornstarch
2 Tablespoons water
½ cup heavy cream
1 Tablespoon dry white wine
1 Tablespoon freshly squeezed lemon juice
¼ teaspoon salt
¼ teaspoon dried thyme
⅛ teaspoon white pepper
⅛ teaspoon cayenne pepper
1 Tablespoon fresh bread crumbs
1 Tablespoon grated Parmesan
1 Tablespoon melted butter
2 teaspoons chopped parsley
Instructions
Flake crab meat in a bowl and make sure there are no shell pieces; set aside.
In a skillet, saute mushrooms and green onion in the 1-1/2 Tablespoons butter. Add crab and heat through.
In a small cup, stir together cornstarch and water; add to crab mixture. Add cream, wine, and lemon juice.
Cook, stirring constantly, until thickened and smooth. Blend in seasonings; taste and adjust if necessary.
Divide among desired size containers.
Combine bread crumbs, Parmesan, and melted butter; sprinkle over crab. Place under preheated broiler for about 3 or 4 minutes or until lightly browned and crispy. Serve with crusty bread or crackers. Serves 4 as an appetizer.