Puffy baked pancakes are popular in many cultures.  The batter is almost like any pancake batter but poured all at once into a hot pan and baked instead of making into individual pancakes in a skillet.  The secret is to make sure the pan is very hot before pouring in the batter; that's how the wonderful crispy edges are formed.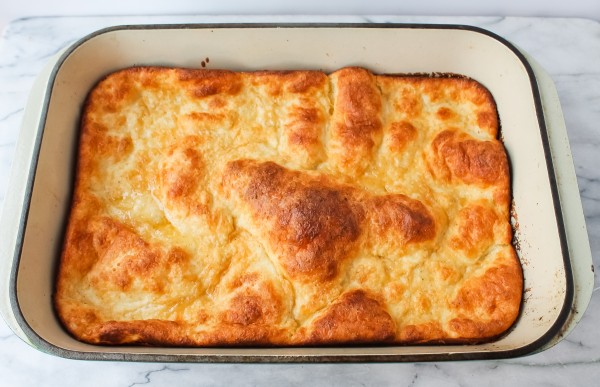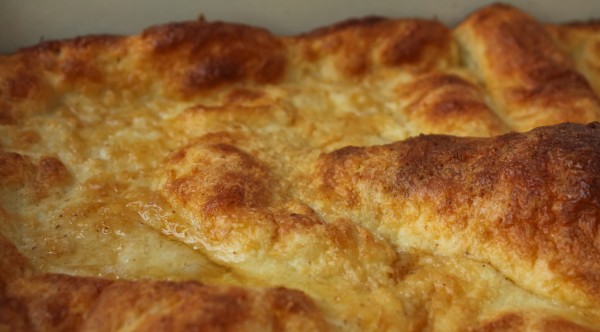 Oven pancakes are easy to make and can be topped with a variety of breakfast items.  Finns like it topped with lingonberries and powdered sugar.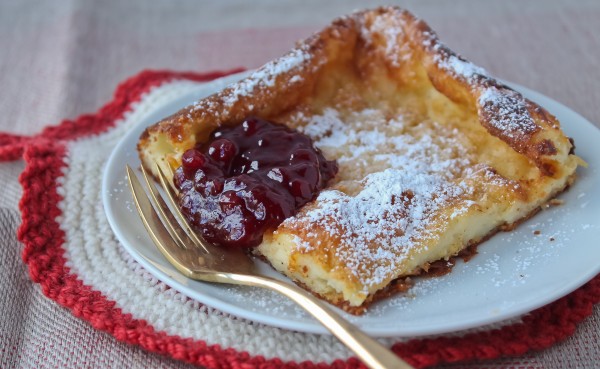 My husband Bill likes his kropsu with breakfast sausage and maple syrup.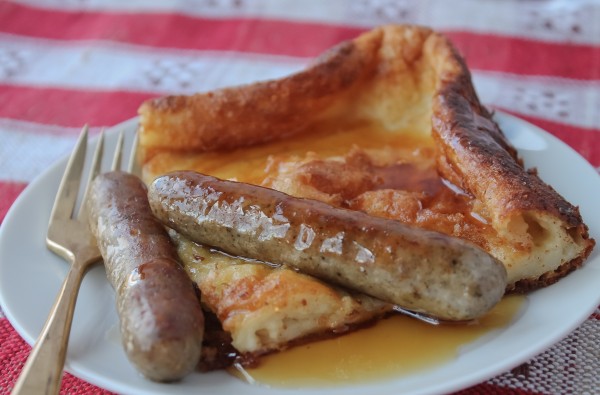 It can also be topped with sautéed cinnamon apples, pears, strawberries, or other berries, or whatever you like on skillet pancakes.  Here is the family recipe I was given years ago from a Finnish relative in the Upper Peninsula of Michigan.  It's a keeper!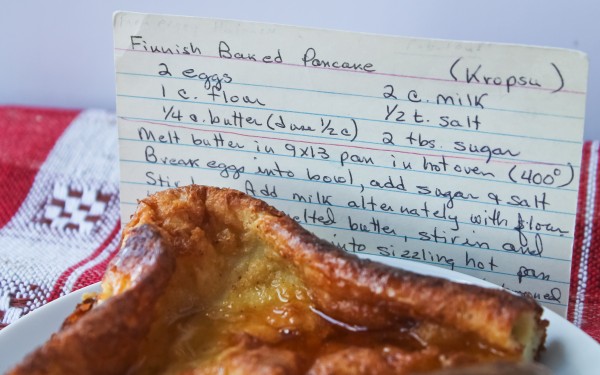 Kropsu: Finnish Baked Pancake
Ingredients
½ cup (1 stick) unsalted butter
2 eggs
2 Tablespoons sugar
½ teaspoon salt
2 cups whole milk
1 cup all-purpose flour
Toppings as desired: lingonberries, sausage, strawberries, other fruit, etc.
Powdered sugar, optional
Instructions
Place a heavy 9-by-13-inch pan in oven and turn oven to 400 degrees. The pan needs to get very hot.
Add the stick of butter to the pan and let it melt in the oven.
While the butter is melting, break eggs into a bowl and add sugar and salt; whisk until blended.
Add milk alternately with the flour and stir.
Using heavy oven mitts, remove pan from oven and carefully pour melted butter into the flour mixture and stir, then pour the mixed batter into the hot pan and return pan to oven.
Bake for about 40 minutes or until the pancake puffs up and is nicely browned.
To serve, cut pancake into squares or just scoop up. Top with your favorite toppings and serve immediately.