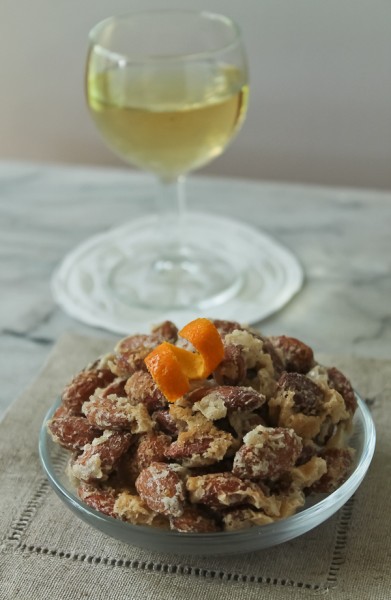 New Year's Eve is almost upon us!  If you are looking for a last minute treat for a party or maybe a hostess gift, here is an easy and delicious idea.  People seem to love nibbling on nuts with a glass of wine or other spirit at parties.  How about a nice sip of sherry to go along with these sherry-orange scented almonds?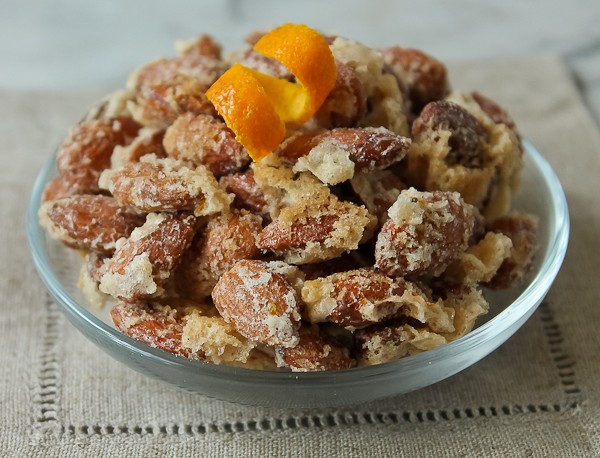 The nuts are so easy to make and have a wonderful crunch and aroma.  The nuts are simply dipped in a mixture of egg white, sherry, and orange peel, then coated in sugar and nutmeg and baked until crispy.  Couldn't be easier!  For larger gatherings, you will want to double or even triple this recipe.  Just a warning – they disappear quickly!
Happy New Year everyone!  Have a safe, happy, and joyous time!  And of course a delicious one too.

Sugar-Sherry Almonds
Ingredients
1 egg white
2 Tablespoons sherry
1 teaspoon freshly grated orange peel
¾ cup powdered sugar
½ cup granulated sugar
¼ teaspoon salt
¼ teaspoon nutmeg
1 cup whole natural almonds
Instructions
Heat oven to 300 degrees F. Butter a baking sheet and set aside.
Beat egg white in a small bowl until foamy; stir in sherry and orange peel. Mix sugars, salt, and nutmeg in a separate bowl.
Stir nuts, about 1 Tablespoon at a time, into egg white mixture. Remove with a slotted spoon, draining well, and toss in sugar mixture.
Place nuts close together on prepared baking sheet. Repeat until all nuts are coated.
Bake for 30 minutes. Remove nuts from baking sheet, breaking apart if necessary. Cool on waxed paper. Store in an airtight container.