According to weather reports, it sounds like we could be headed for some bitter cold this week and to me that means soup and bread time!  Any kind of crusty bread, either in split loaf form, rolls, or slices will work.  A cheesy mixture is first spread on the bread of choice, then sprinkled with Parmesan and smoked paprika.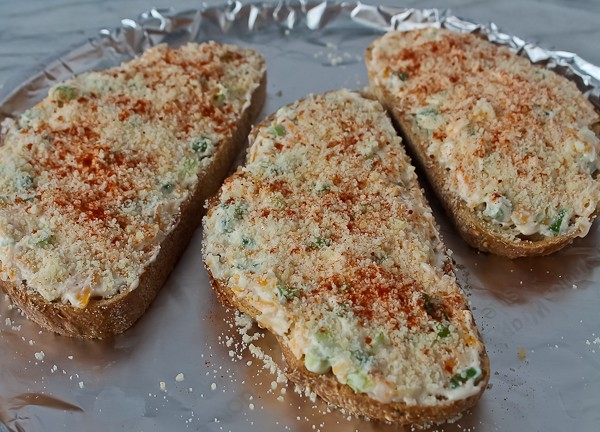 Bake it for about 15 minutes until it gets nice and crispy, melted, and ooey gooey!
Cut into slices of desired size and serve alongside a hot cup of soup like tomato or squash.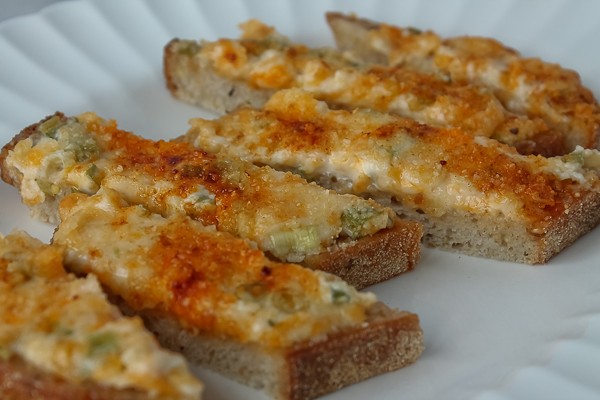 For this version, I used slices from a sourdough multigrain round loaf.  You can use a loaf of French bread split lengthwise, ciabatta rolls, rye bread slices, or any favorite, but a good sturdy bread is best.  You could even make it an appetizer by using cocktail rye slices, or having it on an English muffin for breakfast topped with crumbled bacon or avocado slices after baking.  It's also good sprinkled with poppy seeds or sesame seeds.  And I should mention that the smoked paprika adds such a better flavor than regular paprika!  The spread will keep for at least several days in the refrigerator.  It also doubles well if you want to make more for a party spread.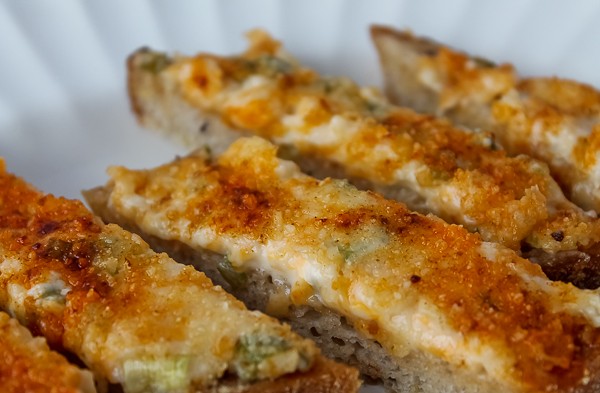 Easy Cheesy Bread
Ingredients
¾ cup shredded colby-jack cheese mix
½ cup mayonnaise
⅓ cup thinly sliced green onion, some tops included
2 teaspoons cream, half-and-half, or milk
1 or 2 cloves garlic, minced (depending on how much you like garlic!)
Loaf of French bread, or other sturdy favorite bread like sourdough, rye, etc.
Shredded Parmesan
Dried herbs, if desired, such as oregano, basil, rosemary, etc. - optional
Smoked paprika
Instructions
Heat oven to 350 degrees. Line a baking sheet with nonstick foil or parchment.
Split French bread lengthwise, or use slices of other bread as desired and lay on baking sheet.
In a mixing bowl, stir together colby-jack cheese, mayonnaise, green onion, cream, and garlic; mix to blend well. Spread evenly over desired choice of bread. (you can even make just one or two slices and refrigerate the spread for another time). Sprinkle with Parmesan, choice of dried herbs if using, and last with smoked paprika.
Bake for about 15 minutes or until the spread is golden and melted. Serve immediately cut into slices, if desired.