While going through boxes of old recipe clippings for the last couple weeks, I came across this crumbled up one from Better Homes and Gardens that was stuck at the bottom of a box.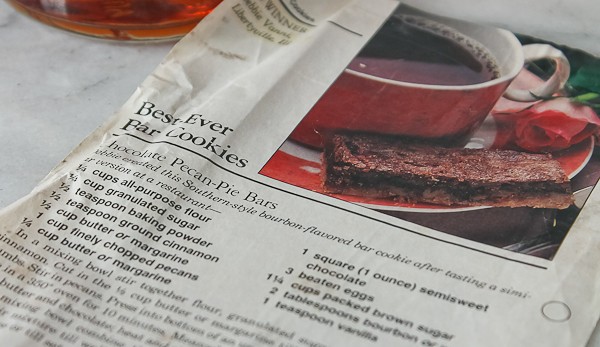 The magazine used to offer monthly recipe contests and I would enter on a regular basis.  This particular recipe won a prize in a "Best-Ever Bar Cookie" category.  It's a chocolate pecan pie bar made with a touch of bourbon, which enhances the chocolate and leaves a wonderful flavor and aroma.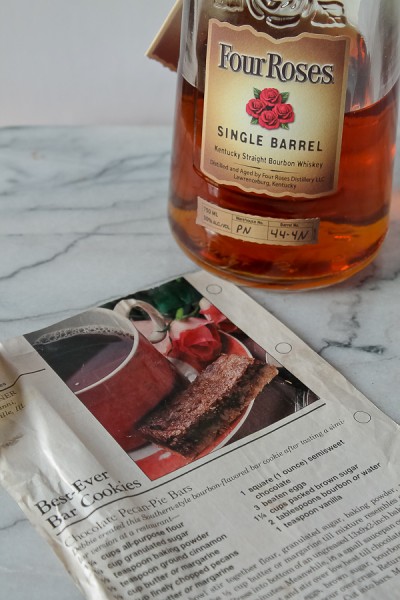 But the story doesn't end there.  It seems the magazine had a typo in the instructions.  In one of the preparation steps, chocolate and butter are melted together and set aside, but then the recipe does not specify what to do with it.  Well… all I can tell you is that for the next 15 years, at least, and almost on a monthly basis, I got phone calls about this recipe from people making these cookies.  Things like, "OMG- are you the pecan pie cookie lady?  I am literally right in the middle of this recipe and don't know what to do with the melted chocolate and butter!" Or, "Did you know there is a mistake in your recipe?"  (Gee, no, it's fun getting calls for more than a decade about this..)  One woman was so mad, she said she was going to cancel her subscription for the error.  I talked her out of it.  And by the way, I went back and checked my entry for the contest and I had it written correctly.  The typo was their mistake.  Sorry BH&G, but I still love you.  Anyway, I haven't had any calls in a long time and I can give you the corrected version.  They really are good.  The bourbon adds a great flavor, but if you don't want to use it, just use water instead.  However, the bars are taken to new heights with the bourbon.  Anyway, it makes sense for Mardi Gras or the Super Bowl, right?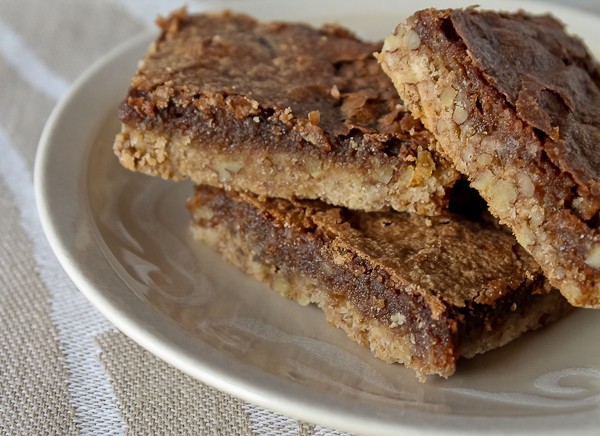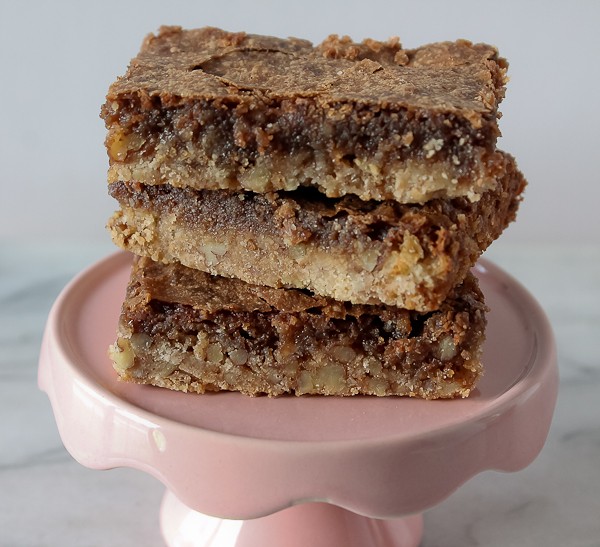 (Here I go, playing with dishes again.  What do you like, the pink or the beige?  The beige plate and napkin are from Finland)
Here is the correct version of my cookies.  Enjoy for the game or a Mardi Gras treat.  Plus there is always bourbon left over if you just want a drink!

Chocolate Pecan Pie Bars
Ingredients
1-1/4 cups all-purpose flour
¼ cup granulated sugar
½ teaspoon baking powder
½ teaspoon ground cinnamon
½ cup butter, cold
1 cup finely chopped pecans
¼ cup butter
1 ounce semisweet chocolate square
3 eggs
1-1/4 cups packed light brown sugar
2 Tablespoons bourbon (or water)
1 teaspoon vanilla extract
Instructions
Heat oven to 350 degrees.
In a mixing bowl, stir together flour, granulated sugar, baking powder, and cinnamon. Cut in the ½ cup cold butter with a pastry blender until mixture resembles coarse crumbs. Stir in pecans. Press mixture evenly into the bottom of an ungreased 13-by-9-by-2-inch baking pan. Bake for 10 minutes.
Meanwhile, in a small saucepan combine the ¼ cup butter and square of semisweet chocolate; heat and stir over low heat until melted; set aside.
In bowl of electric mixer, beat eggs. Add brown sugar, bourbon, and vanilla. Add melted butter and chocolate and blend well. Pour over crust. Return to oven and bake another 20 minutes or until set. Cool on wire rack before cutting into bars.