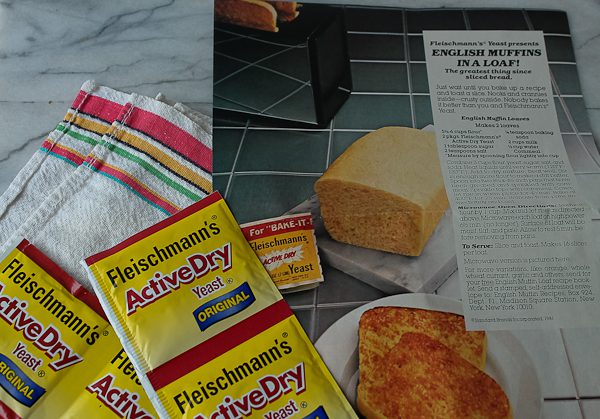 This recipe was torn out of a magazine back in 1981.  I remember Fleischmann's Yeast had several ads for baking some fun and easy breads, and I'm quite sure the others are in my filing cabinet down in my Culinary Cellar.  I happened to come across this one for English Muffin Loaves while looking for Christmas bread recipes last month and set it aside for one of those cold January days when I wanted to bake some bread.  Today was the day!  It's so easy to make because there is no kneading and only one short rising period before baking.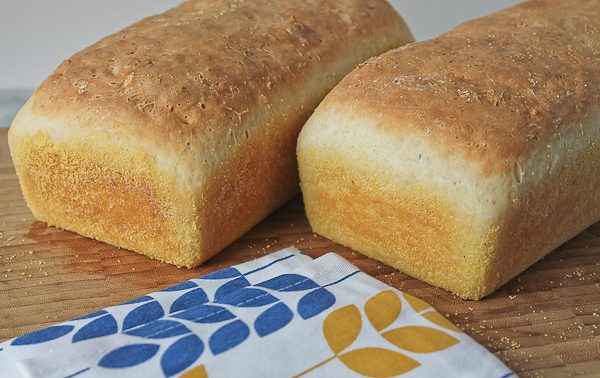 Most likely you have all the ingredients to make these delicious loaves in your pantry right now.  They are a great weekend treat and can be made before everyone else in the house is even awake, although the aroma could wake up the neighborhood.  Does anything smell better than homemade bread baking?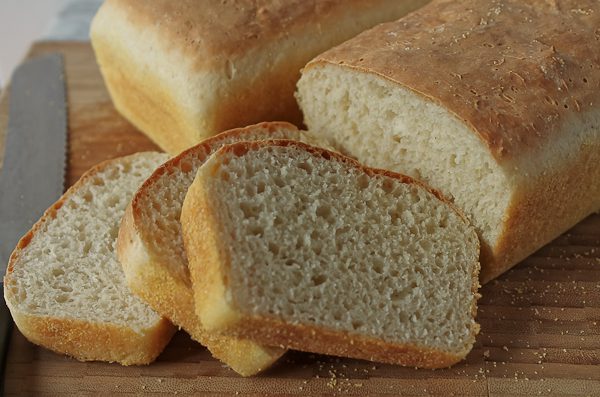 The bread slices are full of the nooks and crannies you expect from an English muffin along with a slightly softer middle and a delightfully crunchy outside.  Let the loaves cool, then slice and toast.  Toasting brings out even more flavor and crunch.  The original recipe from the ad has a notation at the bottom that by sending a self-addressed stamped envelope to Fleischmann's, you would receive a free booklet with ideas of how to make variations on this bread including orange, whole wheat currant, garlic, and others.  Oh my, I hope I had the presence of mind to do that back in 1981.  I'll have to go check my files, or if I didn't then I'll be making up the flavors myself.  Other added ingredients could be amazing!  Maybe adding garlic would be a delicious base for making English Muffins pizzas, which I love. Or for the whole wheat-currant flavor, toast and top with a citrus curd.  But for the plain bread slices, you can simply butter them, top with jam, honey, cinnamon-sugar, or anything else you love for breakfast on English Muffins.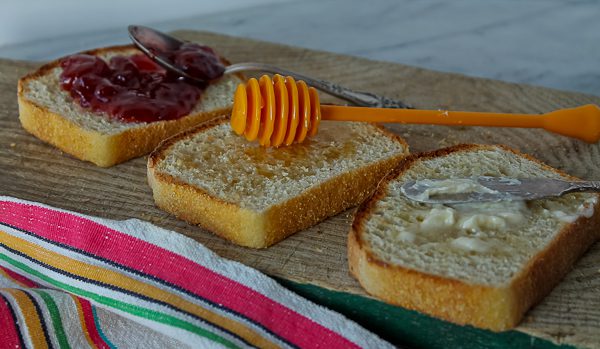 Just make this recipe!  Guarantee it will be a hit and become a regular part of your recipe box.
Thanks, Fleischmann's.  Thirty-six years late, but thanks!

Easy English Muffin Loaves
Author:
Fleischmann's Yeast
Note: Fleischmann's called them "English Muffins in a Loaf."
Ingredients
About 5-1/2 cups all-purpose flour, divided
2 packets Fleischmann's Active Dry Yeast
1 Tablespoon sugar
2 teaspoons salt
¼ teaspoon baking soda
2 cups milk (I used whole milk)
½ cup water
Cornmeal for dusting pans
Instructions
In bowl of electric mixer, combine 3 cups of the flour, yeast packets, sugar, salt, and baking soda.
In small saucepan, heat milk and water together until very warm, between 120-130 degrees F.
Add warm liquid to dry ingredients in mixing bowl; beat well. Stir in another 2 cups flour to make a stiff batter.* Spoon into two 8-1/2-by-4-1/2 loaf pans that have been greased, and dusted with cornmeal. Sprinkle tops with cornmeal.
Cover and let rise in a warm place for 45 minutes. Bake at 400 degrees F for 25 minutes. Remove from pans immediately and cool. To serve, slice and toast.
*Note: I found that 5 cups worked perfectly. The batter is very stiff and a little sticky to spread evenly in the pans, so I ran my hands under warm water, shook off the excess, then sort of patted the top of the batter down gently with my fingers until the tops were even.