We have had both ice and rain today here around Chicago.  It's gloomy, not good light for taking photos, and I've been dragging all day.  All that is on my mind is waiting for our first grandchild to be born anytime now, and worrying about my mom who is in the hospital.  Good news on both – mom is gradually getting better, and baby is in position and ready to meet the world!
So what to do on a day like this but cook.  I wanted to make one of my mom's recipes.  Something roasting and smelling wonderful sounded perfect for today.  I found her old recipe card for this marinated pork roast that I remember so well.  From the looks of it, I believe she clipped it out of a Better Homes & Gardens magazine long ago, as it is very well used and loved by the looks of the splatters and yellowing.  It's my go-to marinated pork roast, and I can smell it as I am writing.  I wish I could have a photo for you but it will be dark outside by the time it is done and I like taking photos with natural light.  You'll have to imagine it like in the photo on the card!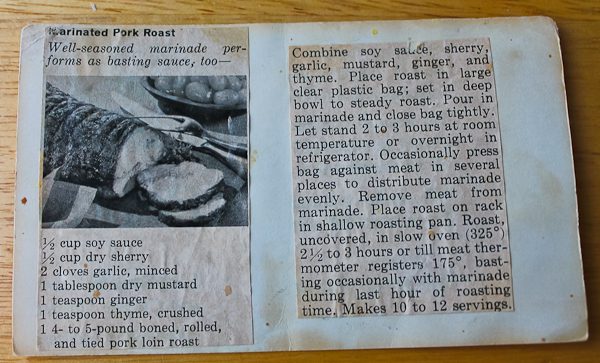 Pork roast is good with all kinds of side dishes, but I decided to try a rice recipe that contained a large amount of pine nuts which I adore, along with a little saffron and dry sherry.  It's also very buttery and rich.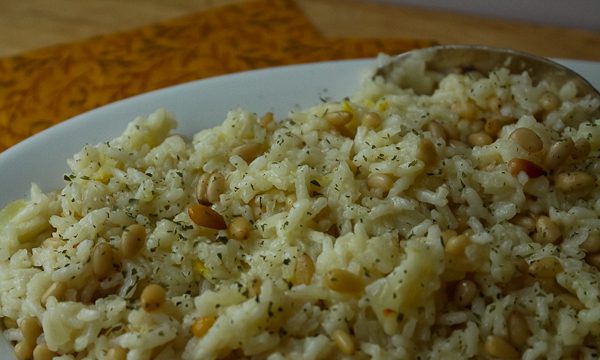 Dinner will be served soon.  I have both green beans and broccoli in the refrigerator, but I am guessing my husband will want the green beans.  Now I need to figure out what leftovers to make from all the pork roast.

Rice with Pine Nuts
Ingredients
¾ cup chopped onion
6 Tablespoons unsalted butter, divided
2 cups uncooked long grain white rice
1-1/2 teaspoons salt
¼ teaspoon ground saffron
1 Tablespoon dry sherry
4 cups chicken broth
1 cup pine nuts
Instructions
Cook and stir onions in 3 Tablespoons of the butter in a 3-quart saucepan over medium heat until tender; stir in rice.
Stir salt, saffron, sherry, and chicken broth into rice mixture. Cook rice according to package directions.
While rice is cooking, melt remaining 3 Tablespoons butter in a skillet over low heat. Add pine nuts and stir until golden; remove from heat and set aside. When rice is done, stir in pine nuts and butter. Makes 12 servings.