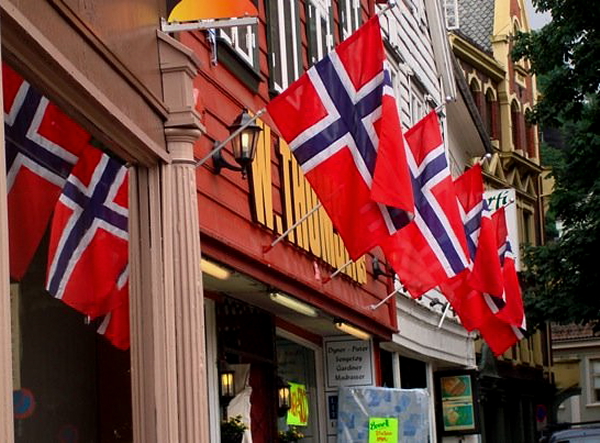 Several years ago, my daughters Kristina and Kara embarked on an adventure to Finland, Norway, Sweden, Denmark, Latvia, Lithuania, and Estonia.  They had the time of their lives-  except when they discovered how expensive it is to even eat in Norway, not to mention the cost of a hotel.  But my girls are very resourceful and instead found a less expensive (but clean) hostel that offered a free breakfast.  At breakfast, they would stuff their pockets with extra rolls to save for lunch, but when it came to dinner, they just had something to drink since one pizza would cost them forty-five dollars.  Needless to say, they got hungry.  One time, Kara even picked up coins she found on the street to buy a candy bar.  The girls knew they could use my credit card to buy something, but if you knew my girls, you would know that they like to figure things out for themselves.  Eventually, the stomach growling got to be a little bit too much to take, and mom's credit card won in the end  for bowls of soup-  but what a soup it was!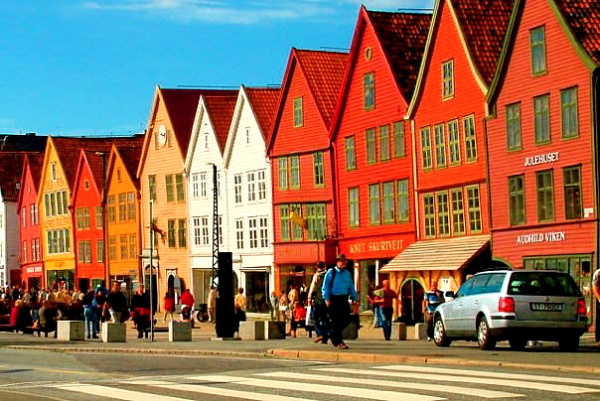 Somewhere in this lovely town of Bergen, they found a restaurant that served what they called "the best soup in the world."  Maybe it seemed the best because they were so hungry, but it was good enough that years later they still remembered it and wanted to reproduce it at home.  The soup turned out wonderful and I will definitely make it again.  And if you ever decide to visit Norway, take extra cash.  Or just stay home and enjoy this soup.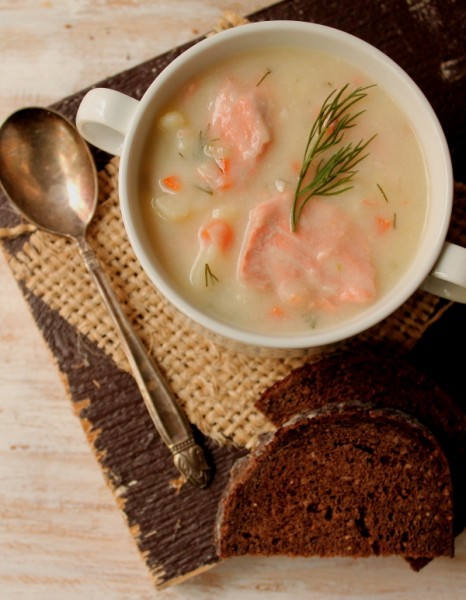 Salmon Chowder with Dill
2 Tablespoons unsalted butter
1/2 cup chopped carrot
1/2 cup chopped celery
1/3 cup chopped onion
32 ounce container chicken broth
1 cup water
2 cups cauliflower florets (small pieces)
3/4 pound whole piece of skinned uncooked salmon fillet
2.5 ounce package potato flakes*
1/4 cup chopped fresh dill
1 Tablespoon Dijon mustard
1/2 cup sour cream
1/4 teaspoon salt, or to taste
1/4 teaspoon white pepper, or to taste
Extra dill sprigs for garnish
Melt butter in a Dutch oven over medium heat.  Add carrot, celery, and onion.  Cook and stir until the vegetables soften, about 4 minutes.  Add the chicken broth, water, and cauliflower to pan.  Add the whole piece of salmon and bring the mixture to a simmer.  Reduce heat, cover pan,  and simmer gently until the salmon is just cooked through, about 5-7 minutes.  Remove the salmon to a cutting board and flake into pieces with a fork.  (not too small because you want the salmon pieces to show through the chowder).  Stir the potato flakes, dill, and mustard into the pan; stir until creamy and well blended.  Return to a gentle simmer and stir in sour cream and salmon pieces.  Heat until soup is just hot, but do not boil.  Ladle into soup bowls and garnish each serving with a sprig of fresh dill.  Serves 6.
*You can substitute leftover homemade mashed potatoes, but surprisingly, the package of potato flakes worked beautifully to thicken, not to mention easier and with less carbs!