We can thank Anna, the seventh Duchess of Bedford (1788-1861) for the ritual of afternoon tea.  The royal household, where the Duchess was one of Queen Victoria's ladies-in-waiting, would have a large breakfast,  a light lunch, and a large dinner late in the evening.  During the lull between the light lunch and the large dinner, the Duchess asked to have tea and some sweet and savory morsels brought to her room.  She liked it so much, she asked for it again and again, and soon the custom spread throughout the grand homes surrounding St. James Palace, and also to Fortnum & Mason's Piccadilly store.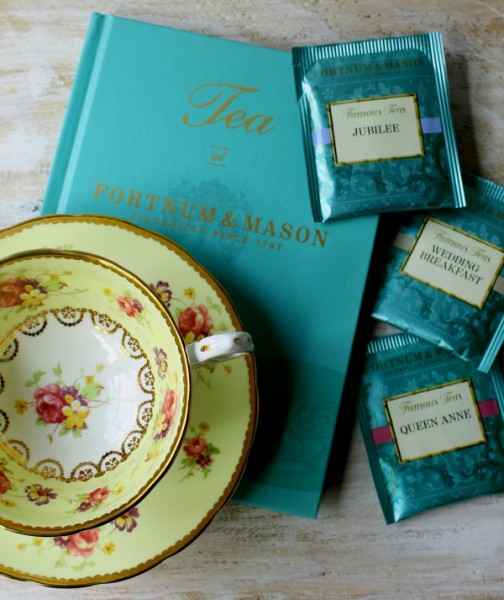 Fortnum & Mason is a plush London department store that epitomizes English charm, style, and elegance.  The store has been selling high quality tea for almost 300 years and is one of the most desirable places in London to indulge in the afternoon tea tradition.  It has long been linked with the Royal Family.  During the reign of Queen Victoria, the company received the first of its many Royal Warrants.  This past spring, Queen Elizabeth, the Duchess of Cornwall, and the Duchess of Cambridge toured the luxury store where the Queen unveiled a plaque to commemorate the regeneration of Piccadilly.  This outing was the first time the royal trio had been on an official engagement together.  Upon their arrival, the Queen inspected the honey and preserves.  Camilla was taken to view the bakery section, and Kate learned all about Fortnum & Mason's famous teas.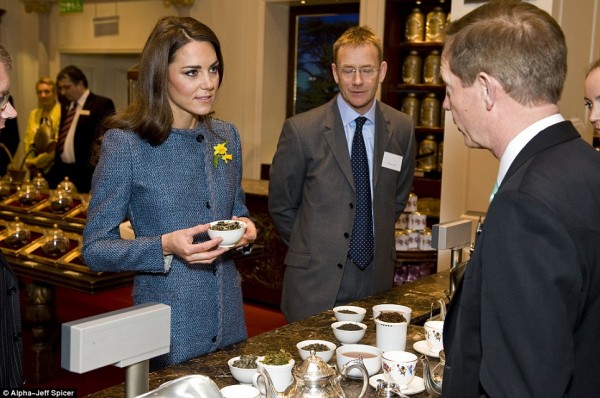 My friend Roxanne recently returned from London and enjoyed an afternoon of high tea at Fortnum & Mason's.  She also generously decided to bring me a copy of the Fortnum & Mason cookbook and a selection of teas.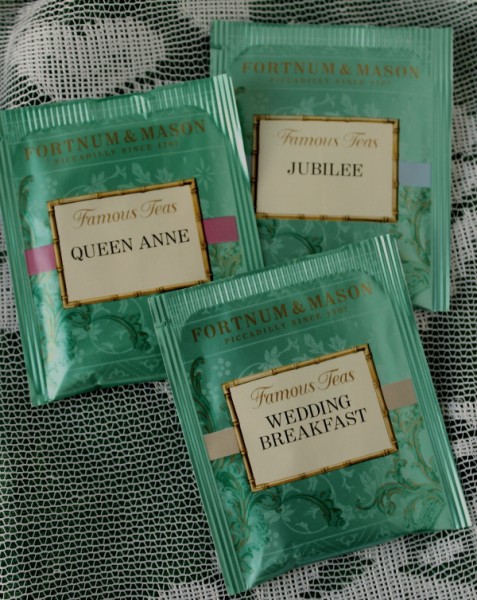 The Jubilee tea was created especially to celebrate the sixty years of Her Majesty Queen Elizabeth II's reign.  It is a blend of teas from India, Ceylon, and China with a mellow sweetness and golden brightness; and of course is fit for a Queen.  The Queen Anne tea was created in 1907, Fortnum & Mason's bicentenary year, and is a smooth blend of Assam and Ceylon teas which produce a strong and smooth tea.  The Wedding Breakfast tea is a special blend created to celebrate the wedding of Prince William and Kate Middleton.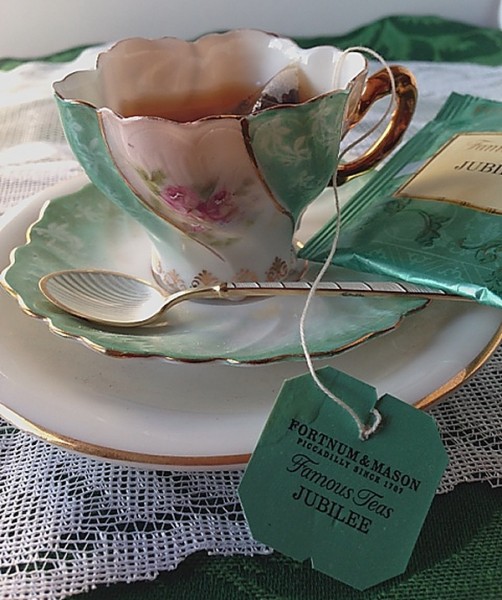 I wanted to enjoy this special tea in a special cup.  I decided on a 112-year-old tea-cup from my husband's side of the family, along with a beautiful spoon that my mother bought in Copenhagen in the early 1960's to gently stir the tea.
The cookbook is lovely, with chapters on preparing sandwiches, scones, biscuits, small cakes, classic cakes, gateaux, fruit cakes, tea breads, preserves, drinks, and an interesting chapter on the history of tea.  I decided to treat myself to high tea and found a recipe for a small finger sandwich with some of my favorite ingredients – cream cheese, cucumbers, dill,  white and whole wheat bread, along with tea steeped in my grandmother's Limoges tea-pot.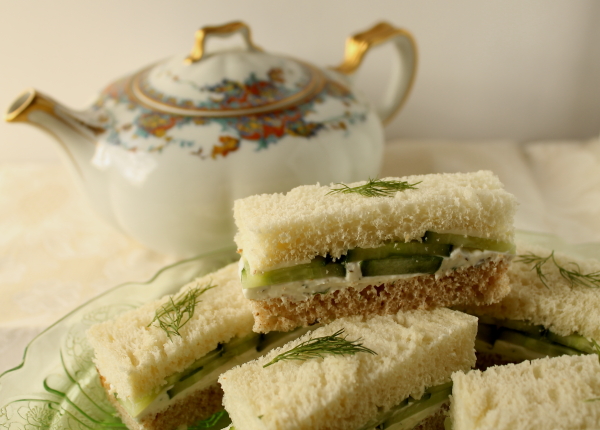 I thoroughly enjoyed my afternoon tea on a cold and blustery day in the Chicago area.  I plan on more in the winter months ahead, making such delicacies as the macadamia and ginger cookies, scones with a lime and passion fruit curd, and one of my favorites, Welsh Rarebit, served on thick slices of a homemade walnut bread.  I'll feel like the Queen for a Day.
Thank you, Roxanne!