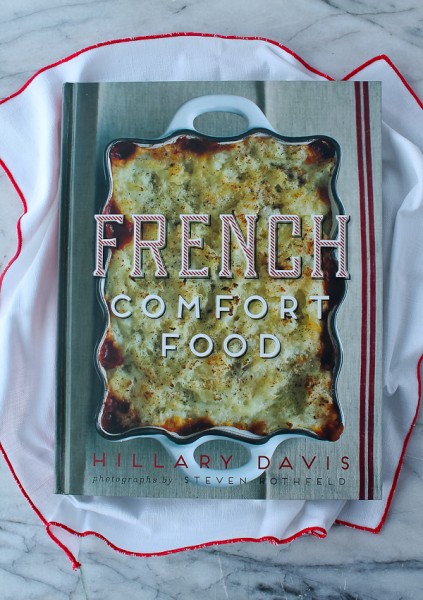 I have a long shelf in the Culinary Cellar filled with cookbooks about French cooking, even though I have never been to France.  Many of them are elaborate, fussy dishes to prepare, and beautiful to behold.  I may never attempt to make many of them, but then along comes French Comfort Food and I am ready to cook.  Doesn't the phrase "French Comfort Food" make you feel like you can conquer any possible fear of French cooking?
Author Hillary Davis lived in France more than a decade and she collected recipes along the way, from Paris to family dinners.  Lines in the introduction say it all:  "If one could describe heaven, for me it would be having a meal in a French restaurant and being able to have all my favorite dishes." She goes on to say, "the only thing that could make it better would be sharing it with friends and loved ones."  And that is just what she has done in this book.
The book is divided into six sections:  Welcoming Starters and Savory Nibbles; Brunch French Style;  Soups, Sandwiches, and Simple Pleasures; Family Style Recipes; Supper for Friends; and Sweet Dreams.  Where to begin? For me, it had to be an egg dish.  I love eggs and find them one of the ultimate comfort foods.  I settled on the "Individual Caramelized Onion and Roquefort Clafoutis," or if you want the French version, "Clafoutis aux Oignons Caramelises et au Roquefort."  Don't worry; it's extremely easy to make and tastes divine.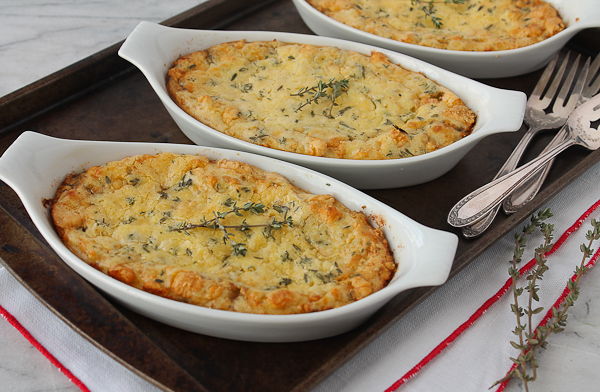 Individual Caramelized Onion and Roquefort Clafoutis
Ingredients
2 Tablespoons unsalted butter
1 medium onion, cut in half and thinly sliced
2 teaspoons sugar
3 large eggs, room temperature
1 large egg yolk, room temperature
½ cup all-purpose flour
½ cup milk
½ cup heavy cream
freshly ground nutmeg
¼ teaspoon salt
4 cracks freshly ground pepper
4 ounces Roquefort, sliced into 4 equal slices
1 Tablespoon fresh thyme leaves
Instructions
Butter four 1-cup gratin dishes. Preheat oven to 350 degrees.
In a skillet, melt the butter and cook onion on medium-low heat until tender, about 8 minutes. Add the sugar, turn up the heat to medium-high and cook until the onions turn golden brown and are caramelized.
Whisk together the eggs, egg yolk, flour, milk, cream, nutmeg, salt, and pepper in a mixing bowl. Divide the onions in the bottoms of the gratin dishes, add a slice of cheese, gently pour the egg mixture over the top, and sprinkle with the thyme leaves. Bake for about 35 minutes, until golden and puffed. Serve immediately.
See? Wasn't that easy?  Tres bon!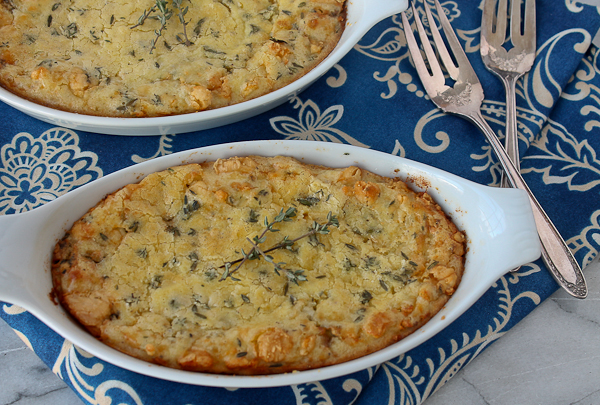 I am looking forward to making so many of the recipes in this book, many which sound perfect for the cold months ahead.  Wouldn't you love to do the same?  This book can be yours, too, as it is the giveaway cookbook for this week.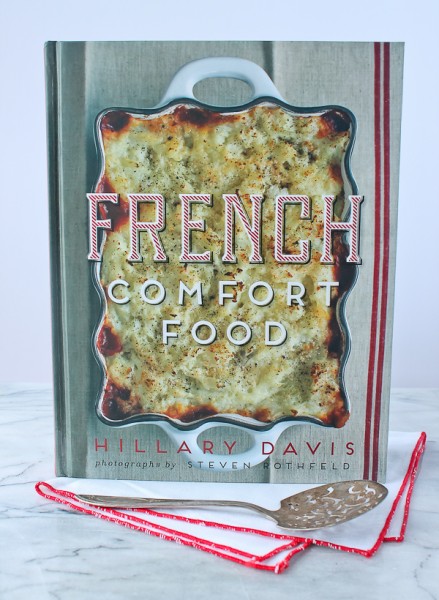 Here is all you have to do to enter the drawing for this wonderful book:
Here's what you will win:
French Comfort Food by Hillary Davis
How to enter the giveaway:
1)  Leave me a comment here on the blog and tell me your favorite French dish or one you would like to learn to make.  That's it!
2)  Winner is selected randomly using random.org and is open to Continental USA only.  Enter now through this Sunday, December 14, 2014 at 9:00 pm CST.  Winner will be notified by Monday, December 15, 2014.
Good luck!
Congratulations to the winner of  Mexico The Cookbook, Andreann
Congratulations to the winner of the surprise weekend giveaway of the Martha Stewart Christmas Cookbook, Penni Harden