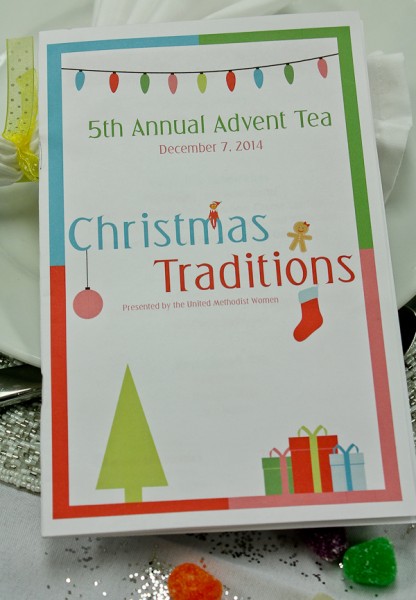 This  past Sunday, our church held its 5th Annual Advent Tea.  It was a sold-out event, as always, and a beautiful way to begin the Christmas season.  Sixteen tables were decorated with the theme of "Christmas Traditions " by women of the church, and the men were the servers for the day.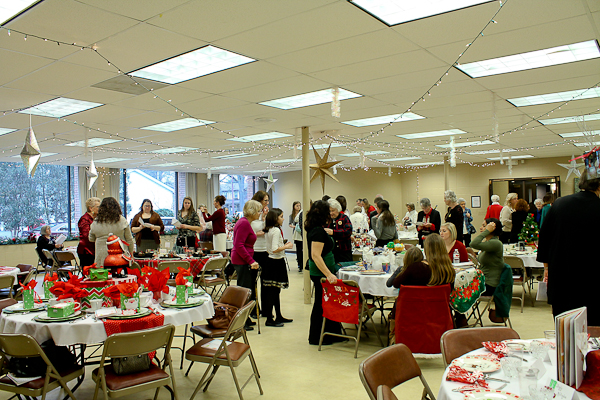 My friend Jean and I entered the room and it was already abuzz with everyone checking out the tables.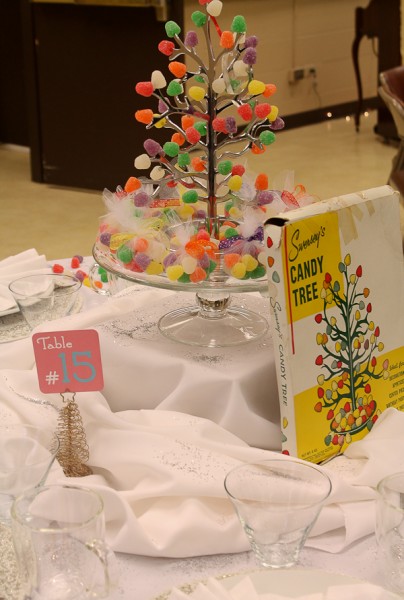 We found our assigned table #15, "Nana's Gumdrop Tree," and our hostess, Marni, who was honoring her Nana with the table decoration.  She even had the original box.
First thing I was curious about was how the men were doing in the kitchen.  On my way there, I passed by one of the tables and had to stop.  It was decorated with items dear to the heart of many Chicagoans,  from Marshall Field and Company, a store we all miss and have such wonderful memories that go way back.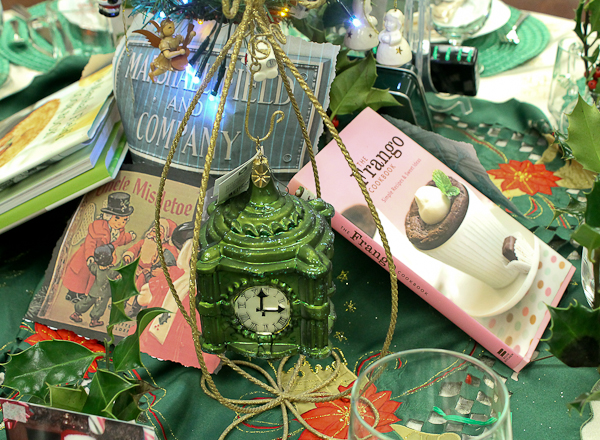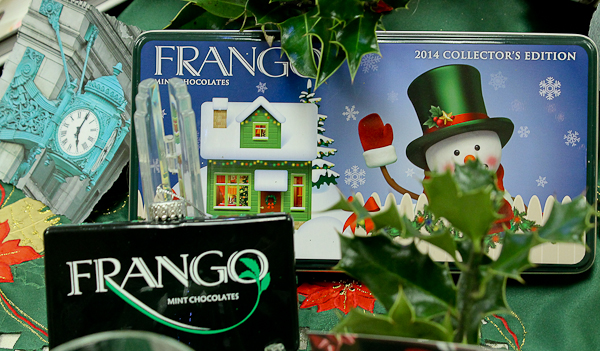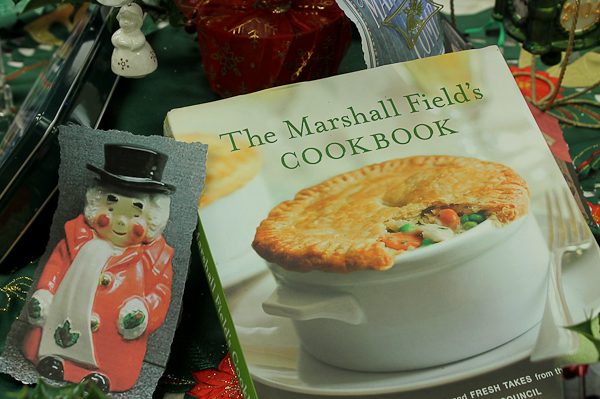 Sigh.. I don't think any of us around this area will ever recover from losing Marshall Field's.  By the way, that cookbook is terrific!
After that bit of nostalgia, it was time to check out the kitchen.  The men all looked so professional in their white shirts and black pants and were perfectly calm, collected, and organized.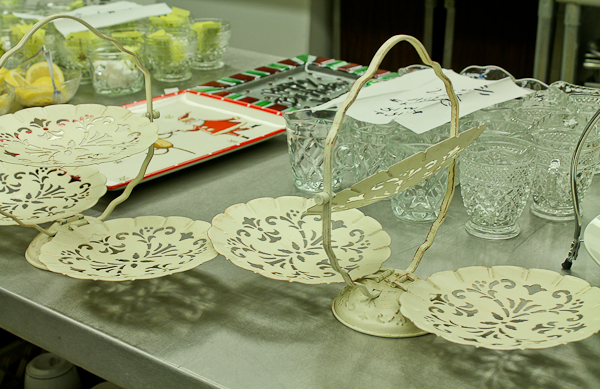 The trays were waiting to be filled.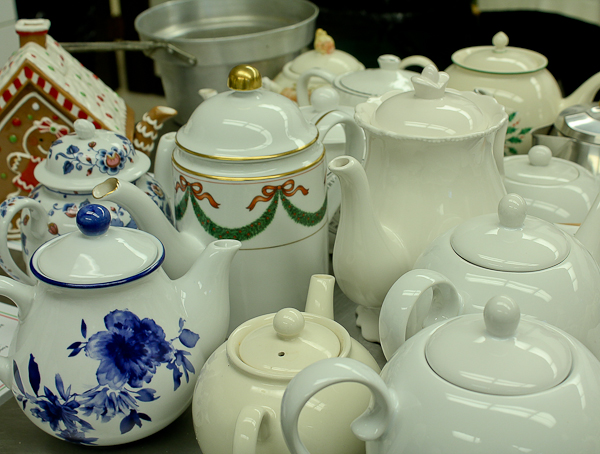 The teapots were ready.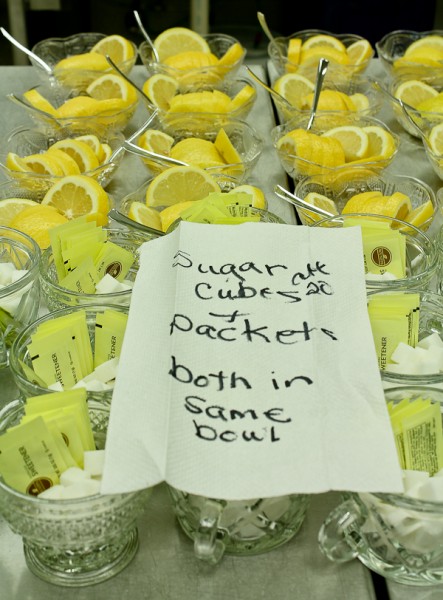 The men even made notes to themselves to keep it all straight.  I was impressed!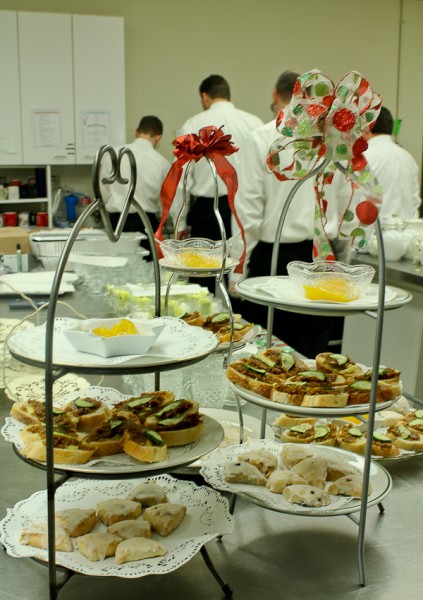 With everything running smoothly in the kitchen, it was time to again to admire the table decorations.  Being a fan of nutcrackers, this was another one that caught my attention.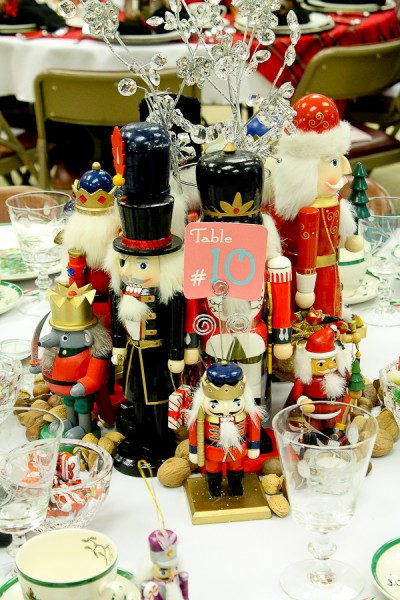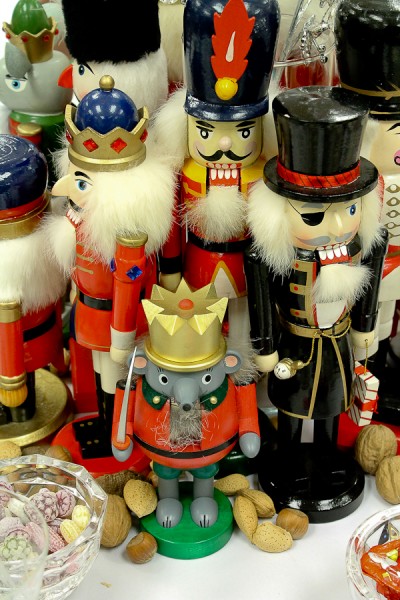 Nutcrackers are adorable!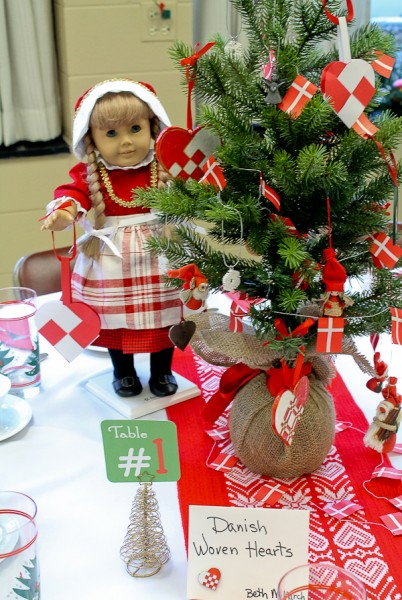 I also love dolls.  Look at this little Danish darling.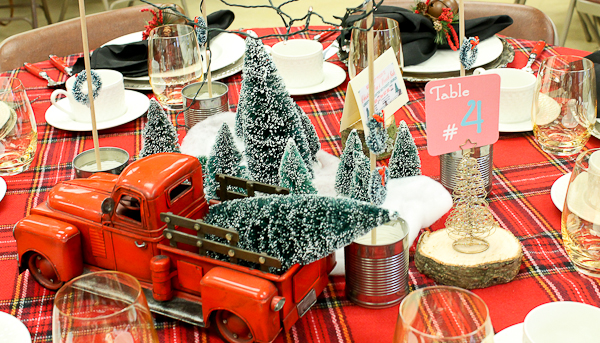 Loved the old firetruck!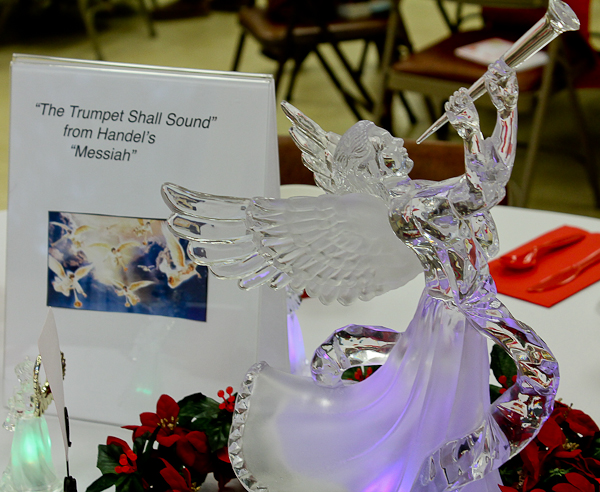 A beautiful angel!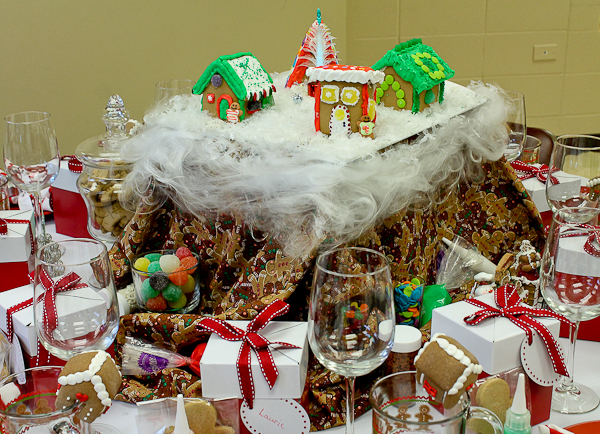 Gingerbread!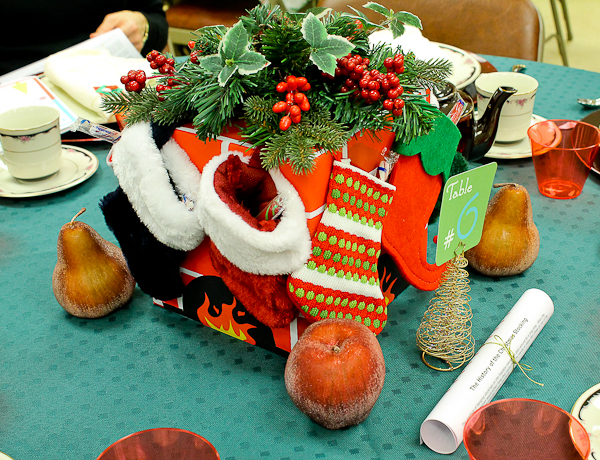 Lots of stockings with a scroll about the history of stockings!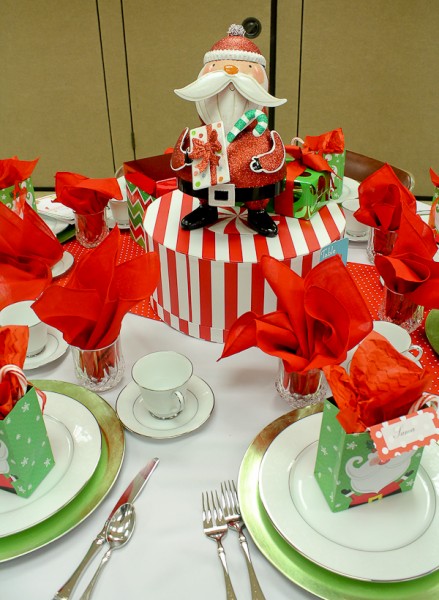 And we can't forget Santa!
Before we knew it, it was time to begin.  Entertainment included wonderful Madrigal singers all dressed for the occasion, and the darling young voices of our own "Joyful Noise" children's choir.  We had a great time chatting with everyone at our table while the men served the delicious food.  First up were miniature cranberry lemon scones with lemon curd, and a fig-brie crostini with cucumber.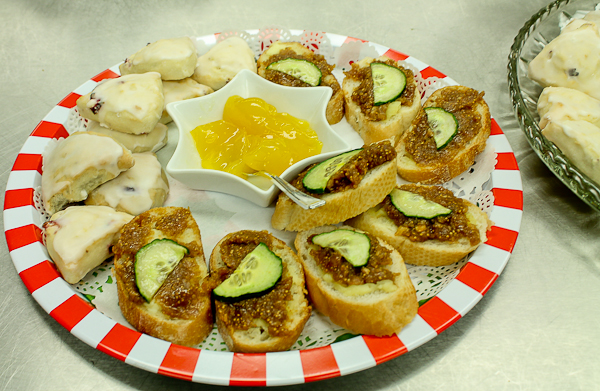 The delicious sandwiches included sun-dried tomato pesto and goat cheese crostini;  chicken salad with cranberries, grapes, and watercress; and cucumber with fresh herb cheese on onion bread, all served with Earl Grey tea.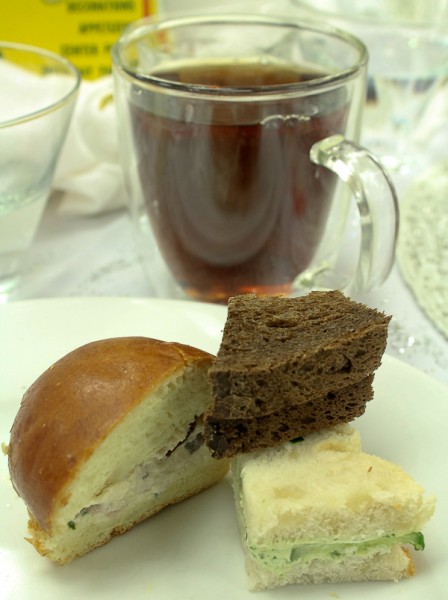 The dainty little desserts included shortbread; petit fours with white chocolate and raspberry; and raspberry butterflies.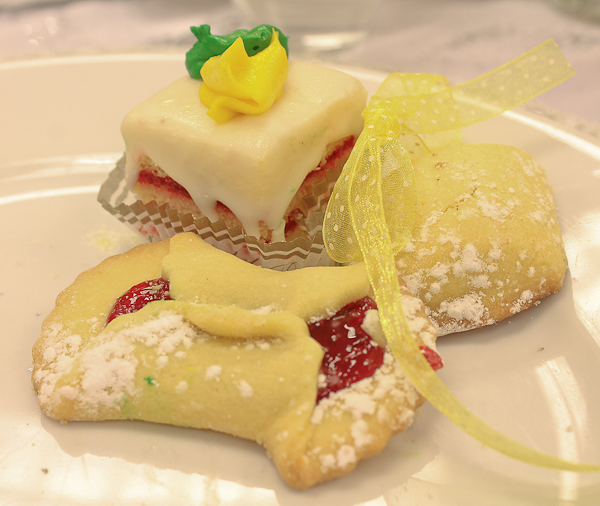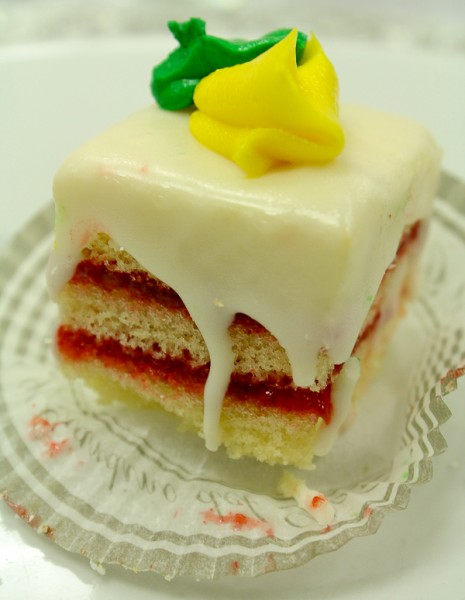 We all agreed it was a lovely way to spend our afternoon and there was already chatter about next year.   Whatever the theme will be, it is bound to be another sold out event.
Merry Christmas, everyone!  And don't forget to leave out a plate of cookies for Santa!