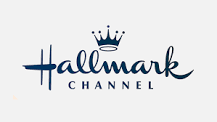 Hey all you Hallmarkies out there!  Are you ready for the first "Fall Harvest 2018" movie, Truly, Madly, Sweetly?"  I know I am.  Hello, my name is Debbie and I am a Hallmark Channel movie junkie..
Isn't life a little crazy right now?  Wouldn't you enjoy a relaxing escape for a couple hours every Saturday night?  Who wouldn't, right?  A cutesy, silly, fun, harmless, family Hallmark movie is the way to go.  The extreme popularity of Hallmark movies has been written about endlessly, so there must be something to it. Viewers of all ages love Hallmark movies.  And I have a true story about that.
The following scenario took place recently on a New York City subway.  My daughter Kristina was on the subway sitting across from a big, burly guy wearing a baseball cap, shorts, and tee-shirt, and looking like a nose tackle for the Giants or Jets.  Talking completely serious to his buddy next to him with his thick Brooklyn accent, he starts explaining something to him.  "Hey, here's the deal," he says.  "Man, all you need is a Saturday night, a bucket of popcorn, and a Hallmark movie.  You eat your popcorn and nobody dies!"  It took everything Kristina had not to burst out laughing!
So let's get down to business.  Since I never miss a Hallmark movie, it's easy to notice how much food is in all of them.  They must have a great food stylist because it always looks good.  I thought I would try to figure out by either the title or the trailer what food might be included in each  movie and have a recipe and photo to share.  The first movie, Truly, Madly, Sweetly was easy because the character has a cupcake truck.  Cupcakes it is, and since it's Fall, I offer you "Spice Cupcakes with Cinnamon Frosting."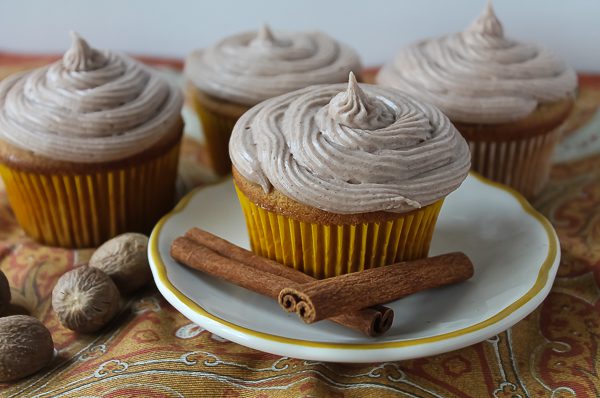 The buttermilk and brown sugar cupcakes have aromatic spices of cinnamon, nutmeg, allspice, and cloves.  The buttery frosting has more cinnamon and a little vanilla.  Perfect for snacking while watching the movie, which is about a woman who has the cupcake truck and something about a bakery she inherits.  We'll have to watch and find out the details!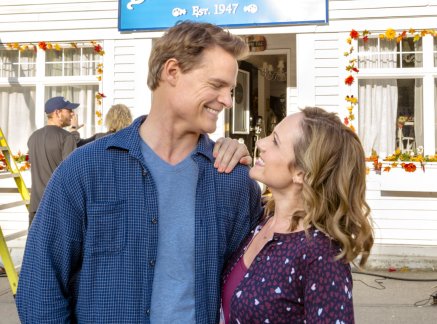 Tune in Saturday night, September 22nd for the premiere of Truly, Madly, Sweetly at 8:00 CST/9:00 EST starring Dylan Neal and Nikki DeLoach.  Check back on my blog every Friday for the latest Fall Harvest movie and a new recipe.  After Fall Harvest will be "Countdown to Christmas" movies starting late October!

Spice Cupcakes with Cinnamon Frosting
Ingredients
Spice Cake:
2-1/2 cups sifted cake flour
2 teaspoons baking powder
½ teaspoon baking soda
½ teaspoon salt
1 teaspoon cinnamon
½ teaspoon allspice
¼ teaspoon cloves
¼ teaspoon nutmeg
½ cup unsalted butter, room temperature
1-1/4 cups packed light brown sugar
3 large eggs
1 cup buttermilk
1 teaspoon vanilla
Cinnamon Frosting:
1 box (16 ounces) powdered sugar
1 Tablespoon cinnamon
¼ cup melted butter
1 egg white
Dash of salt
3 Tablespoons milk
½ teaspoon vanilla
Instructions
Heat oven to 350 degrees. Line standard size cupcake pans with liners to make 24 cupcakes. Set aside.
For cake: Sift together flour, baking powder, soda, salt, and spices into a bowl; set aside. In bowl of electric mixer cream together butter and brown sugar until light and fluffy. Add eggs, one at a time, beating well after each addition. Stir in flour mixture, alternating with buttermilk. Stir in vanilla.
Divide batter into cupcake liners in pans. Bake for about 14 minutes or until a toothpick inserted into center comes out clean. Remove from oven and cool on wire rack about 5 minutes, then turn out cupcakes from pan and cool completely before frosting.
For Frosting: Sift powdered sugar and cinnamon into bowl; set aside. In bowl of electric mixer, beat together melted butter and ½ cup of the sugar mixture. Beat in egg white and salt. Add remaining sugar mixture, milk, and vanilla. Beat until of spreading consistency. Frost cupcakes. Makes 2 dozen cupcakes.
Note: This is enough frosting to spread on cupcakes, but if you like a lot of frosting and want to use a pastry bag to make large, high swirls, the frosting should be doubled.