I hope to never have three days like we had a couple weeks ago.  My mother died on a Sunday, and then suddenly my cousin Carol died two days later.  It was almost too much for our brains to process.  We are all beginning the difficult road to normalcy but it will take a while for it all to sink in.  We decided to hold a combined celebration of life service, as mom and Carol loved each other very much.
Yesterday, Carol's daughter Colleen came by so we could talk, and she brought along boxes of Carol's cookbooks.  Colleen is having the difficult task of going through Carol's house and decided Carol would have liked for me to have her books.  They are all very special and I love knowing these were Carol's.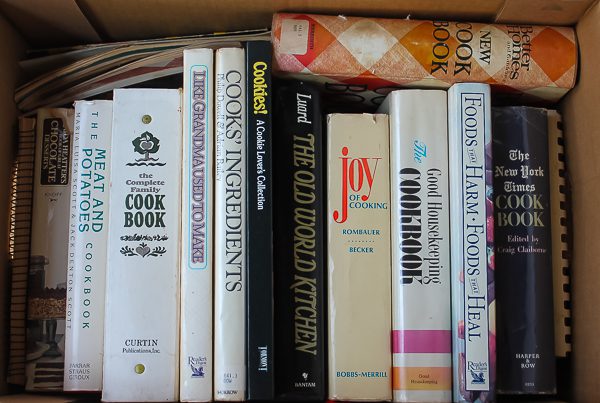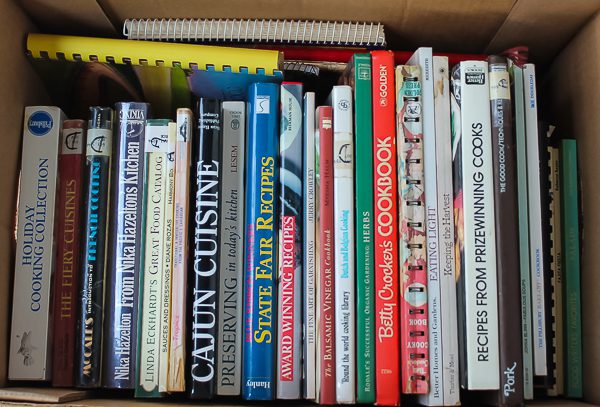 In addition to these two boxes of books, there were a couple of treasures.  Those cookbook collectors who are familiar with the great Bakery Lane Soup Bowl cookbook, may not know of a follow-up book.  I had no idea and here it was in Carol's box!  Their Soup Bowl West was published after the authors left cold and snowy Vermont to live in sunny and steamy Arizona where they opened another restaurant.  It still featured their famous soups and salads, but many recipes with a Southwest twist.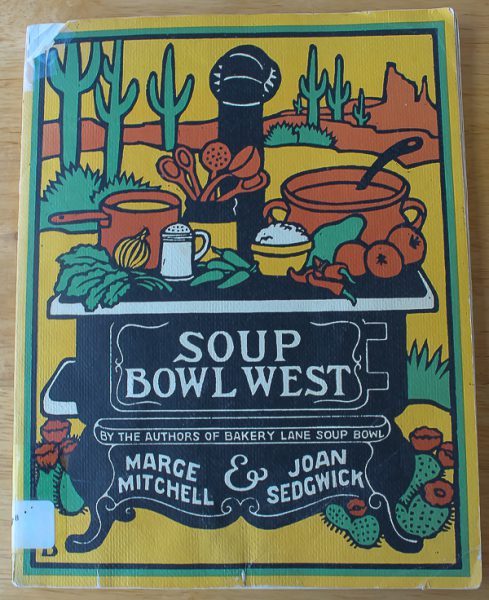 The other treasure was a packet of loose recipes and cards, some of them recipes that I had printed out for Carol many years ago.  There was a canning recipe from a cousin of our grandmother.  There were reprints of recipes that were experiments for the Pillsbury Bake-Off.  I had piles of those in my basement but all were lost in the flood.  Now I have a least a few back.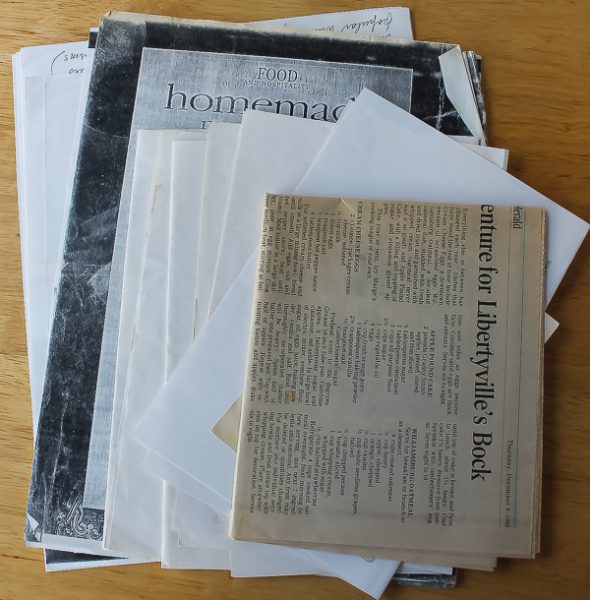 All of the cookbooks mean so much and goes to show how family love for cooking, cookbooks, and recipes are handed down.  Carol and I grew up together and spent many treasured family times between her childhood home, my childhood home, and times in Iowa with our beloved Great-Aunt Margery, where we watched her cook and learned about the basics of Iowa farm gardening and cooking.  All of the cousins had a ball growing up together and we remember those times with great fondness.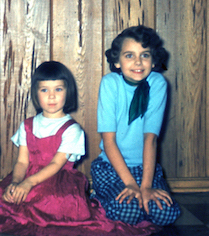 This is me (what am I wearing?) with Carol (on the right) playing in our basement, probably around 1955.
Carol will always be remembered for her love of animals, the outdoors, reading, movies, gardening, and canning.  There will never be a time when I cook from these books that I won't think of her.  She was loved by many who will miss her.  I know Carol and my mom are happy in Heaven together, and probably cooking and gardening with our grandmother and Aunt Margery.