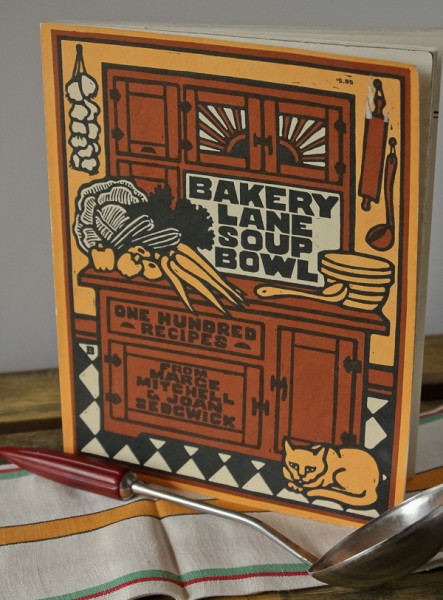 This is one of those cookbooks I reach for every time the leaves change color.  And when the leaves change color and the air is crisp, my email box starts to fill up with requests from this book.  In fact, I just had one recently for "Barbara Wesley's Anadama Bread."  People remember the Bakery Lane Soup Bowl restaurant which is the basis for this wonderful cookbook.  It also happens to be one of my favorite covers.
Inside along with whimsical illustrations, you will find the chapters of soups, salads, breads, desserts, cookies, drinks and things, and quiche.  My favorite soups have always been the cheddar cheese, fresh tomato bisque, and Virginia's Broccoli Soup which is what I made for today.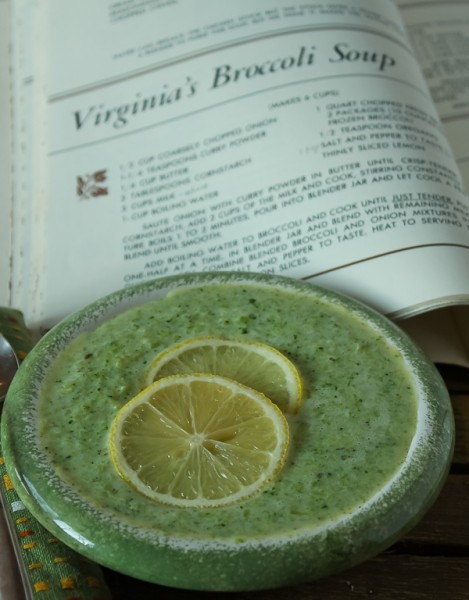 Onion and curry powder are sautéed in butter; milk and a thickener are added, then cooked broccoli is added and all are pureed in a blender.  It is seasoned with oregano, salt, pepper, and slices of fresh lemon which add a delicate flavor.  It's a very delicious and comforting soup that I always enjoy.
All of the recipes in this book are amazing, but if you are a dessert lover, then prepare yourself to splatter many of these pages.  The Dacquoise recipe is from the Coach House Restaurant in New York City.  There are cheesecakes, carrot cake, chocolate cakes, and lots of pies.  I promise you will love it.  Read even more about it on my blog from several years ago.  See if you can find it on Amazon or somewhere.  You won't regret it.  In the meantime, try the broccoli soup, cuddle up with a blanket and enjoy.

Virginia's Broccoli Soup
Author:
Bakery Lane Soup Bowl cookbook
Ingredients
½ cup coarsely chopped onion
1-1/4 teaspoons curry powder
¼ cup butter
2 Tablespoons cornstarch
3 cups milk, divided
1 cup boiling water
1 quart chopped fresh broccoli or 2 packages (10 ounces each) frozen broccoli
½ teaspoon oregano
Salt and pepper to taste
Thin slices of lemon
Instructions
Saute onion with curry powder in butter until crisp-tender. Blend in cornstarch. Add 2 cups of the milk and cook, stirring constantly until mixture boils, 1 to 2 minutes. Pour into a blender container and let cool a few minutes. Blend until smooth and remove to saucepan.
Add boiling water to broccoli and cook until just tender. Put broccoli, one-half at a time, in blender container (no need to clean it out from the onion mixture) and blend with the remaining 1 cup of milk until smooth. Add the blended broccoli to the onion mixture in saucepan. Add oregano, and salt and pepper to taste. ( I use 1 teaspoon salt and ¼ teaspoon pepper) Heat until very hot over medium low heat, but do not boil. Ladle soup into bowls and place a lemon slice on top of each bowl of soup.
(Note: If you really love lemon (I do!) I even add a slice of lemon in the bottom of bowl before adding soup and then another on top. The bottom lemon is not necessary, but the top one is! It adds a delicate touch and a great flavor. Adding both lemons is for lemon-lovers only!)
Makes about 6 cups.