When my husband Bill is out-of-town or having a business dinner, that's the time to make a meal for myself of something he doesn't like.  I settled on this vegetable lasagna that I came across in one of my files.  It was a clipping from a 1988 Sunset Magazine.  I knew it would be good because everything in Sunset Magazine is good. The lasagna is filled with spinach, carrots, zucchini, mushrooms, and all the other basics that make a lasagna.  Bill likes his carrots and spinach raw so I knew he probably wouldn't care for this, although he doesn't know what he's missing.  It was wonderful.
My (Manless) Meatless Monday begins with these colorful ingredients.  I had everything assembled and ready to go.  The recipe calls for a jar of marinara sauce, but of course you can make your own instead.  One easy step that I liked was the lasagna noodles and carrots are boiled together first, then the zucchini is added to the pan and the mixture is cooked for a few more minutes.  They were all cooked perfectly.  A layering process is done with the cooked zucchini and carrots with noodles, a spinach-ricotta mixture, and a mushroom and onion laced marinara sauce.  It's topped with a last layer of sauce and a sprinkling of Parmesan.  It smells heavenly while baking and looks beautiful hot from the oven.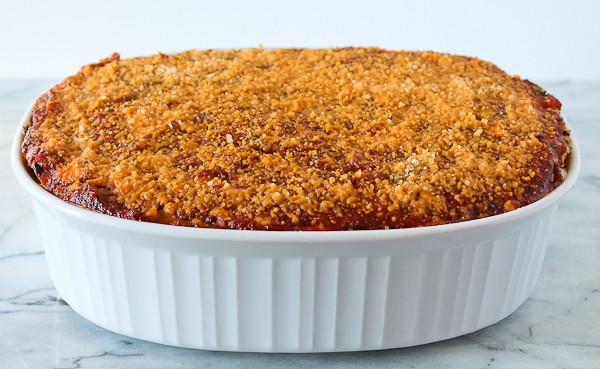 I decided to use this lovely dish for serving because it looks just like the one Sunset used in their photo.  A flat baking dish works fine too, but I loved these taller chunky pieces.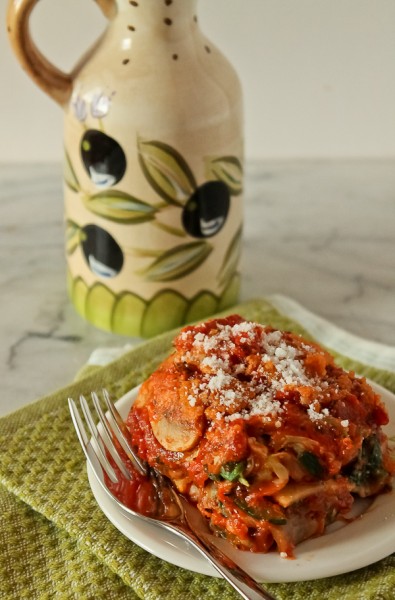 I was very happy to freeze most of the lasagna for another time.  Next time Bill is out-of-town, I'll have meals ready to go, even if it's not a Monday.

Vegetable Lasagna
Author:
Sunset Magazine, September 1988
Ingredients
8 ounces dry lasagna noodles
4 carrots (about ¾ lb. total) ends trimmed, cut into ¼-inch thick slices
3 zucchini (about 1 lb. total) ends trimmed, cut into ¼-inch thick slices
2 Tablespoons olive oil
1 medium-sized onion, chopped
½ pound mushrooms, thinly sliced
1 teaspoon dried basil
1 teaspoon dried thyme
1 teaspoon dried oregano
1 jar (32 ounces) marinara sauce
2 packages (10 oz. each) frozen chopped spinach, thawed
½ pound ricotta cheese
¾ pound mozzarella cheese, shredded
¼ cup grated fresh Parmesan cheese
Instructions
Heat oven to 400 degrees.
Bring 3 quarts of salted water to a boil over high heat. Add noodles and carrots; cook 6 minutes. Add zucchini; cook until noodles are just tender, about 4 minutes longer. Drain well and set aside.
In the same pan, add olive oil, onions, mushrooms, basil, thyme, and oregano. Cook over high heat, stirring often until onion is limp and liquid evaporates, about 4-5 minutes. Stir in marinara sauce. Remove from heat and set aside.
Squeeze all liquid from the spinach and place in a bowl. Stir in the ricotta cheese; set aside.
In a 3-quart baking dish, spread in ⅓ of the sauce. Arrange ½ of the noodles over the sauce. Sprinkle evenly on top1/2 of each of the vegetables, ½ of the spinach mixture, and half of the mozzarella cheese. Repeat layers, ending with the sauce. Sprinkle with the Parmesan.
Set the baking dish on a jelly roll pan to catch any drips. Bake, uncovered, until the center is hot, about 30 minutes. Let stand 5 minutes before serving. Serves 6.