With Thanksgiving upon us, it's time to start pulling out the recipes; at least it is for me.  I love making old family favorites and also love trying new recipes every year, whether it's a new stuffing, bread, or side dish.  I found this intriguing recipe from Sunset Magazine in my files while searching for dinner roll ideas.  A savory madeleine.  Love it.  Who says Madeleines have to be sweet?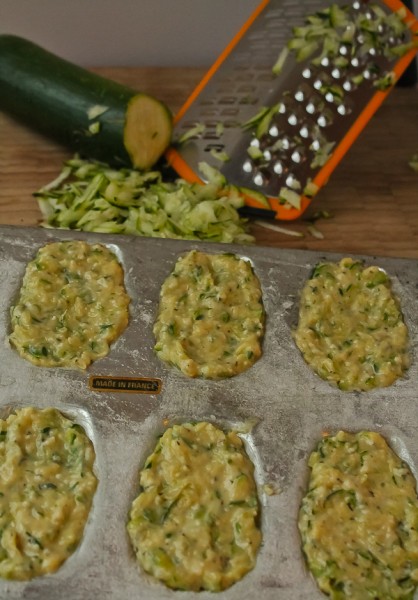 Shredded zucchini is mixed with sautéed onion, garlic, olive oil, flour, eggs, milk, Parmesan, and basil.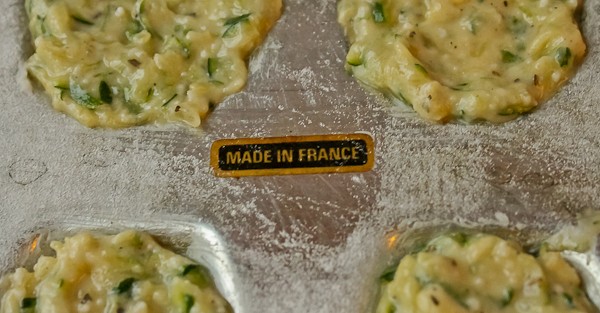 They are wonderful served hot from the oven with butter.  Any leftovers can be frozen.  The madeleines would be good served with soup, or even with Thanksgiving dinner for a surprise extra.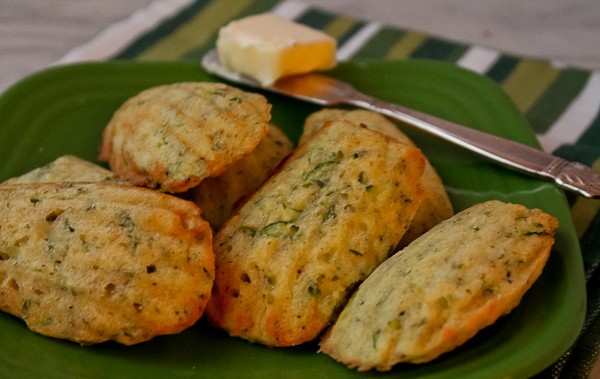 I love the soft middles and crispy edges.  I'll be making these again.

Zucchini Madeleines
Ingredients
3 medium zucchini (about 1-1/2 pounds) shredded
2 teaspoons salt
6 Tablespoons olive oil, divided
1 medium onion, chopped
1 cup all-purpose flour
1 Tablespoon baking powder
5 large eggs
2 Tablespoons milk
1-1/4 cups freshly grated Parmesan cheese
1 clove garlic, minced
2 Tablespoons chopped fresh basil leaves, or 1 teaspoon dried basil
¼ teaspoon pepper
Instructions
In a large bowl, mix shredded zucchini with the 2 teaspoons salt. Let stand until zucchini is limp and liquid has drained from it, about 30 minutes. Rinse zucchini well and drain, squeezing out as much water as possible. Heat oven to 400 degrees.
Meanwhile, pour 2 Tablespoons of the oil into a skillet on medium-high heat. Add onion and cook, stirring occasionally, until limp and lightly browned, about 10 minutes; set aside.
In a large bowl, stir flour with baking powder. In a separate bowl, whisk together until blended the eggs, milk, remaining 4 Tablespoons olive oil, Parmesan, garlic, basil, and pepper. Add zucchini and onion and mix well. Stir zucchini mixture into flour mixture just until evenly moistened.
Butter and flour madeleine pans (1-1/2 to 2 Tablespoon size). Spoon batter into pans, filling to the rim. Bake at 400 degrees until puffed and lightly browned, about 15 minutes for 1-1/2 Tablespoon size, and 18 minutes for 2 Tablespoon size. Cool madeleines in pan for 5 minutes and remove, using a spoon or knife to gently loosen. Note: If you have only one madeleine pan, you will have to wash, dry, butter, and flour for each batch).
Serve madeleines hot with butter. If made ahead or you have leftovers, let cool, wrap airtight and chill up to 24 hours or freeze. To reheat, lay thawed (if frozen) madeleines in a single layer on baking sheets and place in a 350 degree oven until warm in the centers, about 5 minutes. Makes 3 dozen.