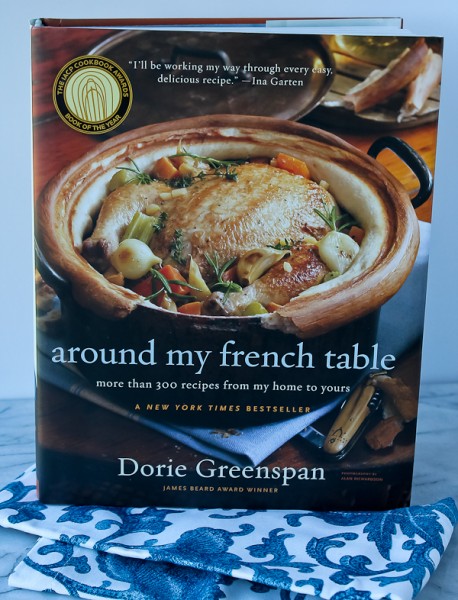 It's cookbook giveaway time and this one is a jewel!  James Beard award-winner Dorie Greenspan has the most amazing cookbooks.  I have her books and have not made one single recipe yet that hasn't turned out perfect.
The recipes in this cookbook were gathered from Dorie's years of living in France.  They are renditions of the classics, yet simple and spectacular.  The book is also packed with lively stories, memories, and tips on French culinary customs.  It also won Book of the Year from The IACP Cookbook Awards.
If you already have this cookbook, then lucky you.  But that doesn't mean you still can't enter.  Maybe you would like to give it to a friend or loved one for Christmas or a birthday gift.  If you don't have this cookbook, then you must enter.  Don't miss out on a chance to win, when all you have to do is leave a comment and that's it!
Here's how to enter:
 You must leave a comment here on the blog.  Not on my Facebook, Twitter, Instagram, or anywhere but here or it won't count.  Tell me why you would like to win the cookbook; or you can tell me your favorite French food.
The drawing is open only to readers who live in the Continental USA.  Sorry, but postage is too expensive elsewhere and this book is very large and heavy.  The Culinary Cellar is not responsible for late, stolen, lost, or damaged mail.
The winner will be chosen randomly using random.com.
Comments can be started anytime today, Friday, November 20, 2015, and will end at 11:59 pm CST on Monday, November 30, 2015.  The winner will be announced on my Wednesday blog of December 2, 2015.  I will mail the book out to the winner right away in time for Christmas.
Good luck, everyone!!  This book will make you happy!
P.S.  I wrote a blog about this cookbook with a recipe last January, if you want to go check it out!  And if you want to read about an earlier and now closed Dorie Greenspan book, Baking Chez Moi, that I gave away along with another one of her great recipes that you can try, read about it on my blog here.