On the Sunday before Thanksgiving, our church has a bake sale, raising money to send a medical team to Panama in February.  My daughter Kara went on this mission twice as the Spanish translator for the doctors and nurses.  It's a wonderful mission and I love contributing to this good cause.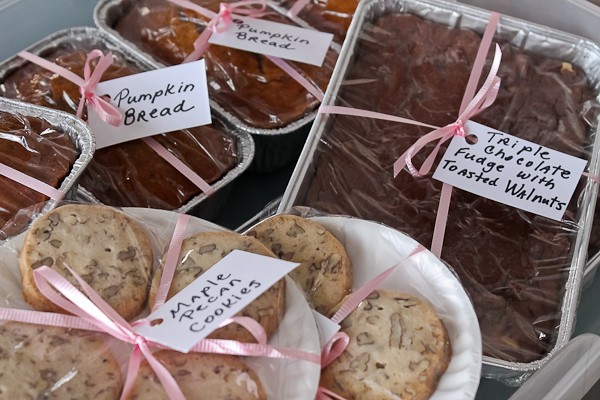 I snapped this quick photo as Bill was carrying a tray out to the car to deliver to the church.  My favorite item here is the Triple Chocolate Fudge with Toasted Walnuts.  I have been making it every Christmas since I clipped it from the December 1977 issue  of Bon Appetit magazine.  It's the best fudge I have ever made.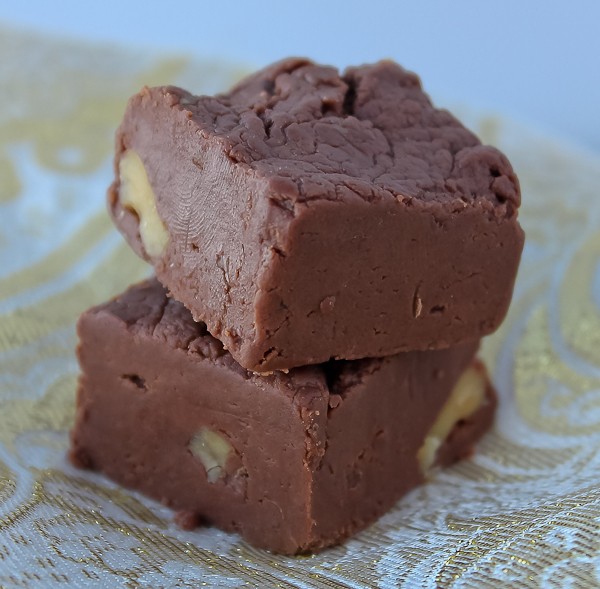 After making 6 pounds of fudge for the bake sale, putting about 1 pound each into tins, these two little pieces were literally all I had left to work with for a photo.  They are not the prettiest little pieces, but they still tasted heavenly.  I tried to think of a way to make them look better, then I remembered something our cousin Eija sent along with Bill when he came back from Finland last week.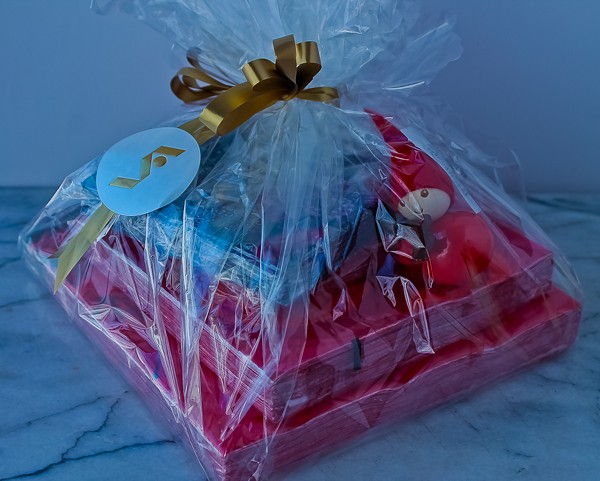 Eija sent this package filled with Finnish Marimekko napkins and the adorable little aarikka figure from the store of the same name.  I went in that store this summer and those little figures are everywhere holding different little objects.  This one is holding a cookie and looks perfect next to the fudge.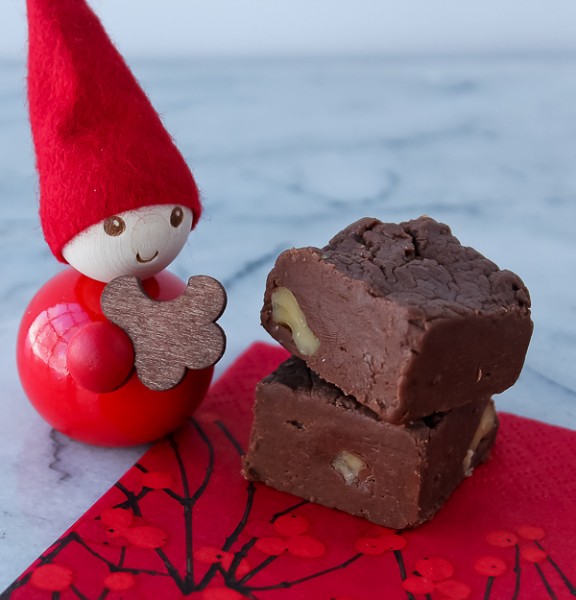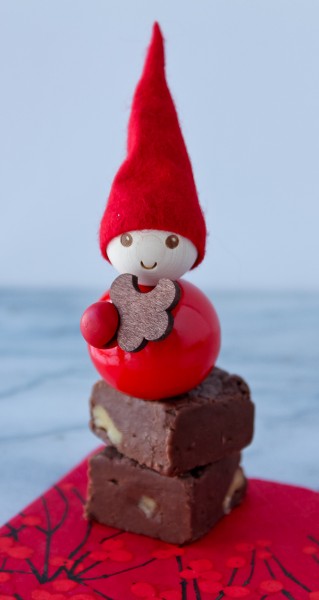 Is she adorable or what?!
I think any food would look good next to her.  Here is the recipe for you, and the method may sound a little strange not using a thermometer, but trust me, it works every time – if you follow it exactly!  You'll see what I mean as you read the recipe instructions.  Since 1977, I have never had a batch that didn't turn out perfect.
Now the question is, who gets the two little pieces of fudge?   I think Bill will laugh at that question!
Triple Chocolate Fudge
Author:
Bon Appetit magazine, December 1977
Ingredients
4-1/2 cups sugar
1 teaspoon salt
½ cup (1 stick) butter
1 can (13 ounces) evaporated milk*
1 bag (12 ounces) semi-sweet chocolate chips
Four 4-ounce bars German's Sweet Chocolate, broken into chunks
9 ounces milk chocolate, broken into 1-inch chunks
1-1/2 7-ounce jars marshmallow creme**
2 teaspoons vanilla
4 cups coarsely chopped toasted walnuts (or pecans) I toasted them at 350 degrees for about 10 minutes until they are fragrant and lightly browned.
Notes:
*cans of evaporated milk are now 12 ounces, which means you are ⅛ cup short. You can either add another ⅛ cup of evaporated milk, or half-and-half which I did because I didn't have any more evaporated milk! Just don't add regular milk.
**I know, it's weird to use ½ jar of marshmallow creme, and it seems like it might be hard to guess exactly what a ½ jar is, because it is way too messy to remove it and measure it. I measure the creme in the jar with a ruler, and then make a circle around the jar with a marker at the halfway point; then when you scoop it out you can see when you have reached the ½ jar measure.
Instructions
For of all, to make this recipe work, you must have ALL the ingredients measured and ready to go at hand. Lightly oil two 9-by-13-inch pans and set aside on a work surface. And if your cell phone rings or you get a text message, forget it! This fudge needs your full attention to work.
In a 6-quart Dutch oven, combine sugar, salt, butter, and milk. Bring to a simmer, stirring constantly, over medium heat. AS SOON AS THE FIRST BUBBLE BURSTS, boil mixture without stirring for EXACTLY 8 minutes. (set a timer!) Remove from heat immediately.
Quickly stir in all the chocolates and stir until melted. (I have them all in one bowl ready to dump in at once). Then stir in the marshmallow creme and vanilla and blend until the creme is blended in, then stir in nuts. Blend thoroughly yet quickly and then pour into the prepared pans, distributing evenly. Cover with foil and let sit for several hours to firm up. At this point you can refrigerate the pans, but always bring the fudge to room temperature before cutting and serving for fullest flavor and consistency.