I love old cookbooks.  Maybe even a little bit more than new ones.  Not that I don't love the latest culinary trends, but there is such comfort in many vintage and classic recipes.  Sometimes the best ones are from obscure old books of family recipes, or recipes someone gathered on world travels.  I search out such books at antique stores and book sales.  I found this book at an antique store many years ago and started cooking from it again this past weekend.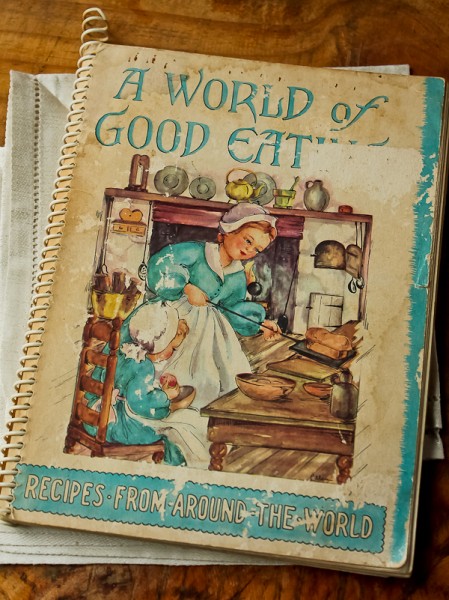 As you can see, it was very well used and loved.  The spiral edge is coming loose, it's very stained inside and out, and the title is actually A World of Good Eating, not A World of Good Eat.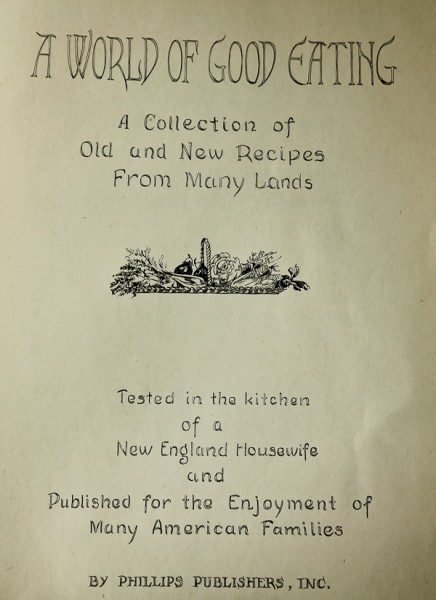 In the forward, the "New England Housewife" is introduced as Heloise Frost, a busy mother of three who would love to venture out into the world "to eat at the strange and exotic restaurants that serve the dishes of foreign lands," but with youngsters and a limited budget, it was not possible for her.  Instead, she decided to compile her own book "for the enjoyment of others who have a way with a saucepan and who like to try new and unusual things."  Heloise gathered recipes and made chapters from the British Isles, China, France, Germany, Italy, Poland, Scandinavia, and America.  Each chapter has a full color and beautiful illustration, and other whimsical illustrations are throughout the book, drawn by Ellen A. Nelson, who made figurines and greeting cards in addition to contributing the Scandinavian recipes. (Note:  I wrote about this cookbook when I first started writing my blog over five years ago, and if you follow this link, I have the covers of all the other chapters.  I love this book so much, I did it twice!  I do that sometimes…)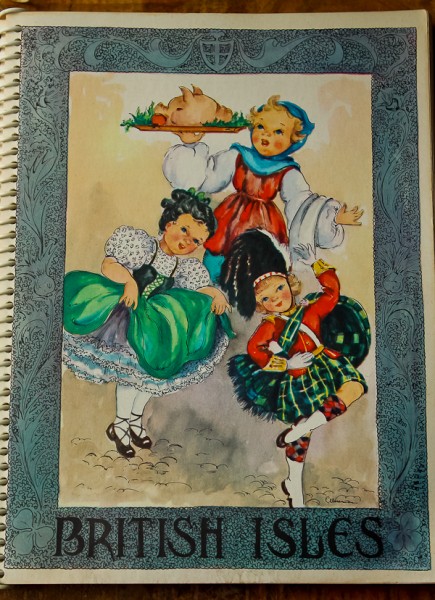 The Scottish Pancakes are in the British Isles chapter.  I had never seen pancakes that were sprinkled with sugar and drizzled with lemon juice before, so of course I had to try them.  Oh, my goodness.  They are heavenly.  The batter is more like cake batter, and the pancakes taste almost like flat donuts!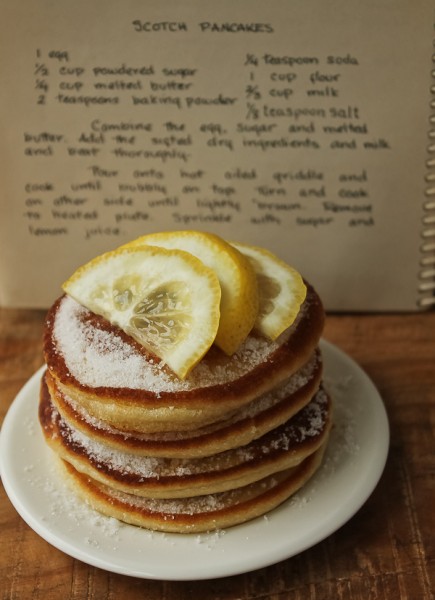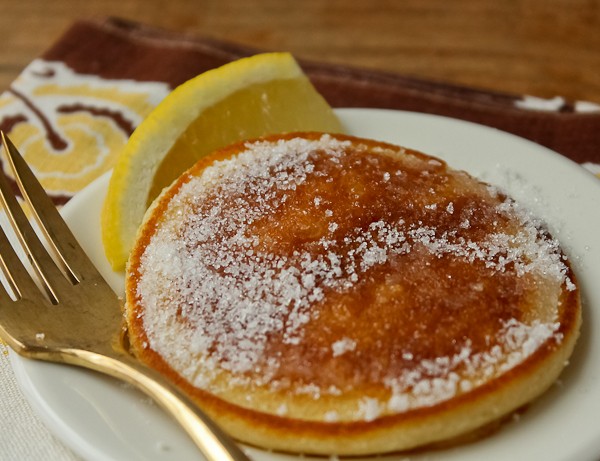 So good.  We loved them.  Since they tasted so much like a donut, I had another idea.  Why not add a dollop of jam in the middle after sugaring it and drizzling with the lemon juice and make it like a jelly donut?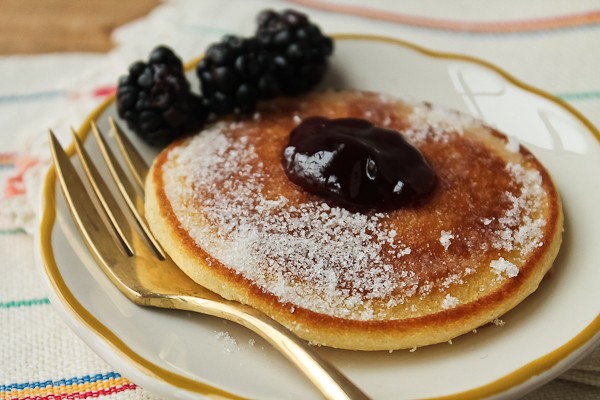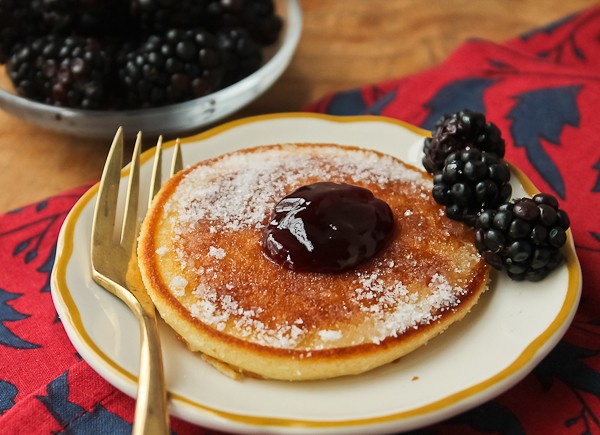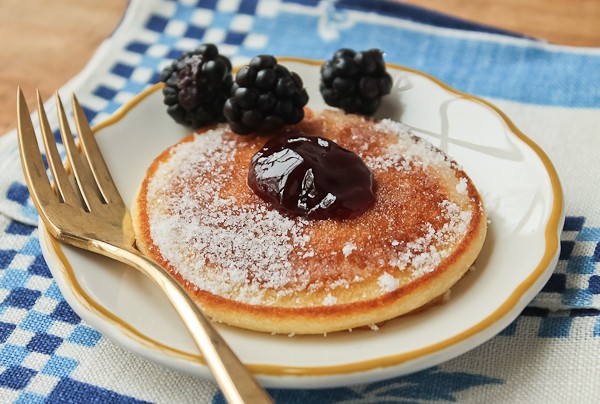 Sorry, I get carried away playing with my various napkins!
Anyway, it was great with the dab of jelly, but have to say I loved it best with just the sugar and lemon juice.  Try it and see what you think!

Scottish Pancakes
Ingredients
1 egg
½ cup powdered sugar
¼ cup melted butter
1 cup all-purpose flour
2 teaspoons baking powder
¼ teaspoon baking soda
⅛ teaspoon salt
⅔ cup milk
Granulated sugar for sprinkling on top of pancakes
Lemon juice for drizzling on top of pancakes
Instructions
In a bowl, whisk together the egg, powdered sugar, and melted butter. Sift together the dry ingredients and add them alternately with the milk to the egg mixture. Whisk until well combined.
Lightly oil a griddle pan and heat until hot. Scoop on batter and cook until pancakes start to bubble on top and are golden underneath. Flip over and cook until done. Repeat.
While still very hot, sprinkle a generous spoonful of granulated sugar on top of each pancake and spread out with the spoon to cover the entire top. Drizzle with some lemon juice and serve immediately. Add a dab of jam, if desired.