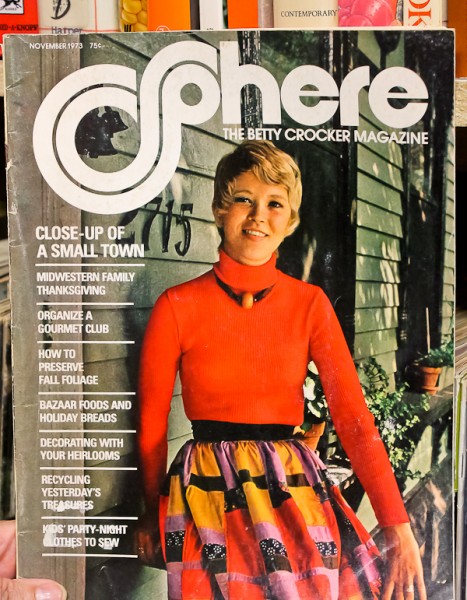 This is one of my favorite November issues of the vintage Sphere magazines.  I love Thanksgiving ideas and cool weather cooking.  One Thanksgiving menu from a family in downstate Illinois features not turkey but roast duck and dumplings. Also on the menu are fried sweet potatoes, rutabagas with brown butter, pepper-bean casserole, spicy applesauce mold, corn relish, buttermilk buns, grandma's mincemeat pie, and the family favorite, Lavon's pumpkin squares that I wanted to try as an alternative to pumpkin pie.  After one bite my husband declared that he may never want regular pumpkin pie again.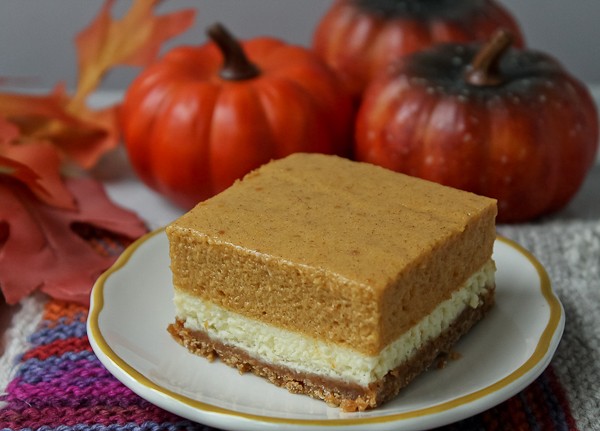 A rich and buttery graham cracker crust is topped with a cream cheese layer and baked.  When cooled, a creamy yet light pumpkin layer is spread over the cream cheese layer and chilled.  I have seen many recipes similar over the years with the same ingredients and layering, but none have tasted like this one.  This one is very special.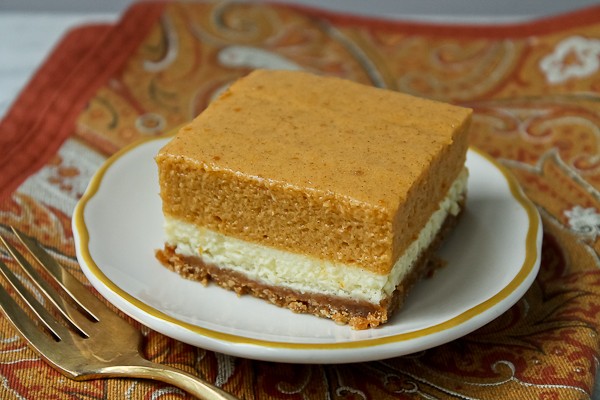 It's so pretty and cuts so beautifully, I couldn't stop taking photos of it!
Another article called "The Bountiful Bazaar" brought back memories of church bazaar's of my childhood, when everything was homemade, from the crafts to the foods.  I loved this photo of the ladies selling their wares.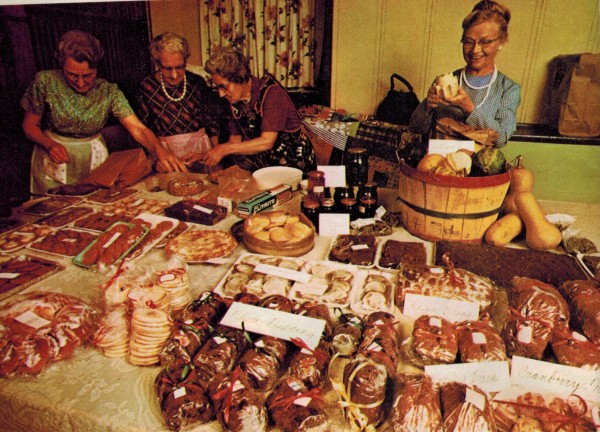 Bountiful indeed!  Look at that table!  Many of the recipes are in this issue like divinity fudge, toffee squares, black walnut fudge, stained glass candy, peanut butter fondant (made with leftover Thanksgiving mashed potatoes!), peanut brittle, banana bread, cranberry-fruit nut bread, caramel apple cookies, gumdrop cookies, and pies galore- cherry, apricot, and raisin.  There's more, but aren't you ready to jump into this photo?
Other articles include a hearty country breakfast idea, a gourmet get-together party with friends, a cooking lesson page on how to make eggs in aspic (gorgeous), and another favorite, holiday breads.  The variety of breads ranged from mashed potato doughnuts and brown bread, to fancy yeast breads like a cardamom Christmas crown, an almond-crusted loaf with almond paste, and a black walnut kuchen.
As I said, this issue is a bounty for Thanksgiving and fall weather cooking, but you must have the recipe for the pumpkin squares.  Guaranteed to be a hit!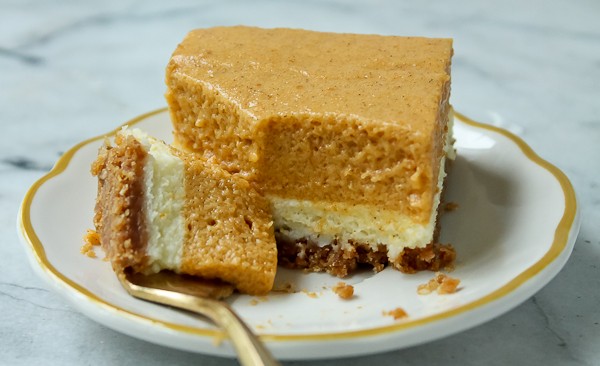 Lavon's Pumpkin Squares
Author:
Sphere Magazine, November 1973
Ingredients
For Crust:
1-3/4 cup graham cracker crumbs (about 24 single graham crackers)
⅓ cup sugar
½ cup butter, melted
For Cream Cheese Layer:
2 eggs
¾ cup sugar
1 package block-style cream cheese (8 ounces), softened
For Pumpkin Layer:
1 can (15 ounces) 100% pure Pumpkin (not pie filling)
3 egg yolks
½ cup sugar
½ cup whole milk
½ teaspoon salt
2 teaspoons ground cinnamon
1 envelope unflavored gelatin
¼ cup cold water
3 egg whites
¼ cup sugar
Topping:
1 cup chilled whipping cream
1 Tablespoon sugar
1 teaspoon vanilla
Instructions
Heat oven to 350 degrees. Butter a 9-by-13-inch baking pan.
For crust:
Mix graham cracker crumbs and ⅓ cup sugar. Stir in melted butter. Pat into the bottom of prepared baking pan; set aside.
For cream cheese layer:
Beat the 2 eggs, ¾ cup sugar, and cream cheese until light and fluffy. Pour over the graham cracker crust and smooth out evenly. Bake for 20 minutes. Set on wire rack to cool.
For pumpkin layer:
Beat pumpkin, egg yolks, ½ cup sugar, the milk, salt, and cinnamon in top of a double boiler. Cook over boiling water, stirring frequently until thick, about 5 minutes. In a small saucepan, sprinkle gelatin on cold water. Stir over low heat just until dissolved; stir into pumpkin mixture. Set aside to cool.
When cooled, beat the egg whites in electric mixer until foamy. Gradually beat in the ¼ cup sugar and beat until stiff and glossy. Gently fold beaten egg whites into cooled pumpkin mixture. Pour over the cream cheese layer in pan and refrigerate until very cold and set, at least 3 hours.
To serve: Beat whipping cream and 1 Tablespoon sugar until stiff. During last minute of beating, add vanilla. To serve, cut dessert into squares and garnish with whipped cream. Note: It's also great without whipped cream! Makes 15 squares.