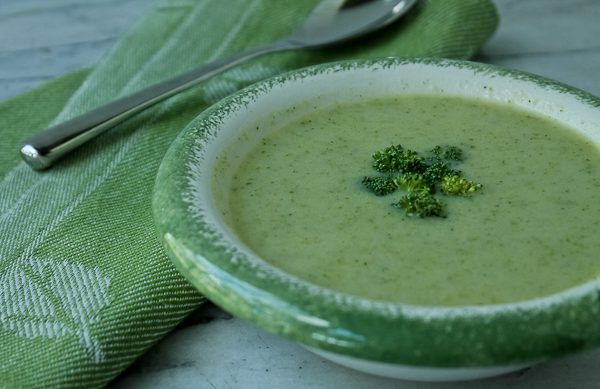 I shouldn't have trusted Chicago weather.  We were teased with a couple days of cooler days and nights and now we are back to the 80's all week again.  Sigh.  I know many people love this before winter, but I prefer the fall and winter and am always happy to see the hot weather leave.  I almost didn't post this soup when the warmer weather came back but what the heck.  It was good and I can stay inside with air conditioning and pretend it's cooler.
Many recipes for Cream of Broccoli Soup or any creamed soup are made with an excess of heavy cream or half-and-half along with butter for sauteing vegetables.  This version is much lighter and still tastes great.  It uses fat-free half-and-half, whole wheat flour for thickening, and olive oil instead of butter.  I found it to be very satisfying and delicious without having a full stomach feeling.  It was also just fine for a warm day, but I guarantee you I will be having more when the wind blows cooler air or the snow falls.  I might even add some homemade bread then too.  Gotta warm the house up when that happens, right?

Healthier Cream of Broccoli Soup
Ingredients
1-1/2 pounds broccoli
6 cups chicken stock, homemade or 1- 48 ounce carton
3 Tablespoons olive oil
1 cup minced onions
¼ cup whole wheat flour
1 cup fat free half-and-half
1 teaspoon salt
1 teaspoon white pepper
Instructions
Wash the broccoli. Using a vegetable peeler, remove the tough outer layer from the broccoli stalks. Chop broccoli and set aside 1 cup of florets for garnish.
Bring chicken stock to a simmer and add chopped broccoli. Cook for a few minutes or until broccoli is tender, but making sure the color does not become dull.
Puree cooked broccoli and 1 cup of the chicken stock in a blender or food processor. Set aside.
Add olive oil and onions to another pot and gently cook and stir until translucent. Sprinkle in flour and stir to mix On low heat, continue cooking, making sure the flour is absorbed and slightly turns color. Slowly whisk hot chicken stock into flour mixture and bring to a simmer. Add broccoli puree and half-and-half. Bring to a simmer, stirring to combine ingredients. Season with the salt and pepper. Garnish each serving with some florets floating on top. Serve hot. Serves 8.
Note: If you like broccoli-cheese soup, you can throw in a handful of reduced fat shredded cheddar cheese, or to taste, if desired.