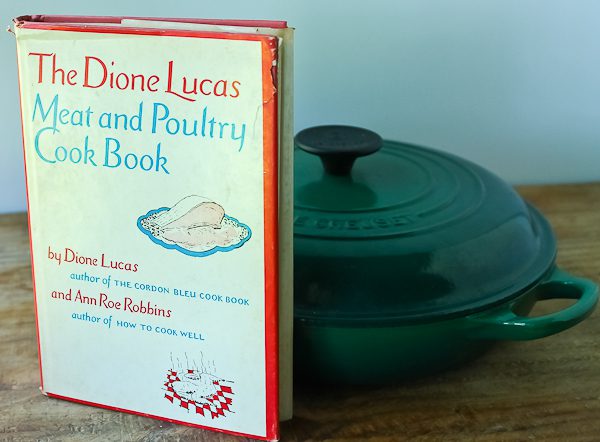 Dione Lucas (pronounced "dee-oh-nee") was a seriously famous celebrity chef you might not have ever heard of, even though her credentials are stellar.  Lucas was the first female graduate of Le Cordon Bleu in Paris, the first woman featured in a cooking show on television, had a significant impact on American and Australian culinary history, invented a line of gourmet knives still used by some chefs today, named by Time magazine as one of the Top Ten television chefs of all time, yet her legacy has been largely forgotten.  Maybe this is because she died of pneumonia at a rather young age (61) and many of her papers have been lost, her cooking show tapes are mostly non-existent, and unfortunately according to some reports, she was not well-liked by some in the culinary world, although I couldn't really find out why.  At her death, her papers were placed with the Arthur and Elizabeth Schlesinger Library at the Radcliffe Institute for Advanced Study, Harvard University.  Perhaps someone will write a biography someday about what sounds like a fascinating life in post World War II culinary history.
I found this 1955 cookbook at an antique store over a year ago but had not yet cooked from it.  When my husband brought home two very large and very thick beautiful pork chops from a butcher shop, I knew it was time to get out one of my favorite LeCreuset pans and then crack open this classic cookbook.  Since Lucas was a graduate of Le Cordon Bleu, it was expected that many of the recipes would have a French influence, and they do.  The chapters are divided into beef, veal, lamb, ham and pork, chicken, turkey, duck and goose, squab, and guinea hen.  I selected a very simple recipe for pork chops with a mustard sauce.  The chops are browned and cooked slowly in butter, removed from the pan, then quickly stirred in is a little white vinegar to deglaze, Dijon mustard, and heavy cream.  Add salt and pepper to taste and garnish with chopped parsley. That's it!  So simple but excellent.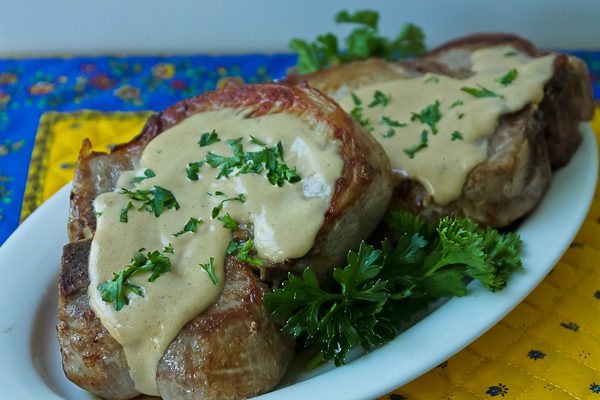 The recipe actually calls for "four large" pork chops but the two I had were so huge and thick, they could feed four people, so I just went with making two chops and it was perfect.  The cooking time of the chops will depend on how thick they are.  Just be sure and get the bone-in chops as they have so much more flavor, and don't get skinny ones; the thicker the better!  I served these with wild rice and mushrooms, and green beans with a touch of lemon.
This amusing quote was not in the cookbook, but I found it when I researching and thought you might like it:
"It's best to cook a strudel when you feel mean.  The beast stands or falls on how hard you beat it.  If you beat the dough 99 times, you will have a fair strudel.  If you beat it 100 times, you will have a good strudel.  But if you beat it 101 times, you will have a superb strudel."…. Dione Lucas
Enjoy these great pork chops.  No beating required..

Pork Chops with Mustard Sauce
Author:
The Dione Lucas Meat and Poultry Cookbook
Ingredients
4 large (thick, bone-in) pork chops
2 Tablespoons butter
2 Tablespoons vinegar
1 teaspoon Dijon Mustard
½ cup heavy cream
Salt and pepper, to taste
1 to 2 Tablespoons finely chopped parsley or chives
Instructions
Cook the chops slowly in a large skillet in the butter until browned on both sides and cooked to your desired doneness. (Lucas says it could take 30 minutes; I found it didn't take quite that long).
Remove chops from pan and place on warm serving dish; keep warm.
Add vinegar to pan and stir quickly to deglaze. Add the mustard and heavy cream; stir until smooth and blended. Add salt and pepper to taste. Let it gently simmer for 2 to 3 minutes, stirring.
Pour sauce over the chops and sprinkle with parsley or chives and serve.