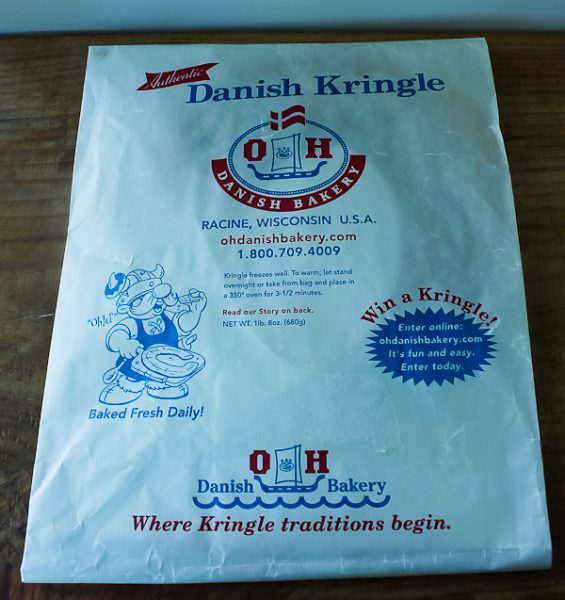 Pumpkin is everywhere, starting now and going through November or even later.  Some hate it, some love it, but it is certainly hard to ignore.  I happen to love pumpkin, after all, I live in the state (Illinois) that produces over 90% of the pumpkins in the USA.
You may have had pumpkin ice cream, pumpkin pie, pumpkin cake, pumpkin coffee, or dozens of other items, but have you ever had a pumpkin kringle?  Or even better, a pumpkin caramel kringle from Racine, Wisconsin?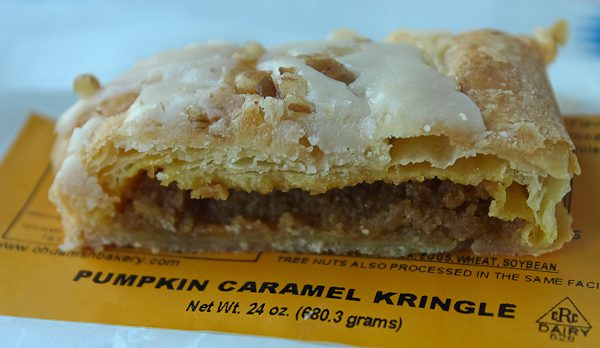 First of all, for those who don't know what a kringle is, it is a buttery multi-layered Danish pastry created by German bakers from Austria.  At one time, Danish bakers in Copenhagen went on strike, were fired, and the German bakers from Austria were hired in their place.  Once the Danish bakers returned to their jobs, they continued to make the dough the Austrian method, but made them into the shape of a kringle (pretzel-shaped) in Denmark, which is the Danish sign for a bakery.  Outside every bakery in Denmark, you will find a sign with a kringle on it.  Kringles were introduced in Racine Wisconsin in the late 1800's by immigrant Danish bakers. Racine became home to more Danes than any area in the country, and as a result there are more kringler shops in Racine than you will find anywhere else.  Racine is appropriately known as the "most Danish city in America," and the kringle is Wisconsin's official state pastry.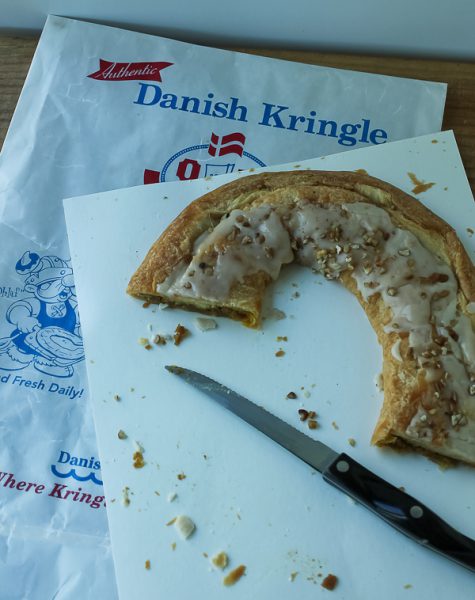 This is supposed to be a full oval shape, but of course my husband got his hands on it before I could take a photo.  But who can blame him, they are irresistible.  True kringles are highly labor intensive and take three days to prepare, as they are made up of around thirty layers of dough that must be rolled over and over with layers of butter, and then left to rest and chill in between.  Over the years, fruit and nut fillings were added and the pretzel shape changed to its present oval shape to eliminate the unfilled overlapping parts.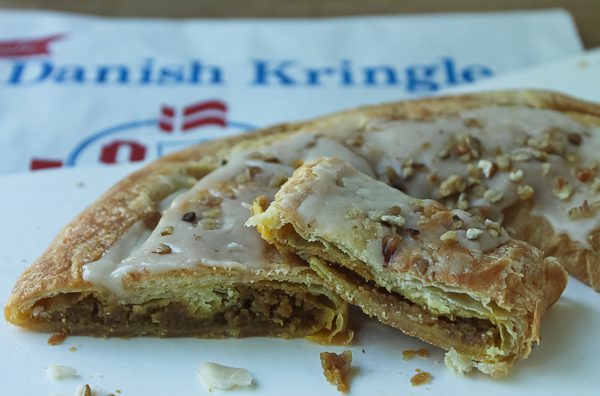 My favorite kringle bakery in Racine is O & H Danish Bakery, which has been open since 1949 with four generations of the Olesen family.  Even if you don't live nearby, the kringle can be ordered online.  If you don't care for pumpkin, there are other fall flavors offered like maple walnut, apple, Harvest (cinnamon apples and toffee bits), or the new Nordic Almond, which has an almond filling, caramel, vanilla icing, and topped with shaved almonds.  Check out their website for all the other incredible flavors available.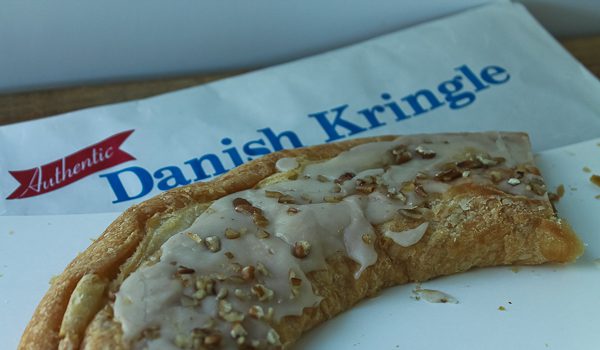 I don't have a recipe for kringle for you.  Why would I make one when I can find a Racine Kringle in just about any grocery store in my area, or I can drive to Racine, which is not far over the border.  I found the pumpkin flavor at our local Trader Joe's.  Anyway, I doubt I could make a kringle as well as the bakers in Racine.  I think it would take a lot of practice and patience.
I wonder what special flavor will be available at Christmas?
One last thing:  Here is a kringle joke:
Lars Larson, was on his deathbed in an upstairs bedroom.  His doctor had said Lars would last only a matter of hours.  Lars woke up from a deep sleep and sniffed.  His wife must have just returned from the bakery, and the aroma of freshly baked kringles brought a spark to Lars.  He whispered, "If I could just have a taste of kringle before I die, it would make my dying sweeter."
Lars mustered every ounce of strength and got out of bed.  Slowly he made his way downstairs and into the kitchen, where he spied two kringles on the counter.  Just as he was reaching out to take a piece, his wife swatted his hand away.  "Stop that," she said.  "We're saving these for your funeral."