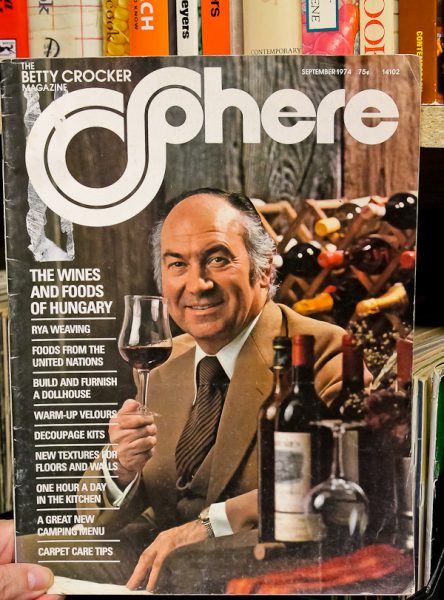 For those who have yet to rid of summer's heat, I hope cooler days are ahead for you.  Here in the Chicago area the worst heat seems to have given us a little reprieve for now and we can actually sleep with the windows open and get a bit of a breeze.  Next week officially begins autumn which means all I can think of is that it's the start of soup season.  This month's issue of vintage Sphere from 1974 has an article on Hungarian cooking including a recipe for goulash soup, which I made and it was hearty and delicious.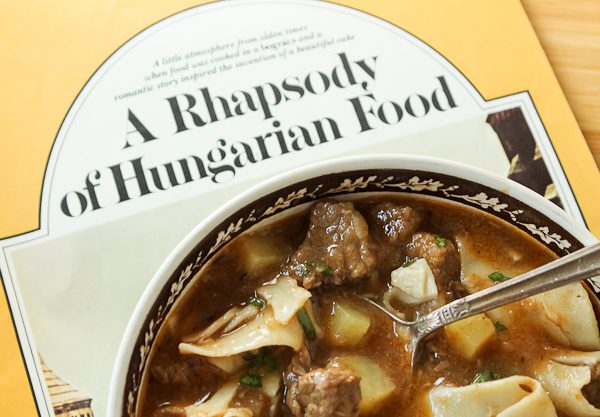 The soup (Gulyasleves, in Hungarian) is made with beef stew meat, potatoes, noodles, and lots of spices including a Hungarian staple, paprika, along with caraway seed, crushed red pepper, and thyme.  Other recipes in the article included fish paprika with sour cream, mixed meat goulash, stuffed cabbage, and a cherry strudel.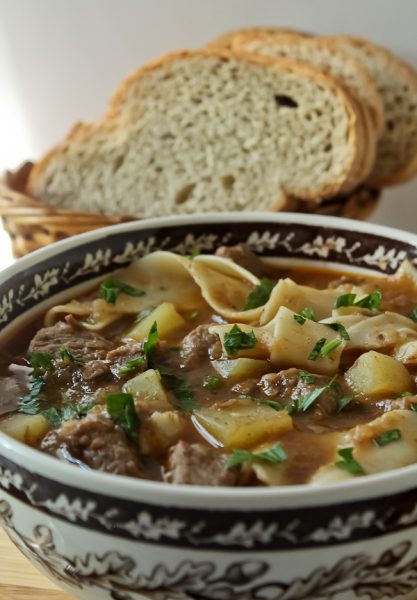 I don't have many Hungarian cookbooks or know much about the cuisine, so I was happy to read about it especially since it was written by the great Myra Waldo, author of The Complete Round-theWorld Cookbook, Seven Wonders of the Cooking World, and many more plus travel guides.  In her time, Waldo traveled to kitchens around the world at least six months out of each year bringing the world's cuisine to our kitchens.
This issue was geared toward international cooking, as it also included specialty peanut recipes from the United Nations using them in every way from drinks and salads to fritters and cakes, along with miscellaneous international recipes such as a clam souffle from France, mushroom pie from the United Kingdom, barbecued salad from Tunisia, and meat-filled crepes with raisins and almonds from Brazil.
The goulash soup is just the beginning of soup blogs you will be seeing from me in the next few months.  My mom will be happy as she says soup is probably her favorite meal.  I think she would love the goulash soup and I hope you will too.

Goulash Soup (Gulyasleves)
Author:
Sphere Magazine, September 1974
Ingredients
1-1/2 cups chopped onions
1 Tablespoon lard, shortening, or oil (I learned that Hungarians like to use lard)
4 cups beef broth
2-1/2 to 3 pounds beef stew meat, cut into ½-inch pieces
½ pound potatoes, pared and grated (about ¾ cup)
1 Tablespoon paprika
1 Tablespoon tomato sauce
1 teaspoon salt
½ teaspoon caraway seed
¼ teaspoon crushed red pepper
¼ teaspoon dried thyme leaves
¾ pound potatoes, pared and diced (about 1-1/2 cups)
1 cup cooked and drained goulash noodles or your favorite soup noodle of choice
Instructions
Cook and stir onions in lard (or other) in a 4-quart Dutch oven over medium heat until onions are browned. Stir in remaining ingredients except diced potatoes and noodles. Heat to boiling; reduce heat and cover. Simmer about 1-1/2 hours until meat is tender. (at this point the soup can be prepared and refrigerated 24 hours in advance. To finish, heat to boiling and follow directions and proceed with step 2. Please Note: Personally, I like to brown my meat, not just boil it. I first browned the meat, then added the onions and stirred until they were translucent, then continued with the recipe. It's up to you how you prefer to make it.
Stir in diced potatoes. Heat to boiling; reduce heat. Cook over medium heat, stirring occasionally, about 10 minutes or until potatoes are just tender. Stir in cooked noodles and heat through. Ladle into soup bowls and sprinkle with chopped parsley, if desired. Serves 4-6.