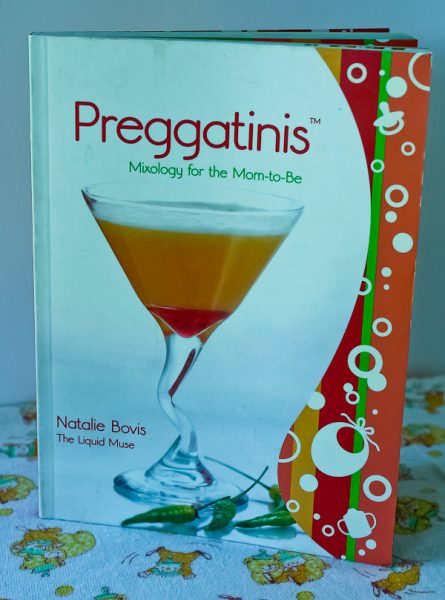 The coming months will include Oktoberfest, Thanksgiving, Christmas, and New Year's Eve, not to mention all the parties in between, which also can mean party beverage fare such as beer, wine, eggnog, and cocktails.  So what's a pregnant mom to do if she usually enjoys these beverages but of course cannot indulge at this wonderful time of life?  Make a "preggatini" is the answer!  There is no reason not to stay in the social swing of things with this cookbook.  The recipes highlight fresh juices and herbs without the use of alcohol.
Author Natalie Bovis (aka "The Liquid Muse") is a beverage consultant and author of several cocktail books, along with creator of the website TheLiquidMuse.com .  Bovis says not to confuse her beverages with those syrupy "mocktails" that are usually encountered at parties and bars.  The chapters are even divided into trimesters.  A first trimester example is the "Fruity Folate Shake," which includes papaya chunks (rich in folate), bananas (rich in potassium), and a little coconut milk.  There are also holiday drinks such as 4th of July Watermelon Cooler, Halloween Ghoulish Goblet, Thanksgiving Pumpkin Pie Preggatini, and New Year's Eve Sparkling Pomegranate Snowflake.
The reason I bought this book is because my youngest daughter Kara is expecting her first baby and I thought she might enjoy it as she loves fresh juices and herbs.  Since she is in her 2nd trimester, I turned to that chapter of the book and made the "Madras Mia," a mixture of cranberry juice, orange juice, and club soda.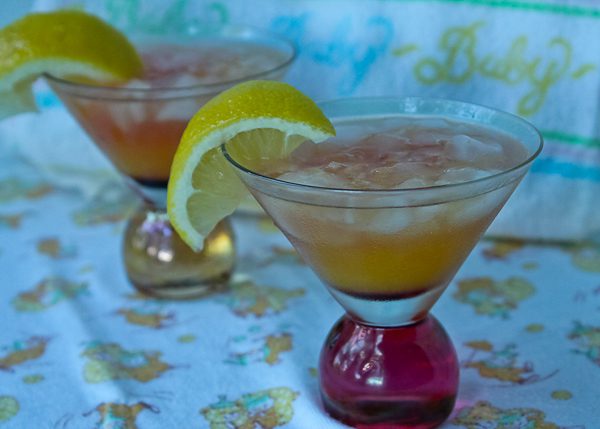 It was delicious and refreshing.  The drink is supposed to be served in a tall glass, but I couldn't resist using the gorgeous antique martini glasses from the 1940's that belonged to my husband's aunt.  The baby blankets in the photo belonged to my own girls.  When Kara was visiting here recently, we pulled out all the boxes of baby clothes that I have saved.  We wanted to find all the gender-neutral colors that I had because Kara and her husband have decided that they do not want to know the sex of their baby.  They want it to be a surprise, which I have to agree is so much fun.  I loved the element of surprise when both my girls were born.  That being said, nowadays I have found it rather difficult to find baby items that are not blue or pink!  It is definitely a limited selection, but we did find some items for the newborn in my boxes.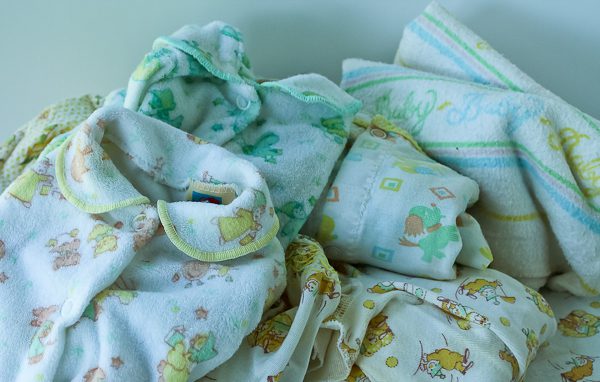 These brought back a lot of memories and were still in great shape.  But what really made Kara smile and caused me to get a little lump in my throat is when we found "Buppy."  Buppy was Kara's favorite stuffed animal.  She wouldn't sleep without him and carried him everywhere.  He is more worn out than the clothes, but that's because he was so loved.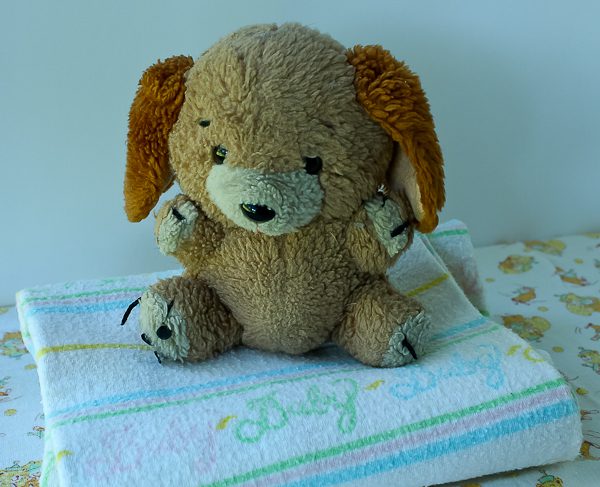 If you know a mom-to-be who loves fresh juices and herbs, she will probably love this book.  It's all in good fun, not to mention tastes good.  Try the one we made – it was great!  Wish I could give you Buppy too, but I'm afraid he's reserved for my future granddaughter/grandson.  I'm sure Buppy will be just as loved for another generation.

Madras Mia
Author:
Preggatinis: Mixology for the Mom-to-Be by Natalie Bovis
A Madras is vodka with cranberry and orange juice. Here is how to turn it into a non-alcohol preggatini!
Ingredients
2 ounces cranberry juice
2 ounces orange juice
1 ounce club soda
Ice
1 lemon wedge
Instructions
Pour all liquid ingredients into a tall glass filled with ice. Garnish with a lemon wedge on the rim of the glass. Serves one.