When I read that today was marked as National Chocolate Milkshake Day, I knew what I would be looking for as I headed down the stairs to my Culinary Cellar:  my old Ghirardelli Original Chocolate Cookbook to find the recipe for a chocolate milkshake.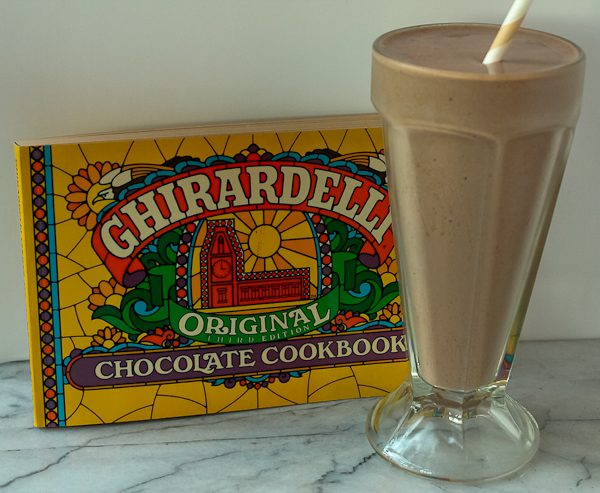 Ghirardelli Square in San Francisco near Fisherman's Wharf used to be one of my favorite places to shop when I lived across the Golden Gate in the early '70's.  After shopping all the boutiques, Ghirardelli Chocolate Factory  on the upper level by the fountain was the last stop as a place to relax and have some ice cream or a shake before heading home.  I can still smell the place.  The sweet chocolate-filled air hits you in the face as soon as you walk inside.
I found the chocolate milkshake recipe, but I also found an added treasure inside the cookbook.  The restaurant used to offer free recipe booklets at the checkout and lo and behold, it fell out of my cookbook as I opened it.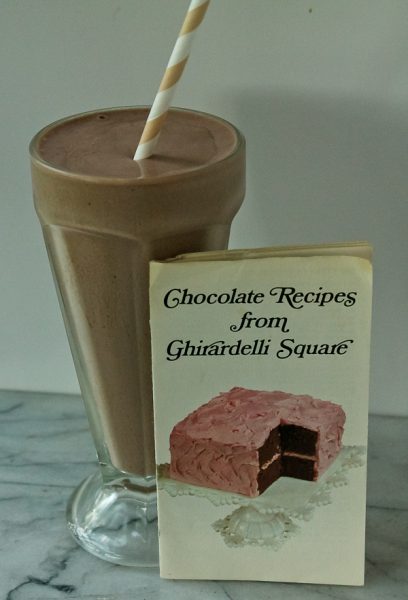 The booklet also contained the same recipe for the chocolate milkshake as the cookbook, so I knew it must be a time-tested recipe.  As so it was.  Oh, so good.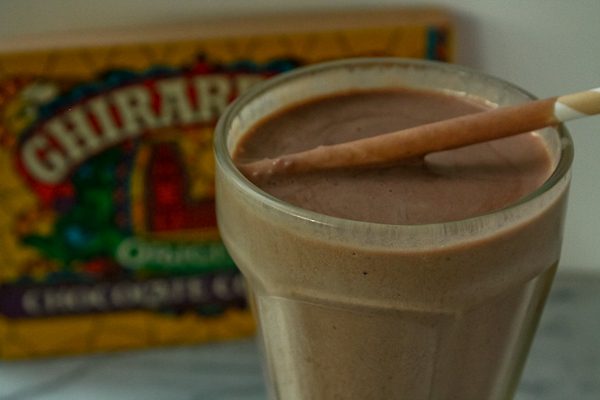 After enjoying the milkshake (and sharing with husband Bill) I became curious on the history of milkshakes.  It seems that the first known printed reference to a "milkshake" dates back to 1885 and contained whiskey for medicinal purposes.  But the name milkshake actually got the name from being served in bars, because if the customer enjoyed the drink, he shook hands with the bartender.  If not, the bartender didn't get a tip.  By 1900, milkshakes became more as we know them today, as a treat using chocolate, vanilla, or strawberry syrups and eventually with ice cream.  By the 1930's, milkshakes were staples at malt shops and a typical soda fountain offering.  By the 1950's, popular places like diners, lunch counters at the "Five & Dime" stores, Woolworth's, and burger joints all offered milkshakes and malts.  A milkshake machine salesman named Ray Kroc bought exclusive rights to a 1930's era Multimixer from the inventor and used it at his newly opened McDonald's restaurant.
Milkshakes and malts have never lost their appeal to the public, and now we can find milkshakes in a variety of flavors, even though sometimes the best is made the simple and original way.  And in case you were wondering, there is also a National Vanilla Milkshake Day, June 20th.  But since that day has passed, enjoy Ghirardelli's recipe for a great chocolate milkshake.

Chocolate Milkshake
Author:
Ghirardelli Original Chocolate Cookbook
Ingredients
Milk Shake:
1 cup chocolate ice cream
¼ cup milk
2 Tablespoons Golden Gate Chocolate Sauce (recipe follows)
Golden Gate Chocolate Sauce:
1-1/3 cups Ghirardelli Ground Chocolate
1 cup sugar
Pinch of salt
1 cup hot water
1 teaspoon vanilla
Instructions
For Chocolate Milk Shake:
In blender, combine all ingredients listed above for the milkshake. Mix at low speed until smooth. (For a malted milk shake, add 1 Tablespoon of malted milk powder)
Makes 1 serving.
For Golden Gate Chocolate Sauce:
In a saucepan, combine the ground chocolate, sugar, and salt. Add hot water, stirring until chocolate is dissolved. Heat to boiling, lower heat and cook five minutes without stirring. Remove from heat and add vanilla. This is a basic sauce also used to make hot chocolate, or it can be served over ice cream, cake, or with pudding. You will only need 2 Tablespoons of this sauce for the milkshake, so refrigerate the leftovers. It will keep for weeks.