Hewn Bakery was named by Food & Wine magazine as one of the top 100 bakeries in the country, in addition to being listed among the Best Bread Bakeries at the Food Network and as one of the Best Bakeries in Chicago.  Wow.  And guess where their new store is open?  Right here in my hometown of suburban Libertyville!  How lucky are we?  Hewn is owned and independently operated by two incredible women, Ellen King and Julie Matthei.  Please go read about them here.
Hewn's main store is located in Evanston, home of Northwestern University, alma mater of my daughter Kristina, who said she wishes that Hewn had been there when she was a student.  I'm sure the current students are enjoying Hewn on a daily basis.  Now that Hewn has expanded to the suburbs our busy little village of many restaurants which are very popular will be even more of a destination.
Kristina decided to start this last Wednesday morning by attending Hewn's soft opening. She packed up her sweet baby Eliza and headed to Hewn on Milwaukee Avenue in downtown Libertyville, just five minutes away from her home.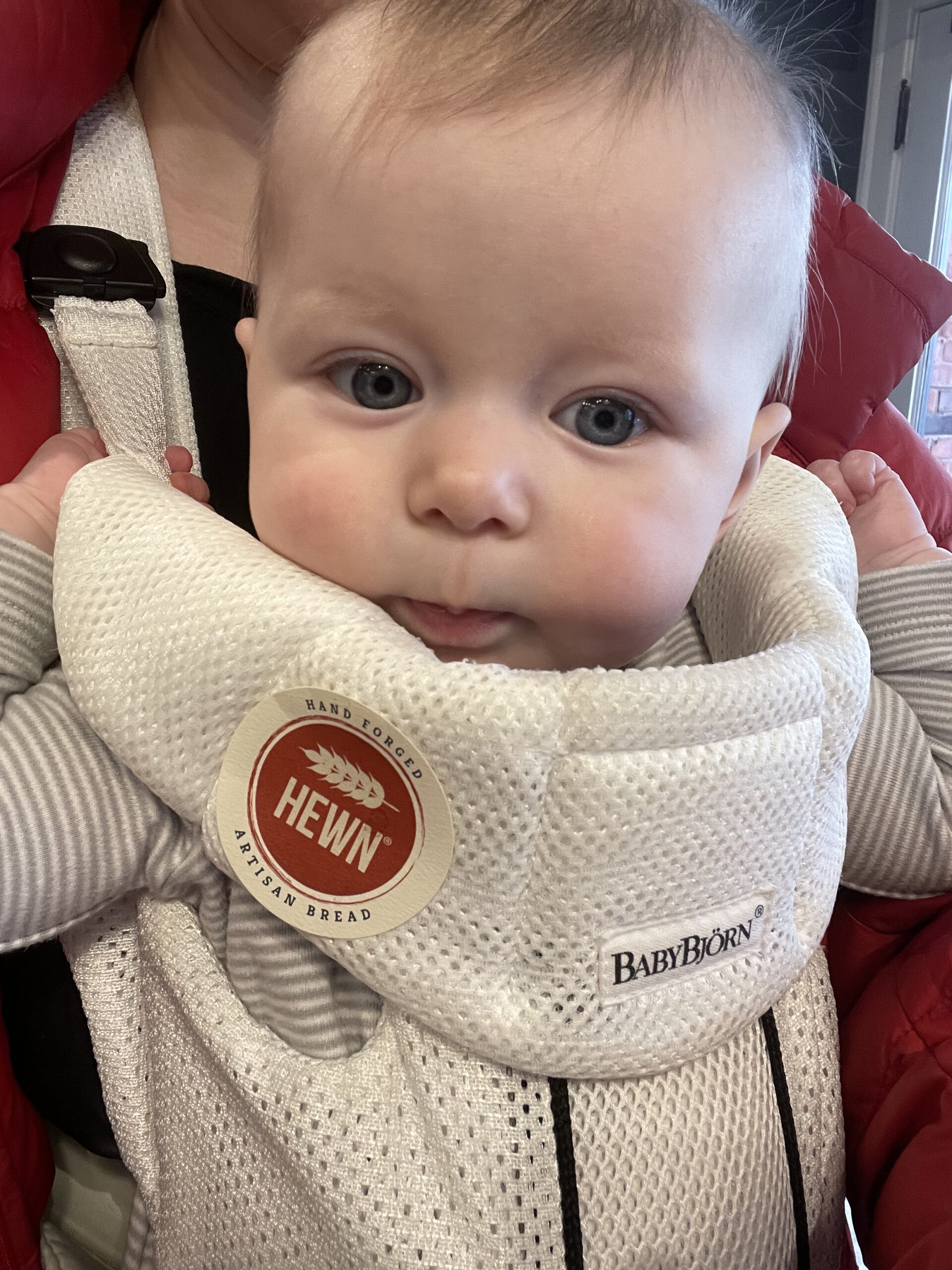 I think Eliza was impressed and even wore a sticker.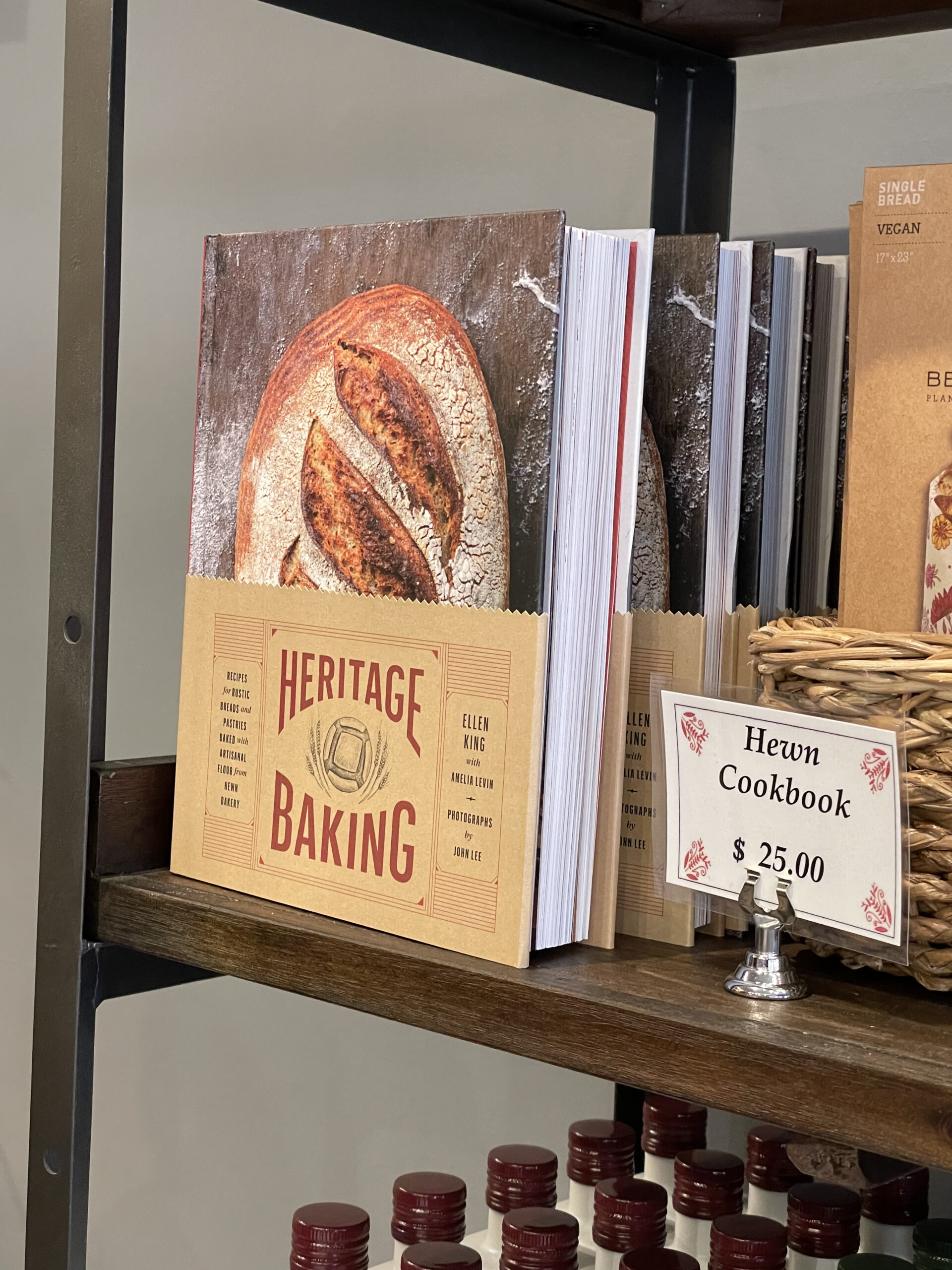 First thing Kristina had to buy was the Hewn cookbook, Heritage Baking.  If you are an avid bread baker who loves new information and techniques that will lead to better bread, you need this cookbook!  There are more than 45 fool-proof recipes which include Heritage Breads such as Country, Cheddar Country, Seeded Whole Wheat, Cranberry Walnut, Potato Rosemary and many more.  The enriched Heritage Breads of Brioche, Cinnamon Roll Brioche, Feta-Dill, Cornbread, Caramelized Onion and Parm, Carrot Ginger, and more, will make your mouth water just reading the names.  Besides all the breads you will also find recipes for muffins and scones such as Lavender Lemon Muffins, Sourdough Ginger-Peach Scones, Bacon Parmesan Scones, and Corn and Berry Muffins. And I'm not done yet. How about cakes, brownies, and cookies?  Raspberry Mascarpone Brownies, Chocolate Chip Cookies, Tart Cherry Coffee Cake, Buckwheat Honey Madeleines, Anise Biscotti, Dark Chocolate Brownies, and more.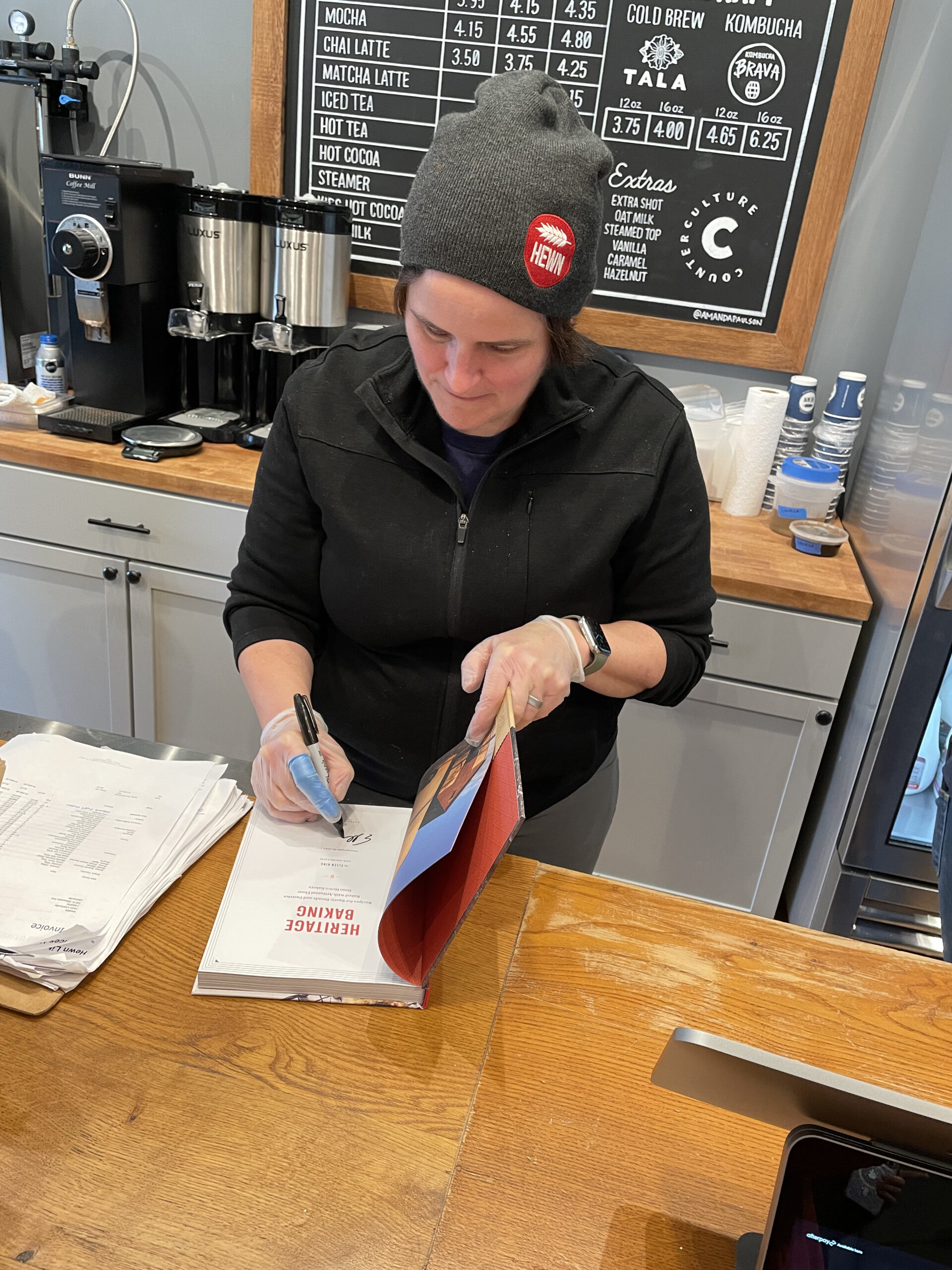 Author Ellen King was there and signed my book!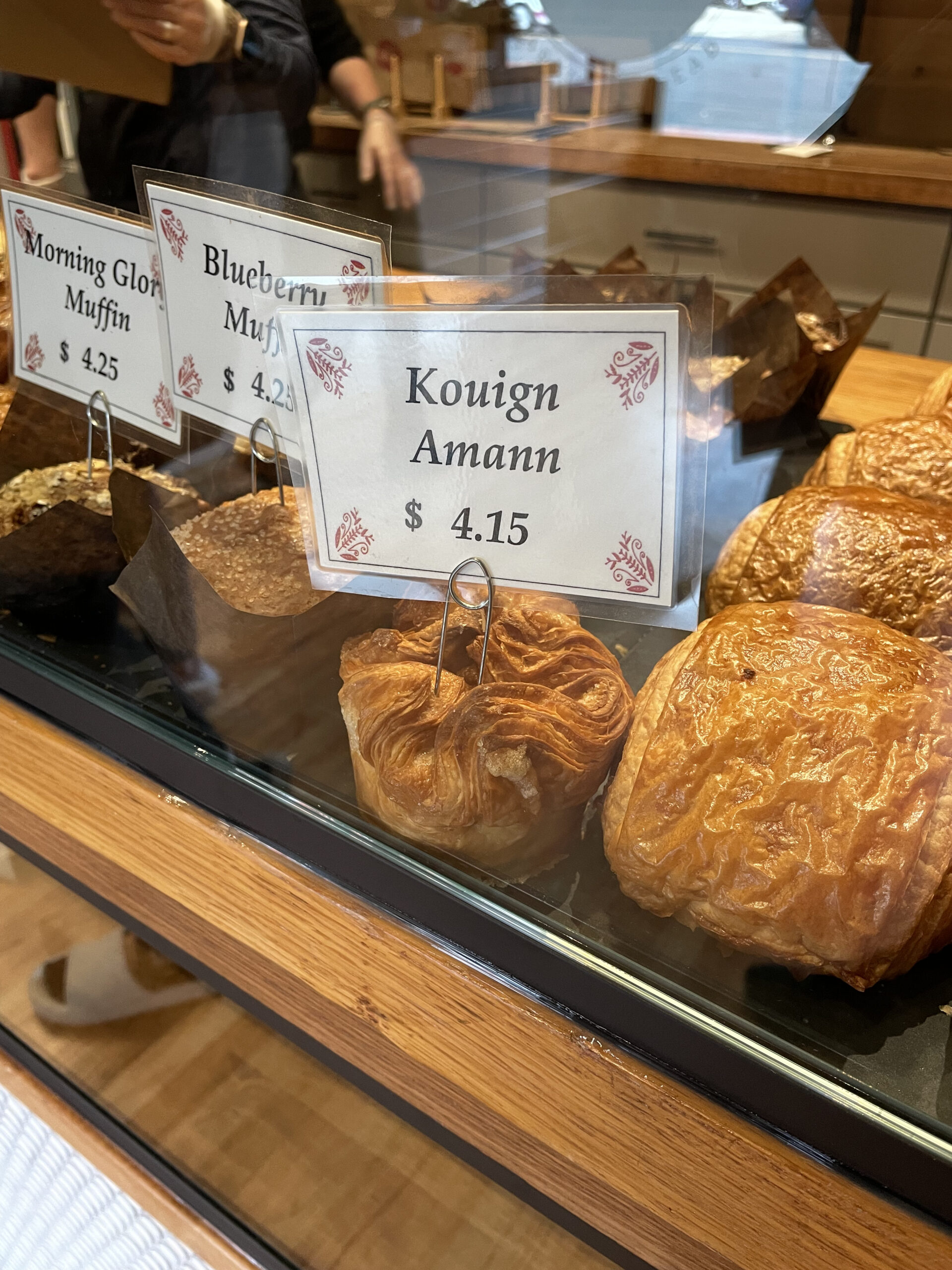 Kristina actually scored the very last Kouign Amann and declared it the best ever.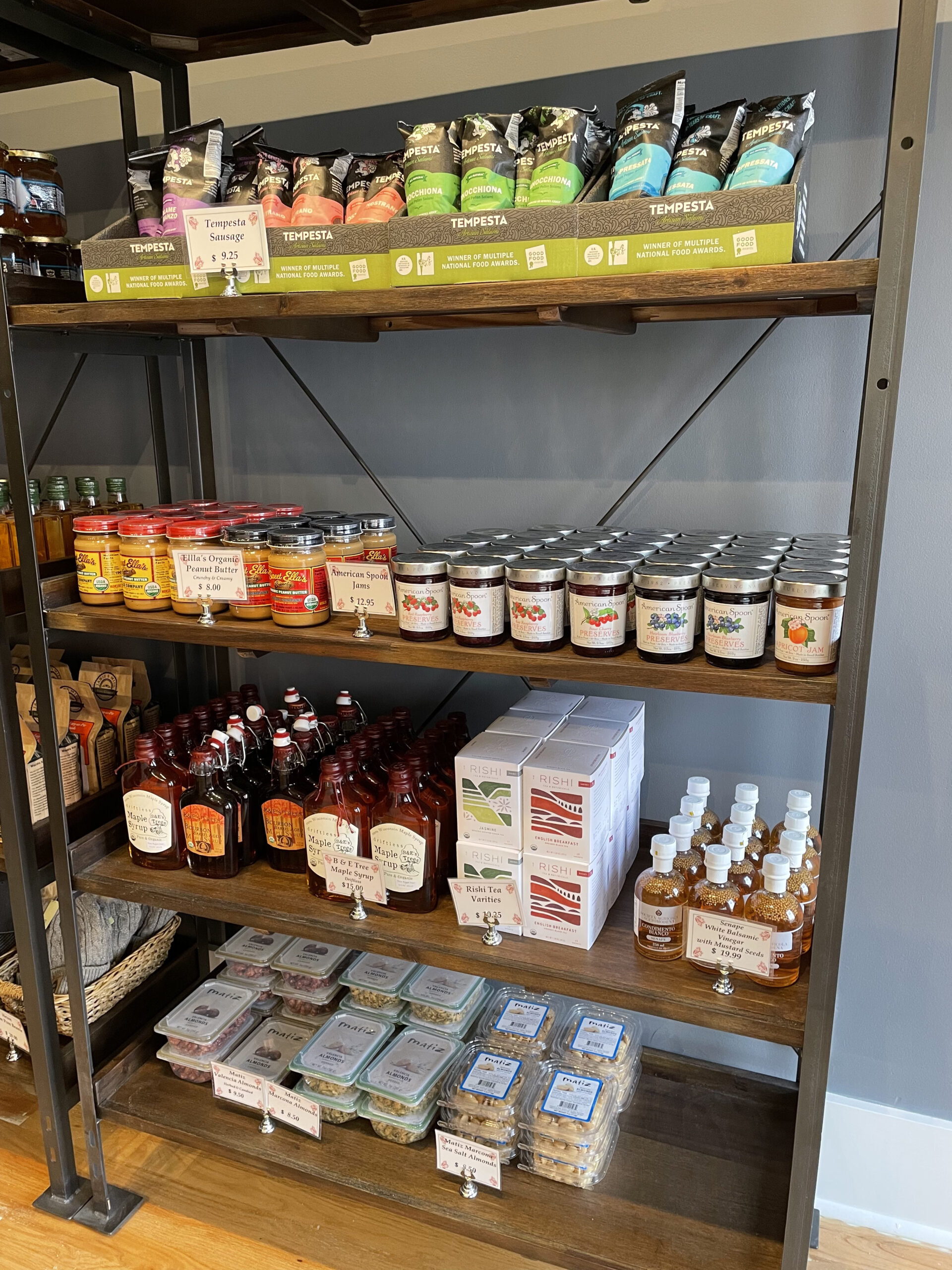 Look at all these other available items like maple syrup, a white balsamic vinegar with mustard seeds, and all kinds of delicious almonds.
Moving onto the breads, Kristina bought the round Country Loaf, Croissants, and a Seeded Whole Wheat, and a Tart Cherry Galette for her husband.  Do I need to say how unbelievably good they were?  My husband Bill had to go in the next day after he left a job site and he picked up more Croissants and a Country Spice Loaf.  I think it's safe to say we will all be regulars from now on.
Hewn, you blew us away.  Welcome to Libertyville.