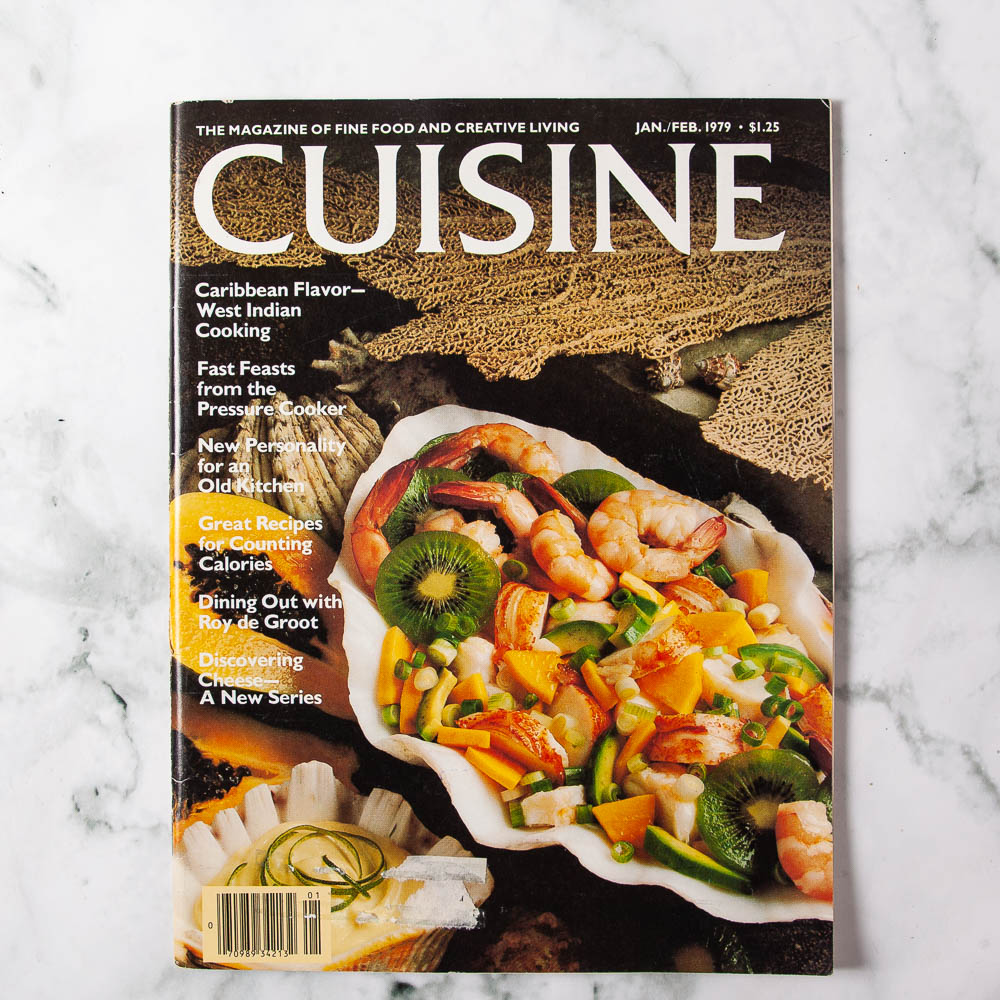 Here it is- the first issue of Cuisine magazine in 1979.  For those who loved and followed Sphere magazine, you might remember that the last few months of Sphere was called Sphere's Cuisine, preparing for the name to be changed to simply Cuisine.  Cuisine was a great magazine but it too, like Sphere, ended too soon.  The last Cuisine was published in December of 1984.  But as I did with Sphere, writing about every issue until it ended, I will be doing the same with Cuisine.  There are great recipes ahead for months to come!
Caribbean cooking was the theme of most of this issue, dozens and dozens of ideas for "Pleasures of the Caribbean." There were also articles about pressure cooking fast feasts, a page of cookbook recommendations, a "Discovering Cheese" essay by the great Bert Greene, baking with cookie stamps and molds, and a subject seen in many January issues, trying to lose weight in the new year by offering low calorie ideas in an article called "Super and Slimming" where recipes that wanted to "please the eye, tempt the palate, and satisfy our love of flavorful and exciting food." The featured recipes used minimal fats and cooking oils and those used in small amounts would not add significant calories in individual servings but add flavor and enjoyment to a dish.   I decided to make the 300-calorie per serving "Spicy Indian Chicken."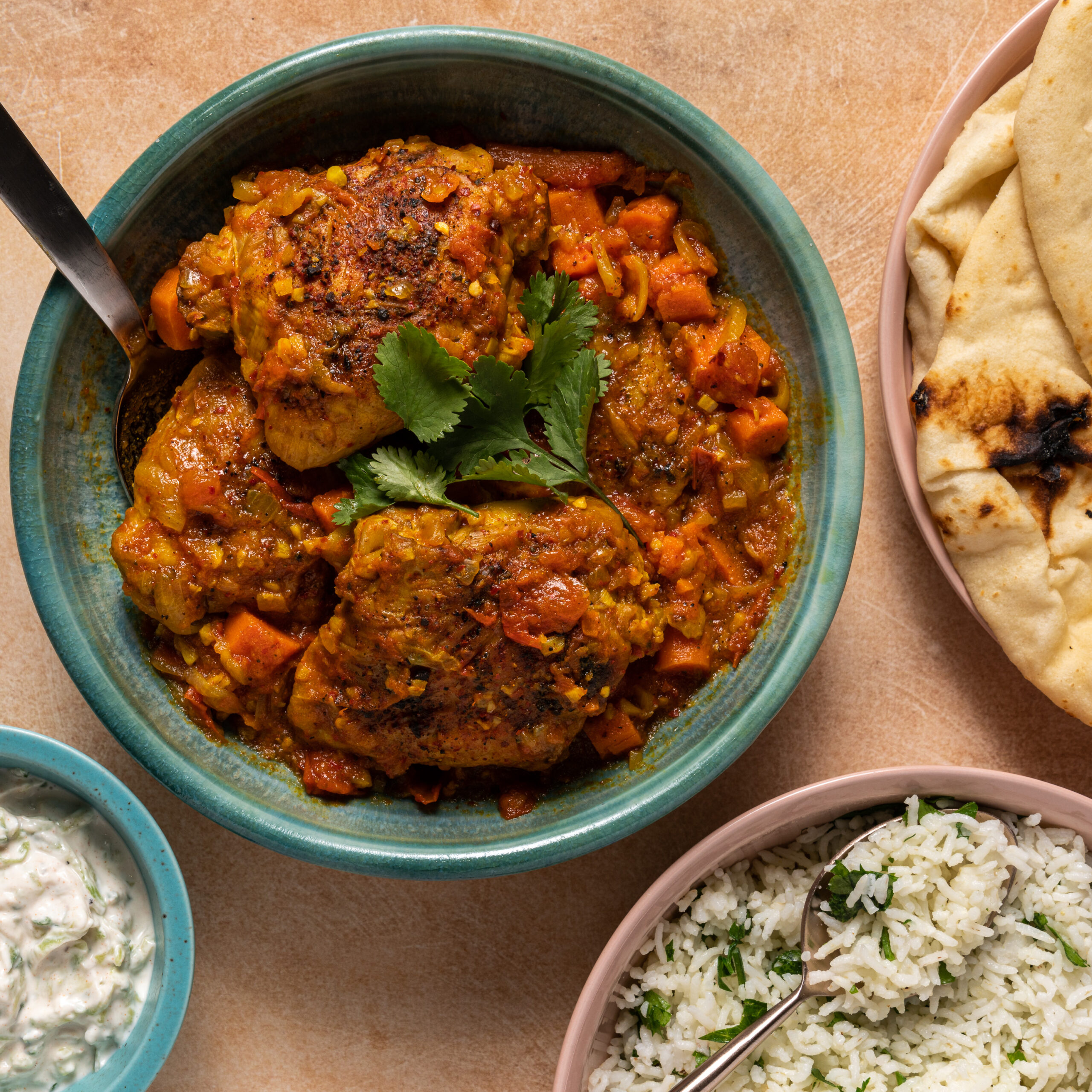 This dish met their desired criteria for pleasing the eye and palate with lots of flavor.  It's not difficult to make and worth the effort.  A delicious homemade spice mixture is sprinkled on the chicken and used in a sauce.  A cooling cucumber raita on the side and cilantro rice are the finishing touches.  (Naan bread is optional, but then you have to count those calories but it's still low if you don't have too much!)
This first issue is for January/February so watch for the next issue in March.  (Hint at what's ahead: authentic Mexican cuisine from Diana Kennedy, and an inside look at French cooking lessons at La Varenne in Paris!)

Spicy Indian Chicken
Author:
The First Cuisine Magazine Jan/Feb 1979
Ingredients
Cucumber Raita:
1 small cucumber, seeded, shredded, and squeezed dry
1 cup plain yogurt (I used Greek yogurt)
½ teaspoon salt
¼ teaspoon freshly ground black pepper
¼ teaspoon paprika
Spice Mixture:
1 bay leaf
1 cinnamon stick (1-1/2 inches)
4 peppercorns
2 small dried hot chili peppers
¼ teaspoon ground cardamom
Chicken:
About 3 pounds chicken thighs, skin removed
Onion paste mixture:
½ cup chopped onion
3 cloves garlic
1 cube (1-inch) gingerroot, pared and chopped
Remaining ingredients:
1 Tablespoon unsalted butter
1 medium onion, sliced
½ teaspoon ground turmeric
½ teaspoon crushed red pepper flakes (or more if you like more heat!)
3 medium tomatoes, chopped
1 can (10-3/4 ounces) chicken broth
2 medium carrots, pared and cut into 1-inch pieces
To serve:
Hot cooked rice to serve 6
2 Tablespoons chopped cilantro (or parsley)
Naan bread, optional
Instructions
Make Cucumber Raita: Combine all raita ingredients and mix well. Cover and chill while preparing other ingredients.
Make Spice mixture: Grind all spice mixture ingredients in a spice grinder or blender to make a coarse powder; set aside.
For chicken: Place chicken pieces on a non-stick foil-lined pan. Dust each piece with a little of the spice mixture, reserving the rest for the sauce. Place chicken under the broiler (may have to do in two batches) and broil, turning once, until browned about 8-9 minutes per side, or less if thighs are smaller; just watch carefully. Set chicken aside.
For Onion Paste mixture: grind together all onion paste ingredients in a blender or food processor to a paste; set aside.
For remaining ingredients: Melt the butter in a large skillet. Sauté the sliced onion until golden and softened. Stir in onion paste, reserved spice mixture from the chicken, turmeric, and red pepper flakes. Cook and stir for a minute, then add chopped tomatoes and cook for 3 minutes. Stir in chicken broth and carrots, then lay broiled chicken on top. Bring to a boil, then reduce heat to low and simmer, covered, turning chicken occasionally until tender and cooked through, about 30 minutes.
To serve, Place chicken on a platter and spoon on some of the sauce; place any remaining sauce in a bowl to pass. Serve chicken and sauce with hot cooked rice stirred with cilantro or parsley in a serving bowl. Serve with the chilled cucumber raita in another bowl. Naan bread is optional but good dipped into any remaining sauce. Serves 6.