It's true that time flies when you're having fun.  Where did the summer go? After returning home from Finland, I turned around and flew to San Francisco to celebrate my mom's 94th birthday, and just returned home this weekend.  I feel like I've been gone for months!  Now I am ready to stay put and take a breath, although that won't last long because now I need to get busy writing the blogs about all the adventures.  Finland blogs and photos will take a little more time, so let's start with my mom's birthday.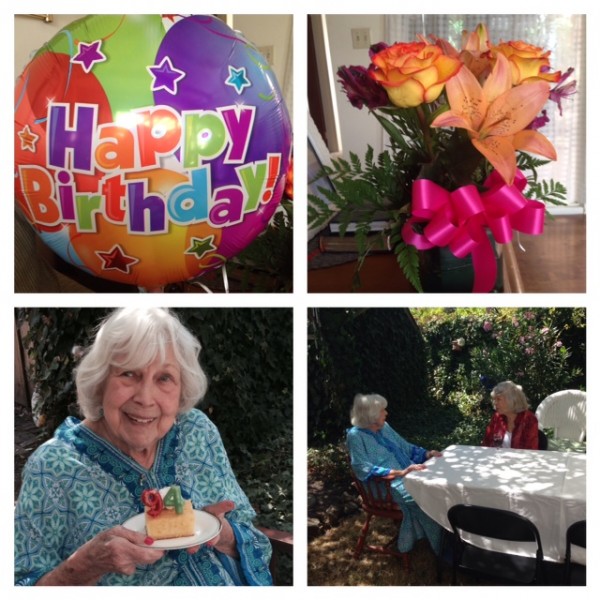 I am so lucky to still have my mom at age ninety-four.  We had a family party, along with a couple of mom's lovely friends from where she used to work.  My daughter Kristina found someone to come to the house and give mom a manicure and pedicure before the party.  Kristina then did her make-up and gave mom some of her jewelry to wear.  Mom looked beautiful!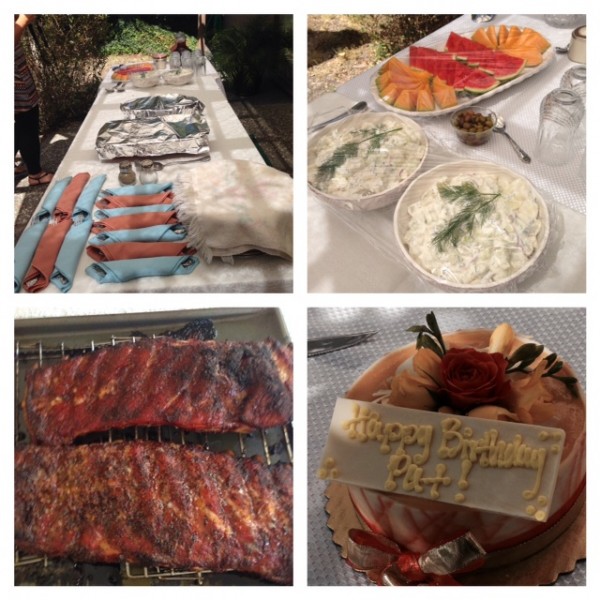 My very organized sister-in-law and my three nieces set up the tables and food in the backyard, while my brother grilled ribs.  We also had salmon, potato salad, fruit salad, baked beans, grilled corn-on-the-cob, a lemon cake, and an apricot cake.
Another surprise Kristina and I gave mom was to give her room a little make-over.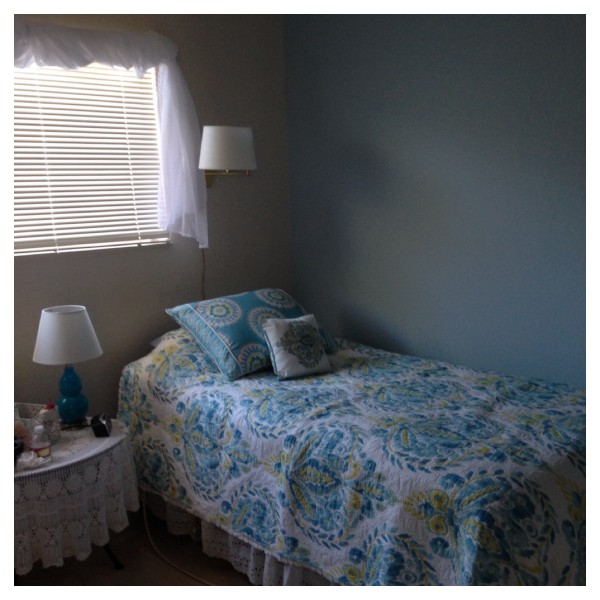 Mom loved her new room.  We got a new bedspread, sheets, pillows, lamp, clock, ruffle on the window, a container on the nightstand where we placed some candy from Finland, and Kristina did the wall painting.
The day after the party, Kristina and I got up very early and drove to the Marin Country Farmer's Market, known as one of the best in California.  We wanted to buy everything.  Chefs even have their own parking.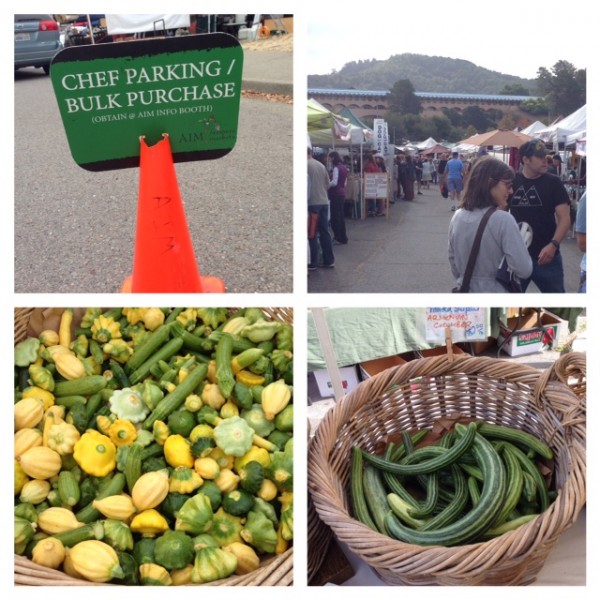 We bought those patty pan squash for dinner.  How could we resist?  Aren't they gorgeous? That long building with the blue roof in the background is a Frank Lloyd Wright.  It also happens to be the Marin County Civic Center where my mom used to work as a court clerk.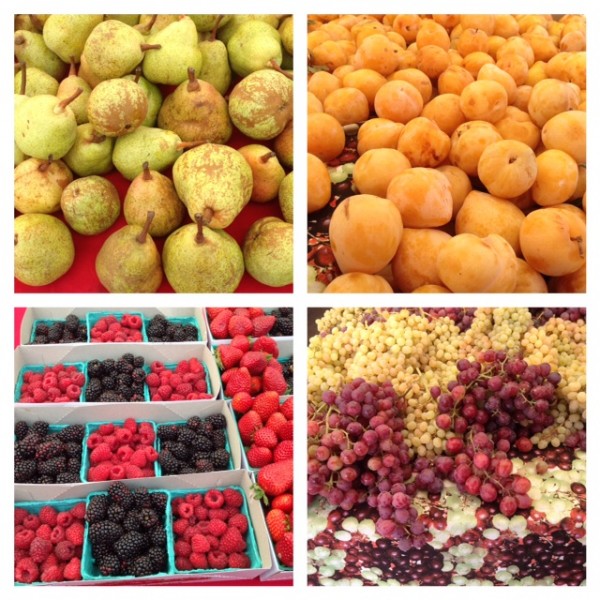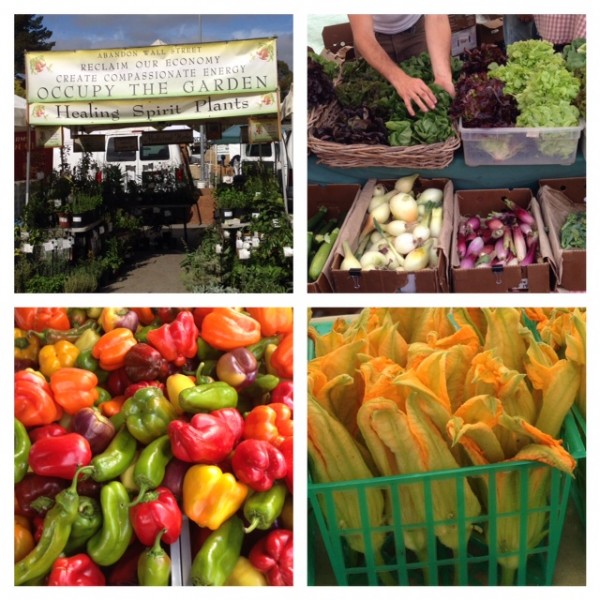 We bought a basket of the squash blossoms, and Kristina stuffed them with ricotta, mint, and other good things and sautéed them for an appetizer.  They were fabulous!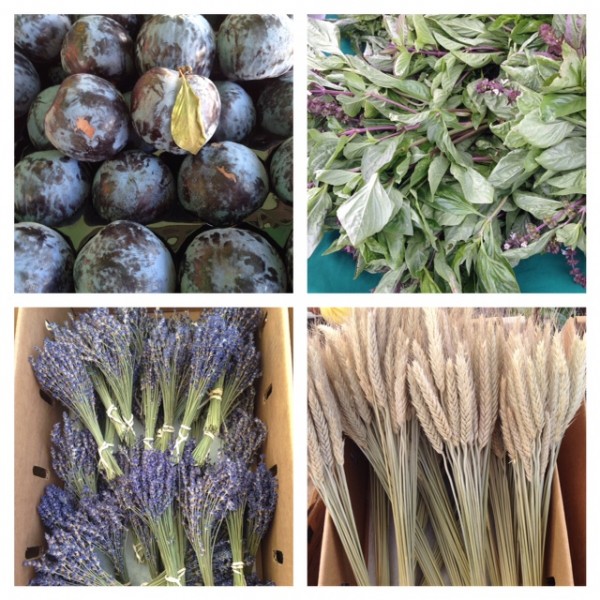 Those plums were probably the best I have ever had.
It was a great time to spend with my mom.  I miss her every day and wish she wasn't so far away.  But she said she misses reading my blogs so that's what I will be doing now that I am home.  Kristina had to leave San Francisco earlier than I did because she had to get ready to leave for Milan and Switzerland, then Chile and Argentina a few weeks after that.  No, I can't keep up with that kind of pace anymore, but I'm glad she can.  So I will sit here and write blogs for mom to enjoy and Kristina can write about her adventures for me to enjoy.  I am ready for that.  I'd better get busy.  Happy birthday again, mom, and I love you.