If you are involved in the food world, then most likely it didn't go unnoticed in all the social media that August 15th would have been Julia Child's 103rd birthday.  It's probably a safe bet to say that her birthday will be celebrated every year in a big way, as it should.  Julia brought cooking into our home kitchens and taught us how to better our skills and give confidence to beginner and seasoned cooks alike.  My daughter Kristina and I are great admirers of Julia.  Recently, Kristina was in Paris for only one day as a stopover on her way to Finland, and spent that day following some of Julia's footsteps across the city.  Read about her adventure here and even see where Julia and her husband Paul lived while she attended Le Cordon Bleu.
Most people around the globe have heard of Julia Child.  Karl Fazer may not be a household name like Julia, but he certainly is in Finland.  Fazer was born in Helsinki on August 16th, 1866.  His father was a Swiss furrier and not at all happy that his son Karl had more interest in chocolate and confectionary art than furs.  Karl convinced his father that he needed professional training and studied in Saint Petersburg, Berlin, and Paris.  He became a fully trained master confectioner at the age of twenty-five and longed to return to Helsinki to show his skills.
Karl Fazer opened his cafe in 1891 in a property owned by his father in the center of Helsinki.  His coffee, pastries, biscuits, cakes, and chocolate became well-known, and his patrons admired his eagerness to please. Fazer became a valued member of the community and a vital part of Helsinki's cultural life.  The beloved Karl Fazer milk chocolate was born as a result of a friendly favor and the wish to do something good.  It seems that Karl's son Sven had an English business associate whose son-in-law had a serious eye disease.  With the help of his connections, Sven arranged for him to see a doctor who cured his disease.  The business associate was so grateful, he gave the Fazer's a special Swiss recipe for milk chocolate.  To this day, the recipe for Karl Fazer milk chocolate is based on that very recipe.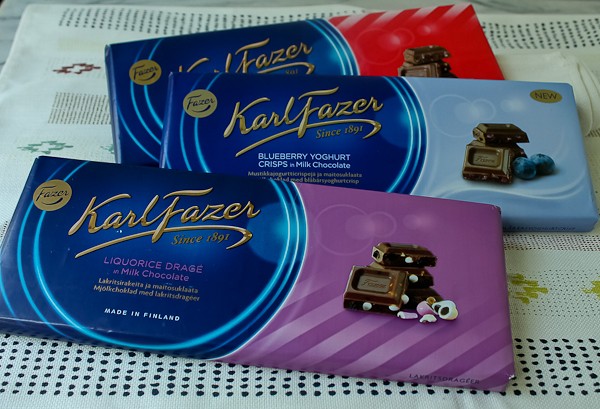 Karl Fazer milk chocolate has always been wrapped in blue.  In Finland, this dark blue color (it's like the blue in the Finnish flag) is copyrighted just like a brand.  Fazer is one of the few chocolate manufacturers that still uses fresh milk in its production and a vital ingredient.  Each 200 gram bar produced contains three full glasses of milk.  I can't tell you how good this chocolate tastes.  It melts in your mouth.  As you can see, there is not only plain milk chocolate, but here I show a bar with a licorice filling (Finns LOVE licorice!), a blueberry yogurt, and a peppermint.  One not shown here (hmmm… what happened to it??) was Salted Popcorn flavor. Oh. My.  And Lingonberry…  Go to the website to see all that is available.  If you are a chocolate lover, I guarantee there will be drooling.  There is also a list of where you can find it in the USA.
While in Finland recently, my husband, daughters and I had a fun evening with some of our cousins at the Karl Fazer cafe right down the street from our hotel, the fabulous Hotel Kamp.  (more on the hotel later!)  We had dinner and then of course some chocolate.  I bought this ceramic dish shaped like Finland that I had been looking for everywhere and there it was!  It was filled with small bite-sized pieces of milk chocolate, but those have been long gone.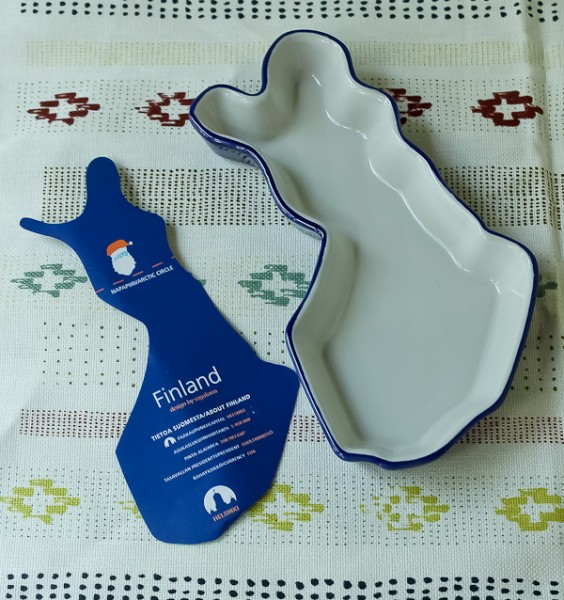 Remember I said Finns loved licorice?  Karl Fazer also has a special licorice bar.  By the time you read this, it will probably be gone, too.  Salmiakki is a very strong licorice, so you really have to like licorice to eat this, even though it is covered in milk chocolate.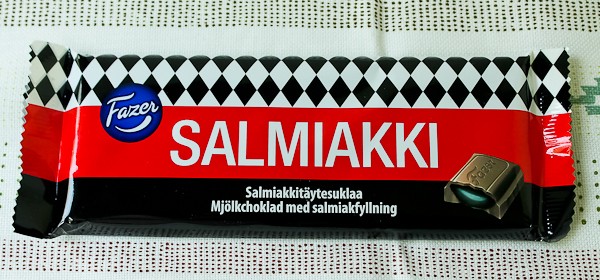 So now you know about Karl Fazer and his incredible chocolate, but remember too that it is with us because of a kind favor so take a bite and then do someone a favor, even if that just means sharing your chocolate.  Yeah, I know… that's hard…