It's going to be 90-degree weather in the Chicago area this week which means I probably won't be turning on the oven very often.  It will be mostly grilling and cold foods, like salads.  I picked up this 1983 cookbook at a thrift store in California while visiting my mom last week.  I have a favorite store I always go to when I am out there and usually have to mail myself a flat rate box home filled with cookbooks, as I did this time.  I think I bought about ten or so.  I have several recipes with post-its attached that I want to try in this book, but the Cobb Salad sounded good for the hot weather.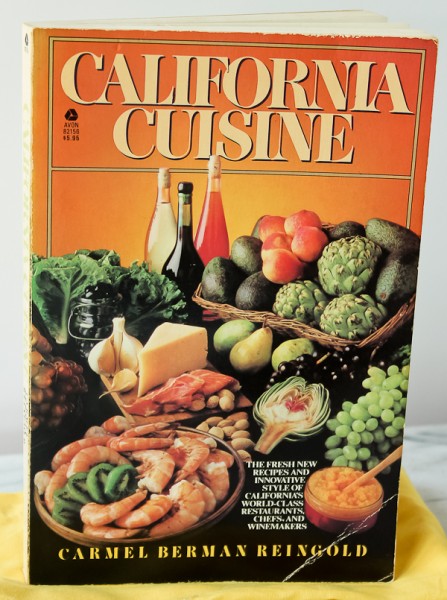 The famous Cobb Salad has a fun history behind it.  The birthplace of this iconic salad was the Hollywood Brown Derby restaurant.  The story goes that the salad was hastily arranged from leftovers by owner Bob Cobb for his friend, showman and theater owner Sid Grauman of Grauman's Chinese Theater.  The salad was chopped because Grauman had just had dental work done and couldn't chew well.  The Cobb Salad was so good it was added to the menu and became very popular with the Hollywood crowd, which in turn the public wanted to try because it was the salad that the movies stars ordered.  In an early episode of I Love Lucy that was filmed in The Brown Derby, William Holden orders the Cobb Salad.  Clark Gable proposed to Carole Lombard at the restaurant.  Rival gossip columnists Hedda Hopper and Louella Parsons made the Brown Derby their unofficial "office."  Many a Hollywood deal was made on the tables at the restaurant along with the famous salad.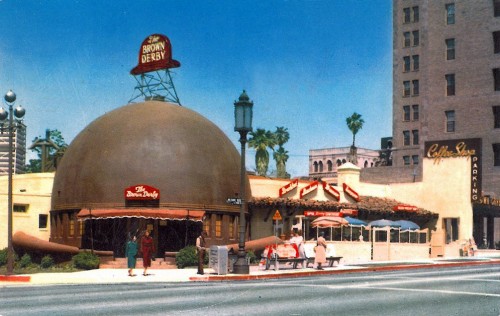 Whimsical architecture was popular in the 1920's when the Brown Derby was built, and it was constructed to catch the eye of passing motorists.  It just happened to be close to all the movie studios which made it the place to be seen.  Other branches of the Brown Derby opened around town but none that looked like the famous derby hat.  Like many restaurants where the big attraction is celebrities, the walls were also covered with their caricatures.  The restaurant is long gone now, but there is a replica at Disney World, where they also serve the famous Cobb Salad along with the also famous Grapefruit Cake.
The presentation of the Cobb Salad is beautiful, with all the colorful ingredients chopped and lined up on platters to show guests before being tossed together with a vinaigrette dressing.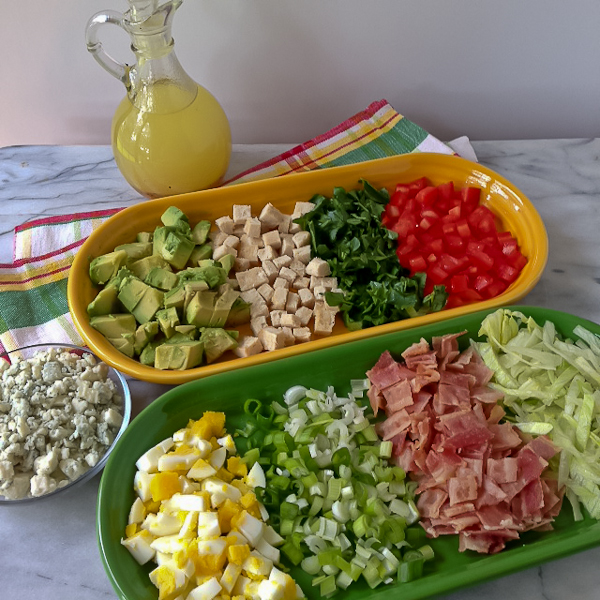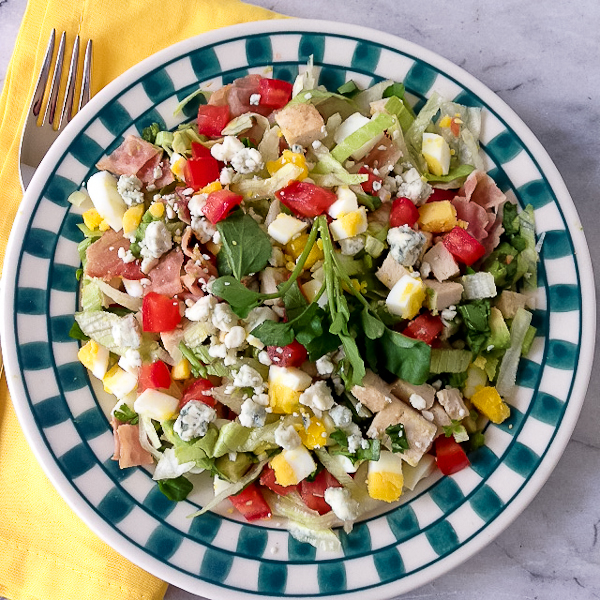 The salad is really good.  I'm looking forward to trying other recipes in the cookbook.  It includes appetizers, brunch items, soups, vegetables, salads, fish, meats (classic, traditional, ethnic), breads, quiches, calzones, burritos, sauces, relishes, butters, desserts, and of course, a guide to California wines.
The author has menu suggestions and lists the Cobb Salad to have "After the Hot Tub" along with a Chenin Blanc white wine and soda over ice; Tomato-Olive sorbet; sourdough bread, and fruit with Amaretto liqueur.  I don't have a hot tub, but with this weather, it feels like I'm sitting in one.  Go ahead, have a Cobb Salad.  It will cool you off.

The Brown Derby's Cobb Salad
Author:
California Cuisine by Carmel Berman Reingold
Ingredients
1 head iceberg lettuce, finely chopped
1 bunch watercress, finely chopped
2 avocados, chopped
2 hard-boiled eggs, finely chopped
6 green onions, finely chopped
2 tomatoes, chopped
3 cups chopped cooked chicken breast
8 slices bacon, fried, drained, and crumbled
3 ounces Roquefort cheese, crumbled
Dressing:
1-1/2 cups salad oil
½ cup white vinegar
1 Tablespoon freshly squeezed lemon juice
½ teaspoon freshly ground black pepper
½ teaspoon dry mustard
1 teaspoon Worcestershire sauce
1 clove garlic, pressed
½ teaspoon salt
1 teaspoon sugar
Instructions
Combine lettuce and watercress thoroughly. Spread this mixture on the bottom of a large, flat-bottomed salad bowl or serving dish. Arrange rows of avocados, eggs, green onions, tomatoes, chicken, and bacon on top of lettuce mixture. Sprinkle crumbled cheese on top. Place dressing ingredients in a jar or cruet and shake thoroughly. Spoon half the dressing over the salad. Present the dish at the table, then toss with remaining salad dressing. Serves 6-8.
Note: For photographic purposes, I arranged the salad differently, but you can do it this way!