One food item my daughter Kristina says she misses about living in Los Angeles is Chinese Chicken Salad.  She said it was everywhere in LA, but for some reason it's not as popular in New York City where she now resides.  As it turns out, there is an explanation for that.  It's a very California thing, especially LA.
If you look at my earlier blog about the Hollywood Cobb Salad and its popularity with the celebrity crowd, the story goes along the same line, as you can thank actor Cary Grant for the popularity of the Chinese Chicken Salad.  A favorite celebrity hang-out in the '60's was Madame Wu's and it was a favorite of Cary Grant.  He mentioned to Madame Wu that he tasted a delicious Chinese salad with chicken and noodles at another restaurant and asked if she could come up with something similar.  She vaguely remembered one from her days in Shanghai and developed a chicken salad with vermicelli, shredded chicken, green onion, and toasted almonds. The rest is history.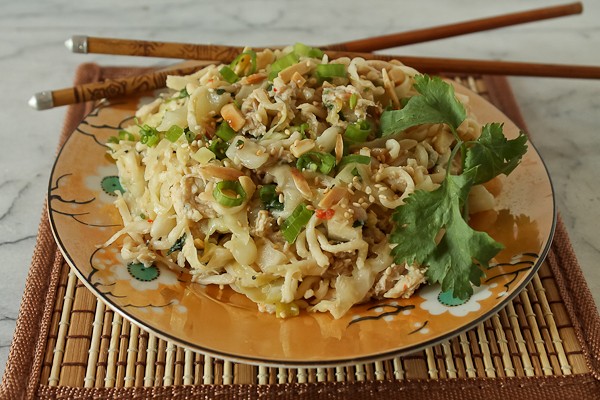 Other chefs have jumped on the bandwagon since then like Wolfgang Puck and his Chinois Chicken salad, and even fast food chain Wendy's featured an Asian Cashew Chicken Salad.  Here is a version I adapted from a Marion Cunningham recipe.  I happen to like a little more kick in mine so I added cilantro and red pepper flakes. You can even add a dab of sriracha if you like.  This is one of those recipes where you can add some of your own favorites.  It's a very easy and forgiving recipe.  I even cheated and used rotisserie chicken meat because it's too hot to cook much today and I was lazy.  It worked fine.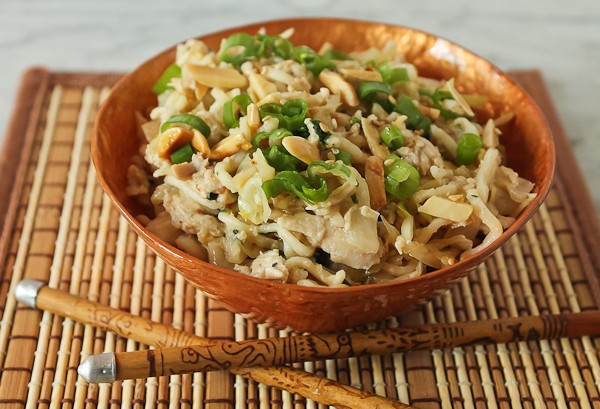 I even used Ramen noodles that cook fast (toss the seasoning packet though) and added toasted almonds, green onions, sesame seeds, cilantro, red pepper flakes, and made a seasoning with red wine vinegar, sugar, soy sauce, and some of the chicken broth that the noodles were cooked in.  So easy.  And now you have a recipe to work from, Kristina!  No more missing the salad in LA.  You can have your own.  Thank Cary Grant.

Chinese Chicken Salad
Ingredients
1 bunch green onions
1 Tablespoon canola oil
2 teaspoons sesame oil
⅓ cup silvered almonds
1 head (1-1/2 pounds) green cabbage, shredded
4 cups chicken broth
2 packages (3 ounces each) ramen noodle soup (discard flavor packets)
⅓ cup red wine vinegar
¼ cup granulated sugar
2 Tablespoons soy sauce
2 Tablespoons sesame seeds, divided
1 teaspoon salt, or to taste
½ teaspoon freshly ground black pepper, or to taste
½ teaspoon red pepper flakes, or to taste
Ginger, if desired, either ground or fresh, to taste (optional)
⅓ cup cilantro (or more if you really like it. I probably added a little more!)
3 cooked skinless chicken breasts, shredded (the meat from one rotisserie chicken is about the same amount; it's easier too!)
Instructions
(This recipe goes easier if you have all the ingredients ready to go and lined up!)
Thinly slice the green onion, placing the white slices in one bowl and the green slices in another.
Place a large nonstick skillet over medium-high heat and add the canola and sesame oils. When hot, add and saute the almonds for about 2 minutes or until golden. Remove the almonds from the skillet and set aside.
Add the white onion slices to the skillet and saute for 1 minute. Add the shredded cabbage and saute for 3 minutes or until the green color brightens. Cover the skillet, reduce heat to medium-low and cook an additional 3-5 minutes or until just tender. Turn off heat.
While the cabbage cooks, add the chicken broth to a medium saucepan over high heat and bring to a boil. Add the ramen noodles to the broth and return to a boil. Reduce the heat to simmer and cook for 3 minutes, stirring occasionally. Drain noodles, except save 1 cup of the broth.
Place the broth in a small mixing bowl and add the vinegar, sugar, soy sauce, 1-1/2 Tablespoons of the sesame seeds, salt, pepper, red pepper flakes, and ginger, if using. Whisk until the sugar dissolves. Add this mixture to the skillet along with the cilantro, chicken, noodles, and reserved toasted almonds. Stir well. At this point, you can eat the mixture warm if desired, spooning into a large bowl and sprinkling with the green onion tops and remaining ½ Tablespoon of sesame seed. I prefer to let it cool, then refrigerate until cold. To serve, spoon cold salad into a bowl, and sprinkle with green onion tops and remaining ½ Tablespoon of sesame seeds. Serves 4-6.