It's hard to get me out of the kitchen, so I suppose I will have to labor on Labor Day but it's just for breakfast. Anything with eggs is my breakfast of choice and if it involves vegetables, that's even better.  And if it's mushrooms, that's really better.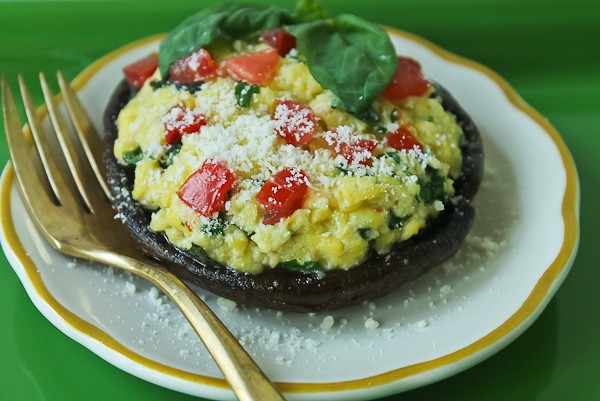 That means stuffing eggs into the mushroom, in this case a Portobello.  The mushroom is broiled, then piled inside is a scrambled egg made nice and creamy with ricotta cheese, a little bit of cream, fresh basil, flat leaf parsley, and a touch of red pepper flakes.  Sprinkle on some chopped tomatoes and a little Parmesan and I'm in heaven.  Feel free to add your favorite herbs, or use roasted red peppers instead of tomatoes, or whatever tickles your fancy.  I'm sure it will be wonderful.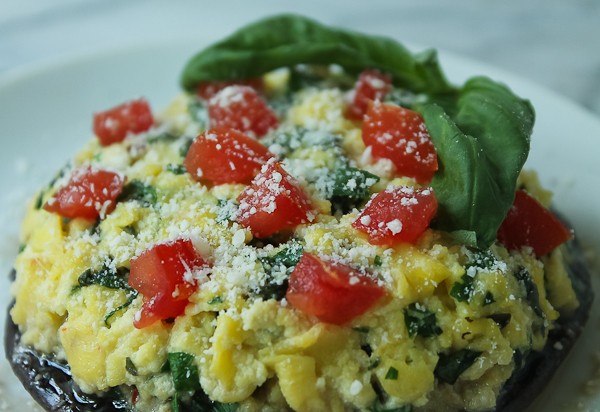 Come on – it doesn't take much labor for this.  You don't even need to make toast!  Relax and enjoy.

Ricotta Scrambled Eggs in Portobellos
Ingredients
6 large Portobello mushrooms
2 garlic cloves, minced
⅓ cup extra virgin olive oil
6 large eggs
2 Tablespoons heavy cream or half-and-half
½ teaspoon salt
¼ teaspoon red pepper flakes
1 Tablespoon butter
½ cup ricotta cheese
½ cup chopped fresh basil leaves
½ cup chopped fresh flat leaf parsley
1-1/2 Tablespoons balsamic vinegar
3 large plum tomatoes, seeded and chopped
Freshly grated Parmesan cheese
Fresh basil sprigs, for garnish
Instructions
Remove stems from mushrooms and discard. Clean mushrooms caps and wipe clean with a paper towel. Place mushrooms on a baking pan lined with nonstick foil to fit under oven broiler.
Combine the garlic and olive oil and brush over both sides of mushrooms. Preheat broiler, and broil mushrooms about 3 minutes per side, until just cooked. Remove from oven and keep warm.
Whisk together the eggs, cream, salt, and red pepper flakes. Melt the butter in a medium saute pan over medium heat. Add egg mixture and stir until eggs are fluffy and almost cooked. Stir in ricotta cheese and continue stirring until just set. Remove from heat and stir in chopped basil and parsley.
Place mushrooms, undersides up, on individual plates. Sprinkle a little balsamic vinegar on each one and then spoon egg mixture into each mushroom. Top with chopped tomatoes and sprinkle with Parmesan cheese. Garnish each with a sprig of basil and serve. Serves 6.