This summer and now starting into the fall season, almost any variety of fresh vegetables have been and will be easy to find at Farmer's markets, home gardens, and many grocery stores.  I have been to markets in Finland, California, and my own hometown in the last month and I wanted to pile them all up and get to work in the kitchen.  While in California, I found this great cookbook at a book sale.  I knew it was where I would start.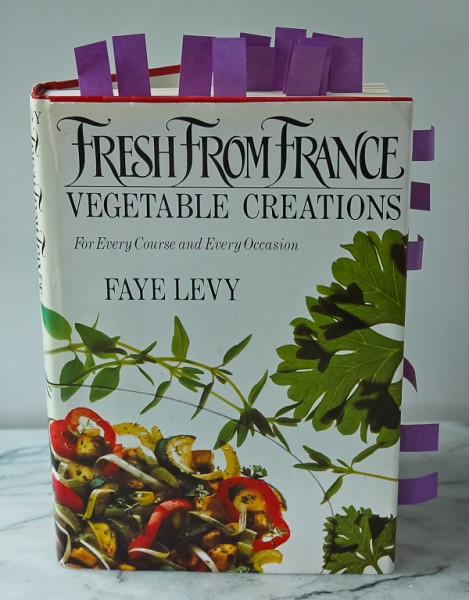 Can you tell how much I love this book?  I already have a couple dozen post-it notes with recipes I can't wait to try.  Author Faye Levy spent five years at La Varenne, the Parisian cooking school, where she earned the "Grand Diplome" of the very first graduating class.  Levy was the first American to publish a book on French cooking for the French.  French cooks have developed a set of rules for cooking different kinds of vegetables so they retain maximum flavor, color, and a pleasing texture.  This cookbook teaches these principles and will give the reader recipes to reproduce some of France's finest vegetable dishes, from traditional family cooking and country cooking  to classic cuisine.  Some of the ones I have earmarked are such richly varied ideas like parsnip timbales with parsley sauce, a cabbage tart with caraway seeds, baked beets with lemon cream, and corn salad with peppers.  Wait… what? Corn? In a French cookbook?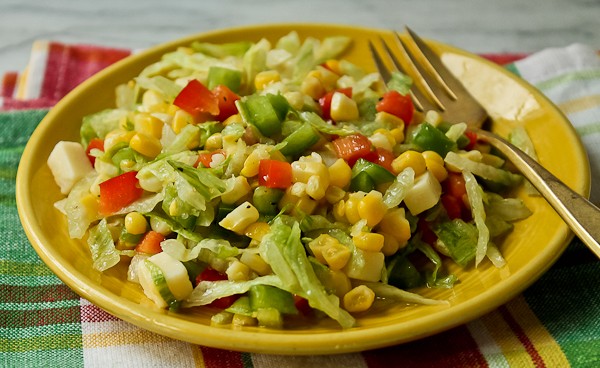 I was surprised to find anything corn-based in a French cookbook.  I went down into my Culinary Cellar and briefly thumbed through the French cookbook area and couldn't locate any corn recipes.  But that doesn't mean this Midwest girl wasn't excited to find a corn recipe because I was delighted and couldn't wait to try it.  I had just purchased some wonderful Illinois sweet corn at our local Farmer's Market and wanted to try something new.  In the introduction to the recipe, Levy describes the salad as follows:  "This quick, colorful salad can be found displayed in the windows of many charcuteries throughout Paris under the name Salade Mexicaine or Salade Americaine, a tribute to the origin of its major ingredients."  So it's not French, but that's okay – at least corn gets to be a star for one recipe.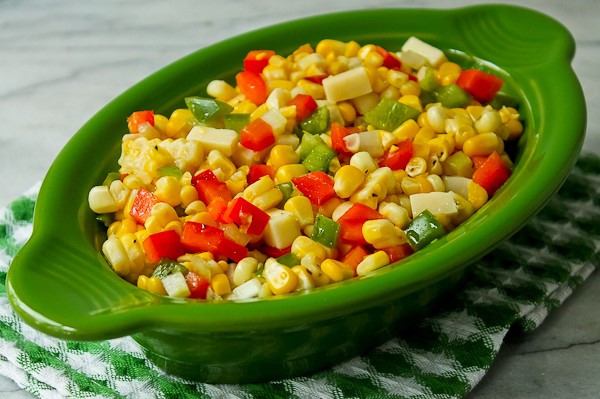 The corn is tossed with red and green bell peppers, celery, and the French touch of cubes of Gruyère cheese, which was a delicious addition.  A simple vinaigrette seasons the salad.  It can be served tossed with strips of lettuce or just as is.  I preferred it without the lettuce and served as a side dish with a grilled tuna steak.  Either way, it's colorful and beautiful.  Pick up some corn and try it.

Corn Salad with Peppers
Author:
Fresh from France by Faye Levy
Ingredients
Vinaigrette:
3 Tablespoons white wine vinegar or fresh strained lemon juice
Salt and freshly ground pepper
9 Tablespoons vegetable oil or olive oil
Salad:
2-1/2 to 3 cups corn kernels (from 3-4 ears of fresh corn, depending on size)
1 medium or large red bell pepper-cored, seeded, and diced
1 medium or large green bell pepper-cored, seeded, and diced
2 celery stalks, peeled and diced
¼ pound Gruyere cheese, diced
12 lettuce leaves- rinsed, dried well, and cut into thin strips (optional)
Instructions
For Vinaigrette: In a small bowl whisk vinegar with salt and pepper; whisk in oil. Taste and adjust seasoning; set aside.
For corn: Husk corn and remove silks; add whole corn to a large saucepan of boiling water and simmer, uncovered, for about 5 minutes or until just tender. Drain, then cut corn off cob and measure 2-1/2 to 3 cups and place in a serving bowl. Just before serving, add peppers, celery, and cheese to corn and toss. Add just enough vinaigrette to moisten salad. (Save remaining for other salads later). Toss well, taste and adjust seasoning, and serve. Add lettuce strips, if desired. Salad can be kept for one day, covered, in the refrigerator (without the lettuce).