The Chicago area will be experiencing a heat wave this week, up in the '90's with the heat index into the 100's on some days.  Give me a Chicago blizzard anytime.  Not kidding.
I thought this book would be the perfect match for this week, with over fifty recipes for "adventurous melts, sweet melts, plus a cheesetastic melting guide!"  Cheesetastic?  Sounds seriously toasty and melty.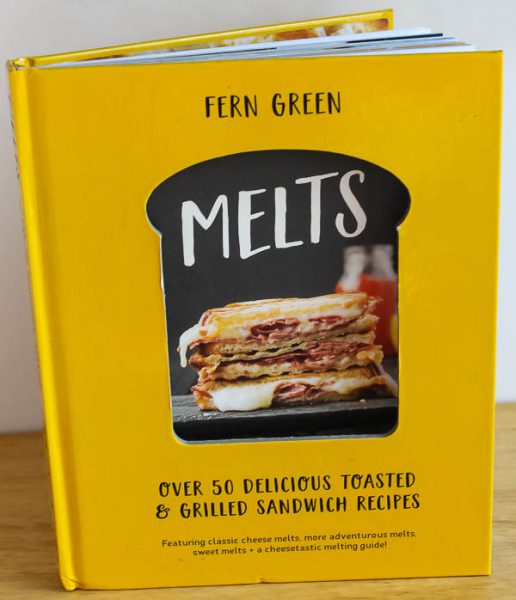 The book begins with the classics like tuna melts, ham and cheese; the egg-bacon-cheese combo; and of course, Croque Monsieur.  Following the classics you will find the "adventurers" which offer new flavors from East to West.  There is pulled pork on sourdough;  Frankfurter, Gruyere, and Sauerkraut; a King Prawn melt with bacon and garlic;  Broccoli and Burrata; Spiced Stilton, Cheddar, and Kimchi; Gouda and Kale; and a toasted carrot with whipped goat cheese.
The next chapter called "Hungry" promises to satisfy if you have ravenous cravings with double carb options and full fillings.  It is stated if you want to chuck everything into a grilled sandwich, this is the chapter for you.  There is a Carbonara sandwich; Macaroni and Cheese sandwich; Potato Waffle sandwich with pastrami and sauerkraut; and cauliflower waffle sandwich with slow-roasted tomatoes and cheese.  Are you hungry, or maybe have a tummy ache?
Let's switch from savory to sweetness.  The sandwiches are made with soft rich breads like brioche or breads embellished with fruit and nuts.  Cinnamon-Crusted Peaches and Mascarpone on Brioche sounds delicious, as does a ricotta and orange marmalade; or fig, whipped cream cheese, and honeyed walnuts on raisin bread.  If you love chocolate and marshmallows you will probably enjoy the Malty Nutella and Marshmallow Melt; and last but not least, the beloved peanut butter and banana.
There is something for everyone in this intriguing and different cookbook for sandwich lovers.  I think the adventurer chapter is my favorite, but I have to say, I will try some of those after our heat wave is over.  At the moment, I will stick to a chilled lobster or shrimp salad.  But when cool fall days and freezing winters come along, I'll reach for this book and sit by a toasty fireplace to make a nice warm selection.