Author Leslie Revsin was the first female chef at the Waldorf-Astoria Hotel in New York City.  In 1977, she opened her own Restaurant Leslie in Greenwich Village.  She was also featured on the popular PBS series, "Master Chefs of New York."  I loved those Master Chef shows.
With Revsin's background,  I knew this would be a great cookbook.  I love fish and seafood, my favorites being salmon, scallops, fresh tuna, crab, shrimp, Lake Superior Whitefish, and especially lobster.  I could eat lobster several times a week, and would, if not for the price.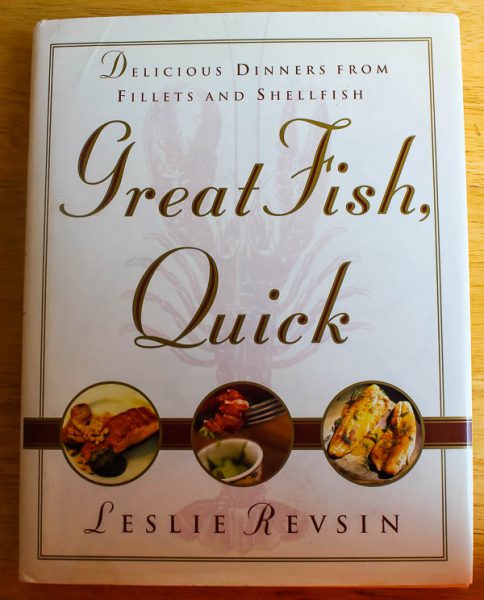 I love the interesting way Revsin divided the chapters:  Delicate White Fleshed Fish; Darker Fleshed Fillets with Richer Flavor;  Sea Animals with Shells and Armor; and Recipes with a Combination of Sea Animals. The first recipes I looked up were all my favorites, plus I found so many others along the way, like Halibut with Rosemary and Preserved Lemon; Red Snapper Baked with Black Olive Paste and Orange; Sauteed Sole with Balsamic Brown Butter; and Grilled Pompano with Mexican Chile Oil and Lime.  I loved the Salmon with Spicy Ginger Mushrooms; Seared Peppered Tuna with Deviled Shallot Butter; Seared Tuna with Balsamic Vinegar, Garlic, and Pine Nuts;  and Grilled Scallops in Portobellos with Parsley and Feta Cheese.
If you are a fan of seafood and fish, you will love this book.
By the way, this is my favorite fishy tea towel I bought in Finland.  Finns love seafood.  It's much larger than this, but I couldn't get it all in the photo!