Veronica Callaghan has won numerous cooking contest awards since 2004.  I knew of her winning ways but we didn't meet until 2009 at a National Beef Cook-Off contest where Veronica and my daughter Kristina were both competing.  We met again in 2013 at the Pillsbury Bake-Off contest held  in Las Vegas.  Veronica is a master cook, with one of her specialties being pizzas.  And I mean every kind of pizza imaginable!  Check out Veronica's "Winning Dishes" on Instagram @veronicacallag.  You will be so impressed with her recipes and expert photography.
I was thrilled to receive a box of cookbooks from Veronica after the flood of The Culinary Cellar.  If you are a regular reader of my blog, you know how much I love vintage cookbooks and Veronica had sent several.  Along with the books was a very sweet card from Veronica, which on the cover read: "Keep Calm and Eat a Cupcake!"  She expressed how "her heart broke" when she read about the loss of all my cookbooks, as she is a cookbook collector too.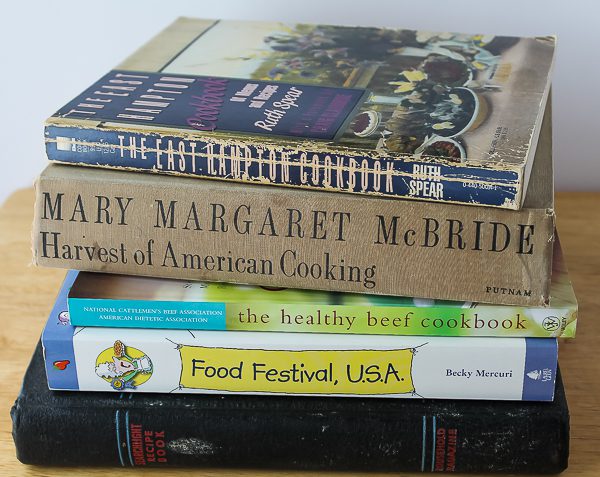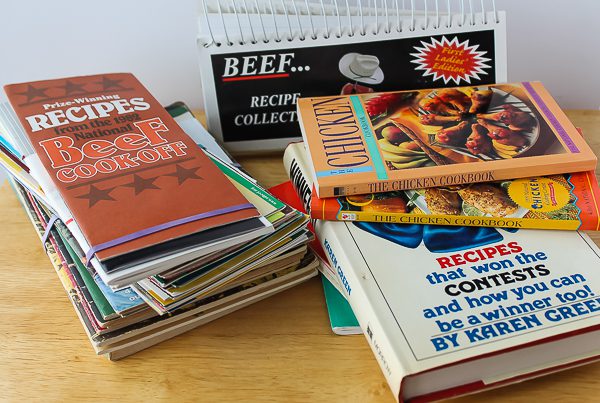 The clippings and booklets from the National Beef Cook-Off and National Chicken Contest books were especially appreciated since I had also competed in both of those contests and all were lost in the flood.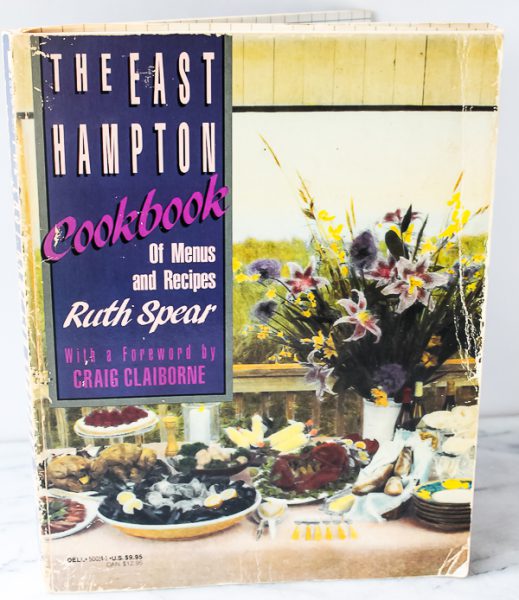 I love this cookbook!  It is also very fitting to write of it now, as I just read that author Ruth Spear died a few weeks ago at the age of eighty-six, so this will be in her honor.  The forward is written by the late cookbook author and food journalist Craig Claiborne, who also happened to live in East Hampton.
The book was written in 1975 for the 80th Anniversary of the "Ladies Village Improvement Society of East Hampton, Long Island." This society (known as LVIS) began in 1898 for the purpose of raising funds to improve every aspect of life in East Hampton.  Funds were raised over the years from everything to paving roads, to planting flowers, erecting street lights, to reconstruction after a devastating hurricane in 1938, almost destroying the charming village.  LVIS never gave up over the years on the welfare and upkeep of their village.  There have been other cookbooks written by LVIS as fundraisers, many now being collector's items.
The book is written in a menu form for Breakfasts and Brunches, Lunches, and Dinners.  Recipes include a summer breakfast, Sunday brunch. late supper, East End lunch, picnic under the trees, picnic at the beach, a no-knife buffet, an easy Friday night dinner in the country, and many more.  The recipes use fresh ingredients and are not difficult.  I looked up summer dishes for the season and especially for items I can find at our local Farmer's Market, like a blueberry slump, stuffed peaches, raspberry pie, blackberry pie, corn pudding, cucumber salad, pear and ricotta pie, Viennese Chocolate Cherry Torte, apricot-butterscotch squares, and pesto.
What really got my attention was the Rhubarb Pie with Cream Cheese Pastry.  So guess what I picked up at the last market day?  Isn't this gorgeous?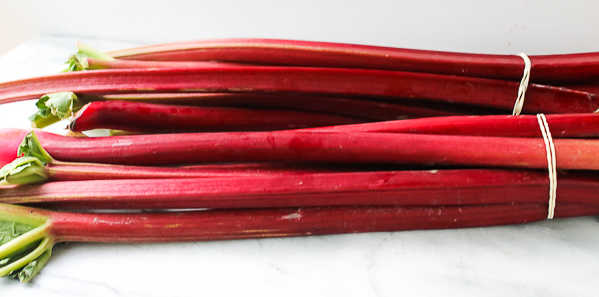 The pie uses 4 cups of fresh rhubarb pieces and an easy and wonderful buttery crust with cream cheese.  It was the best pure rhubarb pie ever!  In the past, I have usually preferred a rhubarb-strawberry combo for pie, but this one sold me on just rhubarb with a touch of orange zest.  I can't wait to make this again.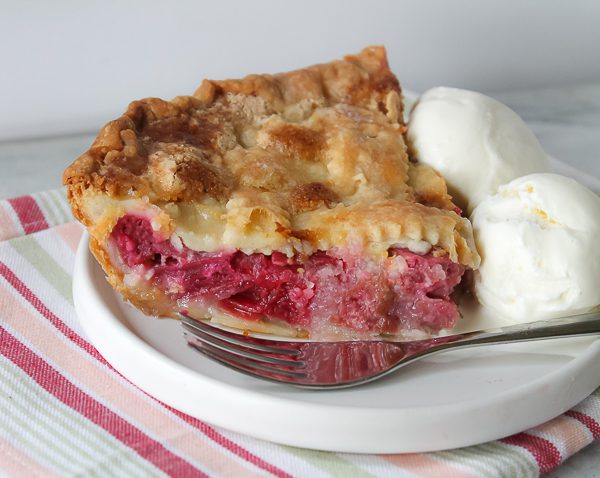 Thank you Veronica, for all the great cookbooks and especially for this pie recipe!  It's a keeper.  I can't wait to make it again.  And thank you to author Ruth Spear for a cookbook not just with recipes but a long history of dedicated women who helped one community a better place in which to live. I'm sure Ruth will long be remembered for helping with their cause.  May she rest in peace.

Rhubarb Pie with Cream Cheese Pastry
Author:
The East Hampton Cookbook by Ruth Spear
Ingredients
For Cream Cheese Pastry:
4 ounces (block-stye) cream cheese
¼ pound of unsalted butter
Pinch of salt
1 cup all-purpose flour
For Pie Filling:
2 eggs
1-1/2 cups granulated white sugar
4 cups fresh rhubarb, cut into 1-inch pieces
1 teaspoon grated fresh orange rind
3 Tablespoons minute Tapioca
2 Tablespoons butter
Instructions
For Crust: Place cream cheese and butter in bowl with the pinch of salt and beat well to soften. Add the flour gradually to blend. Knead briefly and form into a ball. Wrap in waxed paper and chill in refrigerator until firm. (The dough can also be frozen and used when needed).
For Pie: Preheat oven to 425 degrees F. Beat eggs with sugar until they form a ribbon. Add rhubarb and orange rind and let stand for a few minutes while you roll out the prepared pie crust.
Roll out half the pie crust dough and fit into a 9-inch pie plate. Sprinkle tapioca on bottom of crust, then add rhubarb mixture. Dot with the butter.
Roll out the remainder of the dough and cut into 1-inch strips. Make a lattice top, then crimp edges.
, Bake at 425 degrees for 15 minutes, then reduce oven heat to 350 degrees and bake another 30 minutes, or until golden and crust is baked throughout. Cool on wire rack. Serve warm or cold. Serves 6-8.