Prize-winning cook Linda Blakely sent a delightful and diverse box of books for The Culinary Cellar.  There was everything from Irish Pub cooking to cooking in the Adirondacks.  Thank you for all of them, Linda.  I have been enjoying them so much!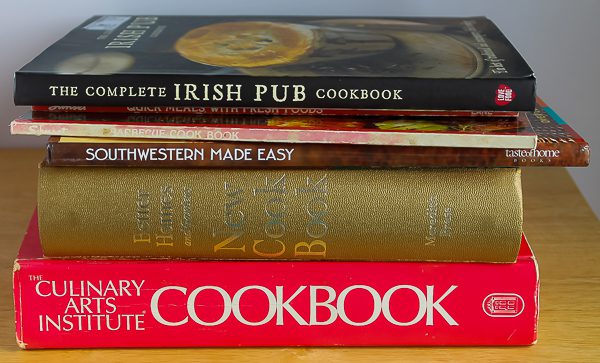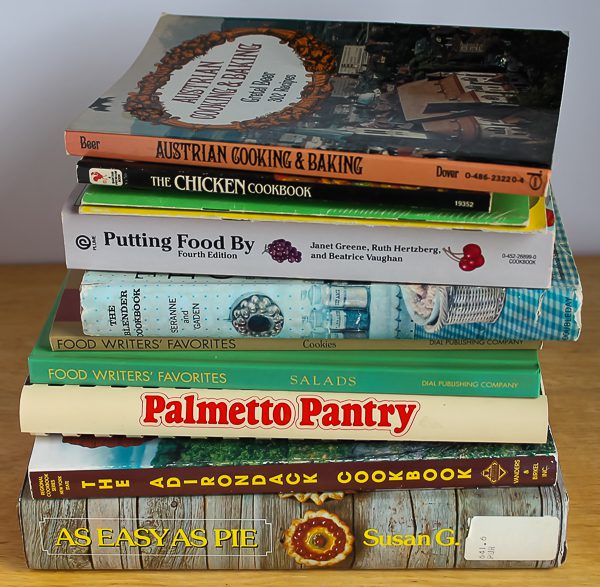 Linda decided to enter the 45th Pillsbury Bake-Off contest in 2012 held in Orlando.  She worked on a modified version of a recipe she had made for many years using leftover turkey from Thanksgiving.  It was an Indonesian twist on a recipe she picked up on her many travels as a flight attendant in the 1970's.  Linda's inspiration not only made her a finalist at the Bake-Off but she went on to win the prestigious Crisco Cooking Award of $5,000 for her Indonesian Chicken Turnovers with Spicy Peanut Sauce.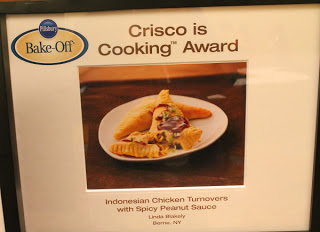 I chose the pie cookbook to write about since it is summer and pie-making is at a peak with all the lovely fruits available.  However, since I will probably have several upcoming blogs using summer produce, I decided to make a savory pie, in this case not exactly a pie, but a calzone.  Also my husband picked up some wonderful homemade Italian sausage from our favorite butcher and instead of using it in spaghetti sauce as I had planned, it was going to be calzone for dinner!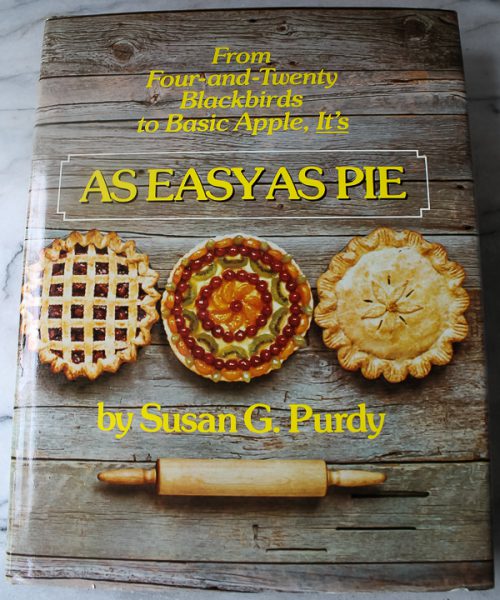 The calzone was fabulous! It is a pizza dough crust filled with sausage, spinach, mushrooms, Parmesan, oregano, and mozzarella, then folded over and baked.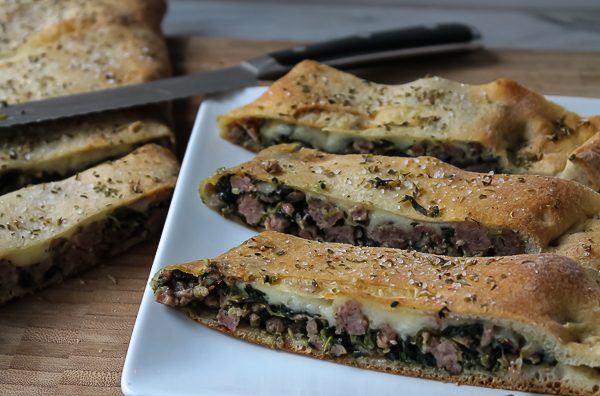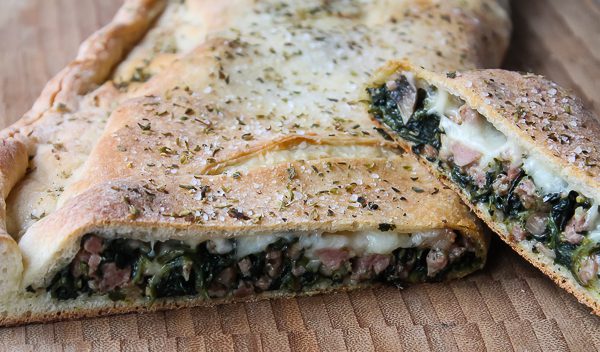 Can't you just taste all those lovely ingredients?  The calzone is ideal for a dinner entree served with a salad and a dry red or white country wine.  If you like, a marinara or pizza sauce can be heated and drizzled over the top of each slice.
The cookbook has everything there is to know about pie-making, with recipes for fruit and berry pies, tarts and galettes, custard, cream, and chiffon, in addition to all kinds of savory pies, pizzas, and quiches.  It's a pie-makers dream book.

Italian Sausage and Spinach Calzone
Author:
Recipes as Easy as Pie by Susan G. Purdy
Ingredients
For Pizza Dough:*
2 packages dry yeast
1 cup warm water
1 Tablespoon granulated sugar
1 teaspoon salt
1 Tablespoon oil
2-3/4 to 3 cups unbleached all-purpose flour
For Filling:
1 pound sweet Italian sausage, casings removed (or hot sausage if you prefer)
½ cup fresh mushrooms, coarsely chopped
3 green onions, chopped
1 pound fresh spinach leaves, stemmed, washed, torn into small pieces and drained, or can substitute 1- 10-ounce box frozen chopped spinach, thawed and thoroughly drained
3 Tablespoons grated Parmesan cheese
1 teaspoon dried oregano, plus extra to sprinkle over dough
Salt and freshly ground black pepper, to taste
Olive oil
4 ounces mozzarella cheese
Instructions
To make pizza dough (* or use your favorite recipe or all ready prepared pizza dough). In a small bowl combine the yeast with ½ cup warm water (105 to 110 degrees F), and the sugar. Set aside until the mixture looks bubbly, about 4 to 5 minutes.
In a large mixing bowl combine salt, oil, and remaining ½ cup warm water. When the yeast mixture is bubbly, add it to the other ingredients and stir.
Add about 2-3/4 cups flour, mixing well until the dough looks elastic and forms a ball. Turn it out onto a floured surface and knead about 10 minutes; add extra flour if necessary, working until the dough is no longer sticky and feels smooth to the touch.
Rinse out the large bowl, dry it, and add about 1 Tablespoon of oil.Turn the dough ball in the oil, then cover with a piece of wax paper, and set in a warm place to rise about one hour or until doubled in bulk.
Prepare the filling while the dough rises: First chop the sausage meat, then place in a large frying pan over medium heat, stirring, until browned. Add the chopped mushrooms and green onions and saute for a few minutes more. Add spinach and stir until it wilts (or stir in frozen thawed spinach), and stir to combine. Stir in the Parmesan and 1 teaspoon oregano; taste for salt and pepper.
Heat oven to 400 degrees F. When dough is ready and using half of the prepared dough, roll out on a lightly floured board and press with your fingers to make a rectangle, roughly 12-by-10-inches. Set the dough on an oiled baking sheet and pat to re-form the dough.
Spread the filling over half the dough in a lengthwise strip. Top with the mozzarella cheese, which can be shredded or sliced as you prefer. Fold the other half of the dough over the filling and pinch edges together to seal. Twist or flute, or press edges with a fork dipped in flour.
Brush olive oil over the top, then sprinkle with some oregano, a pinch of salt, and freshly ground black pepper. Cut several diagonal slits in the top to allow steam to escape. Bake in the lower third of the oven for 15 to 20 minutes or until it turns a rich golden brown. Serve hot.
Note: the other half of the pizza dough can be wrapped and frozen for future use.