I wrote about another Ann Seranne last month and came across another one of her books in my Elaine Wallace collection.  Seranne was a graduate of Le Cordon Bleu in Paris and a former editor of the much beloved and missed Gourmet magazine.  This 1964 book is a little different from her others but just as enjoyable.  I am making it my mission to find all of Seranne's cookbooks.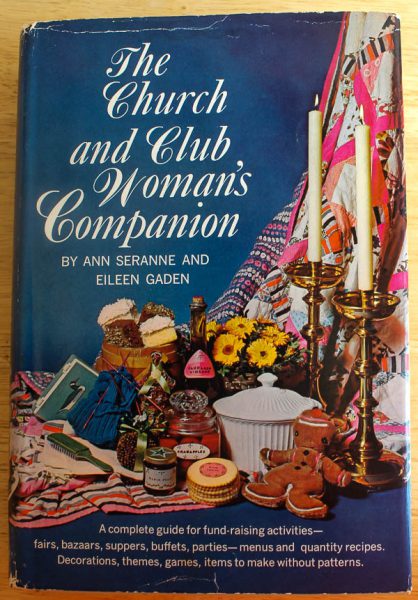 This book is one my mother would have loved.  Back in the late '50's and early '60's, my mom was involved in all kinds of women's activities at our church.  Groups of women joined "Circles," each with a different program for fund-raising and other church missions.  I recall with great fondness of all the Circle members coming to our home to make Christmas items to sell at the annual bazaar.  The glass coffee maker would be percolating and the house would have a wonderful aroma of fresh coffee and cookies for the meeting.  My mom would have several card tables and chairs set up in our tiny living room, ready for coffee and treats.  I felt so grown up helping her set the tables.  Those of you who grew up in the '50's probably remember these glass "luncheon" plates, used by so many women of the time.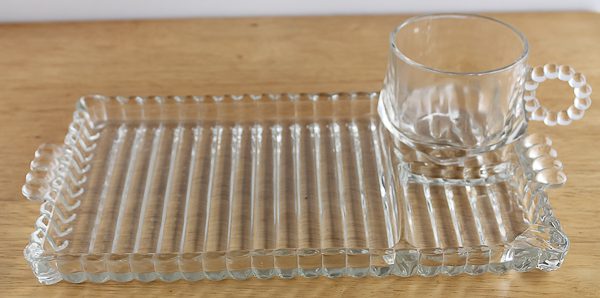 Whatever the design was, it always included a space for a cup.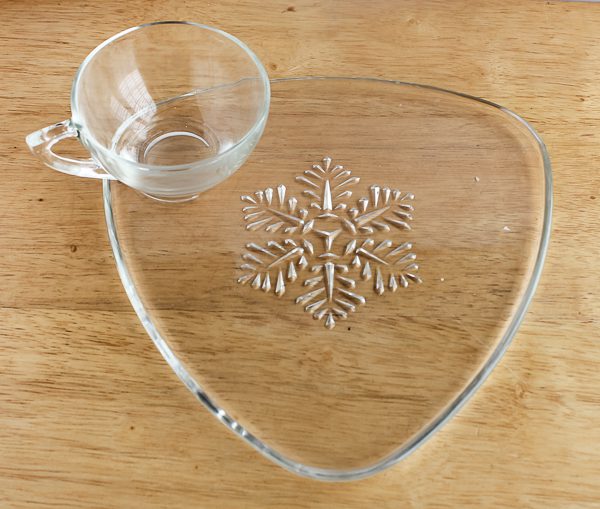 I was so happy, and surprised, that both sets of these survived the flood.  The top set was my mom's, and the festive-looking one was my mother-in-law's.
These dishes reminded me of what is inside the cookbook.  It is described as a "comprehensive guide to every conceivable kind of church or club function."  There are ideas for what to serve, themes and decorations, how to organize church bazaars, community club meetings with activities and games for both children and adults, and of course ideas for successful fund-raising.
This photo is how I remember our church bazaar from about 1959.  Every room of the church had a different theme with the crafts and foods made by the different ladies' Circles.  It could be an international theme like this one, or some had a variety of Christmas baked goods. There was even a "Cake Walk" room. (who remembers those?!)  Some rooms had games for children and places for the husbands and others to sit and have coffee if they wanted to relax and chat.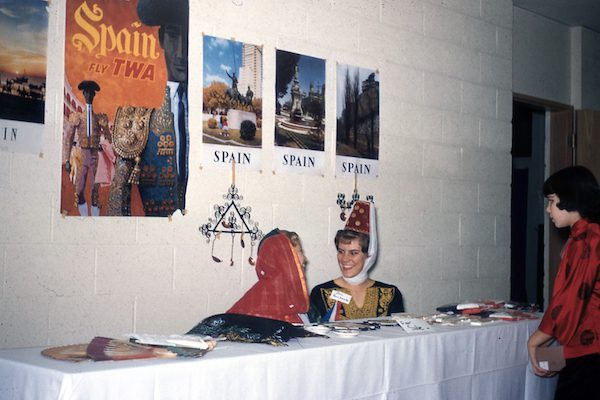 Everyone looked forward to the bazaar, not just at our church but at all the local churches.  It took a lot of work to get those rooms filled!  Here are a couple of the items I remember my mom's Circle making at their luncheon meetings: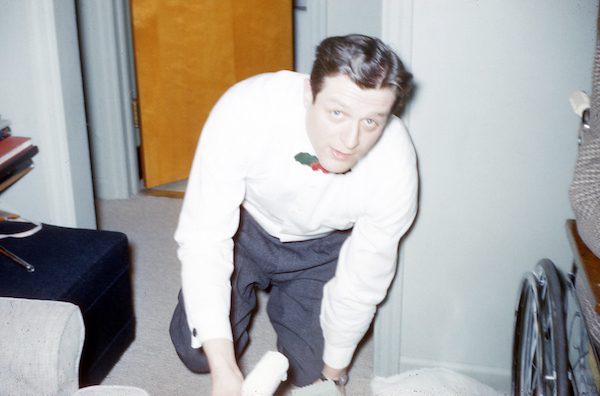 This is my dad.  It's slightly hidden, but observe his bowtie.  The ladies sewed dozens and dozens of these holly leaf felt clip-on's.  It was so fun to see almost every male, young and old, wearing these to church at Christmas-time.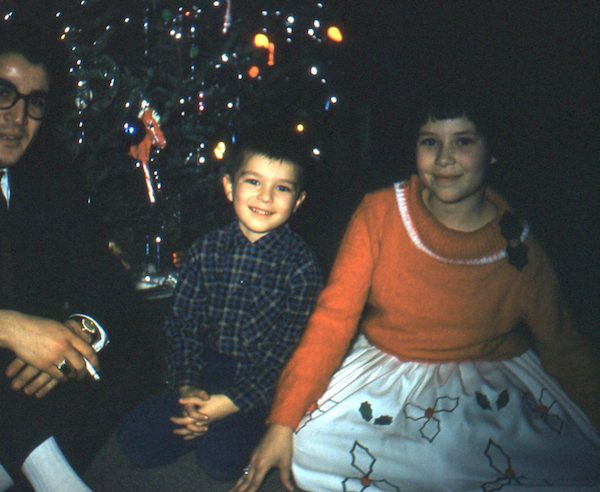 Look at my skirt here.  Also something festive to wear made by the Circles.  They did it assembly-line fashion and whipped them out in every size.  On a side note, next to my little brother is a young man brought to our church from overseas for a trip to learn about our country and customs.  The church sponsored families from all over the world on a regular basis.  They were always invited to dinner at our home, and some even stayed with us, which was my first introduction to global cooking!  I loved to help in the kitchen, and still to this day, have the recipe for the Arroz con Pollo from a Cuban family.
This tattered old wonderful paper-stapled cookbook was also a Circle fund-raising idea that was very popular.  Thank goodness, I happened to have it upstairs at the time of the flood because I was looking for a cookie recipe my mom had for "Meringue Surprise Cookies." (the "surprise" was chocolate chips inside). Needless to say, I love and treasure this cookbook.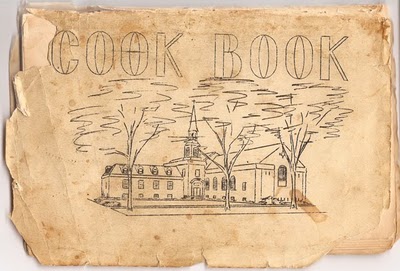 Basically, these memories are samples of what "The Church and Club Woman's Companion" is all about.  You really don't find these charming (and sometimes very dated!) type of cookbooks anymore.  But since Ann Seranne was a former Gourmet magazine editor and a graduate of the famed Cordon Bleu cooking school in Paris, she must have seen a need for this type of book that fit in at the time.  It's fun to still have books such as these that have representations of times past.  I know it certainly brought back fond memories of my mom and childhood.