I had been thinking about making a pie for National Pie Day which was a few days ago, but it passed me by mostly because I didn't feel like leaving my warm and cozy home and bundling up to go to the store in the snow.  Instead, I looked in the pantry, refrigerator, and freezer and didn't have any ingredients for a nice fruit pie which is what I probably would have made.  I had the usual staples of milk, eggs, sugar, butter, vanilla, along with a box of unsweetened chocolate which I always seem to have on hand.  Then my eye caught a box of Bisquick that had only a little left.  Whenever I see Bisquick all I think of is pancakes, or one of their famous "Impossible Pies," that have been popular for years.  So that was it.  A chocolate Impossible Pie.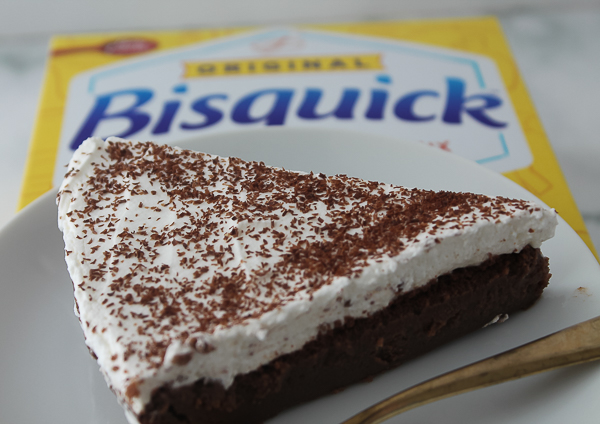 Like many of the Bisquick pies, all you do is place ingredients in a blender, whirl it up and pour into a pie tin. Couldn't be easier.  I took it out of the oven and it looked nice.  I set it on a rack to cool, then remembered I had no topping for it.  I found about a cup of whipping cream in the refrigerator, and then grated one of the chocolate squares to sprinkle on top.
And then I noticed these two packets in the pantry: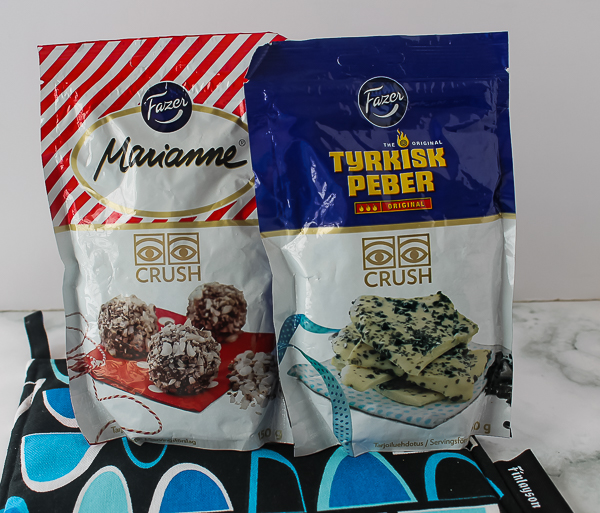 These are from Finland.  The only words I knew in English were Marianne and Crush, but there were photos.  The one on the left looked like it must be coconut, and the other looked liked something topped with chocolate.  I decided to open them since they seemed more exciting than simple grated chocolate.  The Marianne was not coconut so I don't know why it is on the package.  It was like pearl sugar with a hint of peppermint.  My Bill does not like peppermint, so I opened the other and dumped some out.  It looked like finely crushed chocolate cookie pieces.  Okay, that would work so I took a bite.  Not chocolate.  Licorice.  Now I love licorice but had never seen it in this form, and although it was interesting, it didn't seem right for the pie, and besides, Bill doesn't like licorice either even though he is of Finnish heritage and Finns are famous for their licorice. Back into the pantry for another day.  A little whipped cream on top with grated chocolate it is.
I whipped the cream and spread it on the cooled pie, sprinkled with the chocolate, and put it in the refrigerator to chill.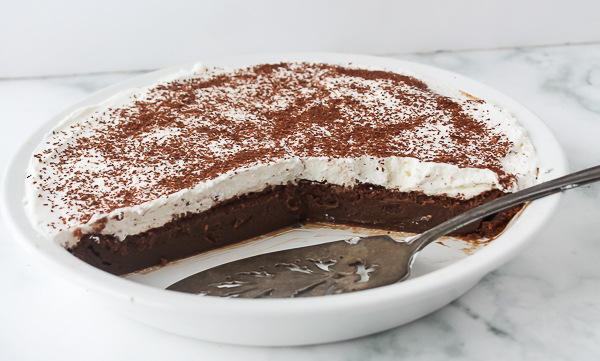 I cut a slice for Bill after dinner and waited for his reaction.  He took one bite, then another, then another.  He declared it tasted like fudge and was fabulous.  I took a bite.  Oh, my.  It was like eating fudge.  It seemed impossible for something to taste so good that had basic ingredients and 1/2 cup of Bisquick, and made in a blender!  And guess what? It was even better the next day, and managed to become even fudgier.  Is that a word?  If not, it is now.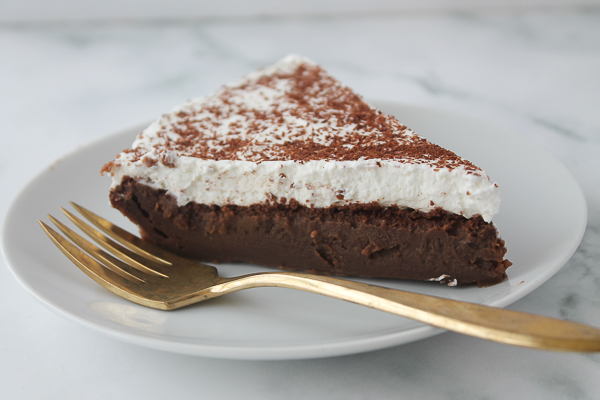 Make this if you love chocolate and an easy dessert.  Next time I'll try chocolate curls on top.

Impossible Chocolate Pie
Ingredients
2 eggs
1 cup milk (I used 2%)
¼ cup (4 Tablespoons) butter, softened
1 teaspoon vanilla extract
2 ounces unsweetened chocolate squares, melted and cooled
1 cup sugar
½ cup Bisquick Baking Mix
For Topping:
Whipped cream (about 1 cup plus a couple Tablespoons of confectioners sugar), grated chocolate, or chocolate curls
Instructions
Heat oven to 350 degrees F. Grease a 9-inch pie plate.
Place eggs, milk, butter, vanilla, melted chocolate, sugar, and Bisquick in a blender container, Cover and blend on high for 1 minute. Pour mixture into prepared pie plate,.
Bake for 30 minutes, until no indentation remains when touched lightly in the center. Cool completely on wire rack.
When cooled, whip the cream and confectioners sugar until stiff. Spread over pie, sprinkle with grated chocolate or curls, and refrigerate until cold. Note: the pie is great the same day, but we thought even better the next day.