I don't think my husband Bill has missed a Super Bowl Game since the first one in 1967.  I'm not sure what food he enjoyed during the games way back when, but he has a different request every year.  This year it is a Chicago-Style Italian Beef Sandwich with fries and a beer.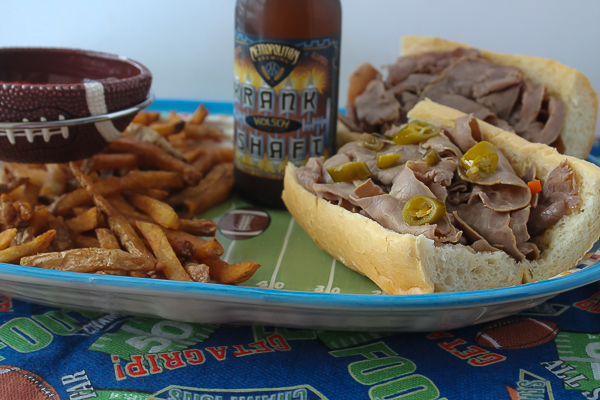 Bill thinks the best Italian Beef Sandwiches are from Al's Beef In Chicago, that has been a staple in the city since 1938.  But if he can't get there, I make my own version.  I can't compare to Al's but Bill likes it.  He likes it so much, in fact, that he bought a meat slicer to get those nice thin pieces like Al's, but Al's are so thin they are almost transparent.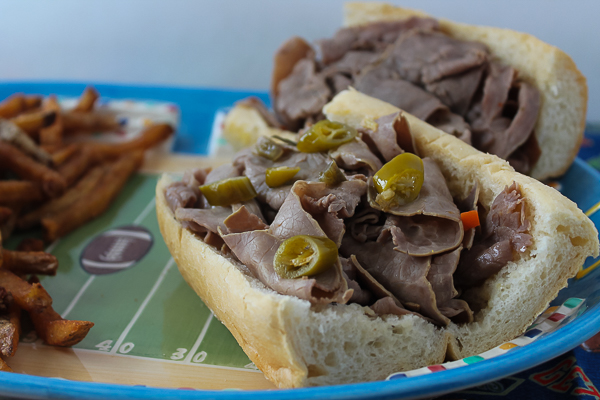 Here is my version which is easy to make and makes a lot, so invite friends over to share while watching the game or you can freeze it, but it will probably need more liquid when reheating.  I just buy a can of au jus and it works great.  I prefer mine with hot peppers but Bill likes his plain.  Any way you slice it, it's a great sandwich to serve for a Super Bowl party because it must be made and marinated a day ahead so it's ready to go at game time, even if the Bears aren't playing.

Chicago-Style Italian Beef Sandwiches
Ingredients
1 (about 5 pounds) rump roast
1-2 large garlic cloves, slivered
1 or 2 hot peppers, coarsely chopped
1 Tablespoon fennel seed
3 cups boiling homemade beef broth (or 3 cups boiling water with 3 beef bouillon cubes)
½ cup chopped green bell pepper
1 clove garlic
2 Tablespoons Worcestershire sauce
1 teaspoon dried marjoram
1 teaspoon dried oregano
1 teaspoon dried thyme
½ teaspoon salt
¼ teaspoon ground black pepper
¼ teaspoon crushed red pepper
3 or 4 drops Tabasco sauce
Hot crusty Italian buns, for serving
Extra hot peppers or sliced red and green bell peppers, for serving, as desired
Instructions
Heat oven to 325 degrees F. With a knife, poke slits in meat on all sides. Stuff pieces of the slivered garlic into the slits in roast. Place the roast in an open roasting pan. Sprinkle with the fennel seeds.
Roast for 25 to 30 minutes per pound, or until meat thermometer registers 140 degrees. Roast must be rare. Cool and slice paper thin.
To the drippings in the roasting pan, add the boiling broth and remaining ingredients. Simmer for 15 minutes. Add the beef slices and marinate overnight in the refrigerator. Heat through to serve on Italian bread, and with hot or sweet peppers, if desired.