The Gasparilla Cookbook was the 1961 fundraiser from The Junior League of Tampa, Florida.  I have been waiting for today to write about it because it happens to be the annual  Gasparilla Pirate Fest.  The beautiful cover of the cookbook alone is enough for it to stand out on a cookbook shelf, which it definitely did when I received hundreds of cookbooks from the wonderful Elaine Wallace.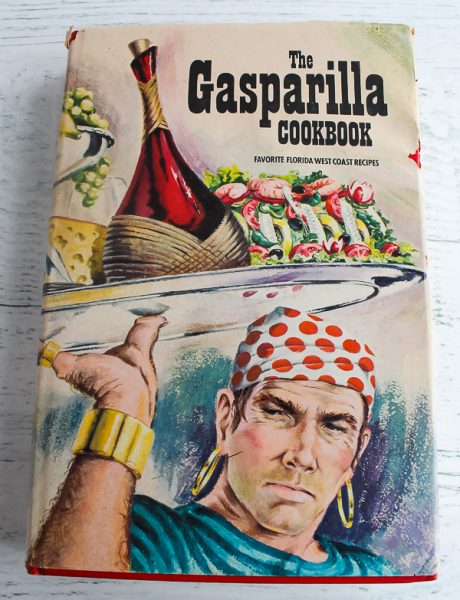 I didn't know what Gasparilla meant until I read the intriguing story in the cookbook.  It seems the bays and inlets of the Gulf Coast, and the Caribbean, were once the hiding place of pirates who preyed on ships carrying treasures of the day.  One of these pirates was Jose Gaspar, who spent thirty years in a bloody career of piracy.  He named his ship "Gasparilla" and named his base of operations "Gasparilla Island."  When he was 65 years old, Gaspar decided to retire with his band of cutthroats in South Africa and they set sail with their millions in stolen treasures.  However, they made one big last mistake.  Along the way they decided to seize a ship, which unbeknownst to them, turned out to be a camouflaged U.S. Navy ship trying to catch pirates.  Rather than submit to capture, Gaspar wrapped an anchor chain around his waist and jumped into the ocean.  His legend lives on with tales of treasures still buried along the Gulf Coast, and celebrated as the annual pirate festival.  The festival begins with an "invasion" of Tampa complete with a full-rigged pirate ship sailing into the city with guns and cannons blazing by men in full pirate costume.  When they disembark from the ship, the fun begins with a parade, food vendors, pirate items to buy, and apparently, loads of fun for the public.
With the abundance of seafood and the Spanish influence of cooking, it was a fun and easy choice to have a cookbook about the history of the pirates.  The book has 22 chapters with a treasure chest of recipes and a map to guide the reader for everything from appetizers to meats, to every kind of seafood, to pickles and relishes, and a half dozen chapters on desserts, just to name a few.
The festival sounds like none other with pirate ships, booming cannons, buccaneers, glittering beads, and doubloons , not to mention the costumes, music, and food.  But if you can't make it mateys, find this most enjoyable cookbook and find a treasured recipe.