To say that these blogs of my trip to Italy are late in coming is an understatement.  Try almost three years.  But it seems like I was there yesterday.  That's what Italy does to the soul.  It absorbs every part of you, makes you Italian when you have no Italian blood, leaves you longing to return, and sometimes even shedding a tear because you miss it so much.  At least that was my experience.  So why has it taken me so long to write about it? That's a good question, and I'm not sure how to fully answer it.  I've thought about writing the blogs ever since the day I got back, which will be three years this October.  I had a million photos to sort through, and even more memories.  The trip came at a very challenging part of my life.  I had been diagnosed with cancer five months earlier and was still not used to the idea that it actually happened at all.  My daughter Kristina, who I believe desperately wanted to get me back into life, called me one day and said, "Mom, how would you like to go to Italy?"  I thought she was kidding.  Me, who doesn't care much for flying, and until ten years ago, had never even left the country, when I went on a trip to London.  Italy is a longer flight, I thought, and could I physically handle it?  Kristina and everyone else convinced me I could and should go. Maybe the blogs seemed so hard to write at first because I could hardly express how I felt.  The feelings went so deep and I sort of guarded them.  Like I said, I'm not really sure myself, but all I know now is that I am ready to share it with the world because everyone needs to go to Italy at some point in their lifetime.  It's nothing short of magical, and while the photos are beautiful, it doesn't do the place justice.  Those of you who have been there know what I mean, and those yet to go will understand once you are there.  For now, come and take this trip with me.
Kristina explained that this was an exclusive press trip, sponsored by Zonin.  Since 1821, the Zonin family, seven generations of wine makers in Northern Italy, has owned and operated Casa vinicola Zonin.  The Zonin family portfolio includes numerous wineries located in seven of the most renowned wine regions of Italy, making them one of the most important family owned wine companies in Italy and one of the leading private wine-making companies in Europe.  Now how could I pass that up?  Look at where Zonin is all over Italy!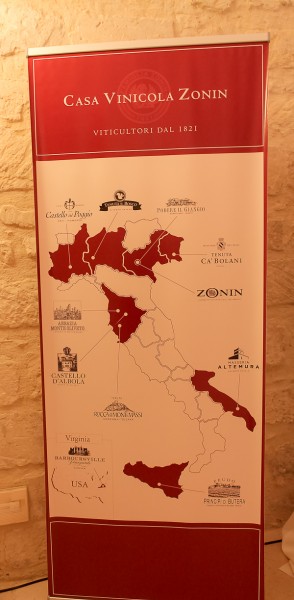 Day One:  Lecce, Part 1
Before I could say Caio, baby, Kristina and I were off to Italy, first flight to Brindisi, Puglia, in southern Italy.  We were greeted by our host for the trip, the charming and beautiful Jelena from the Zonin group.  Jelena is a jewel.  We boarded a bus with the other members of our small group from all over the USA and rode about an hour to our hotel in Lecce, the fabulous Patria Palace Hotel.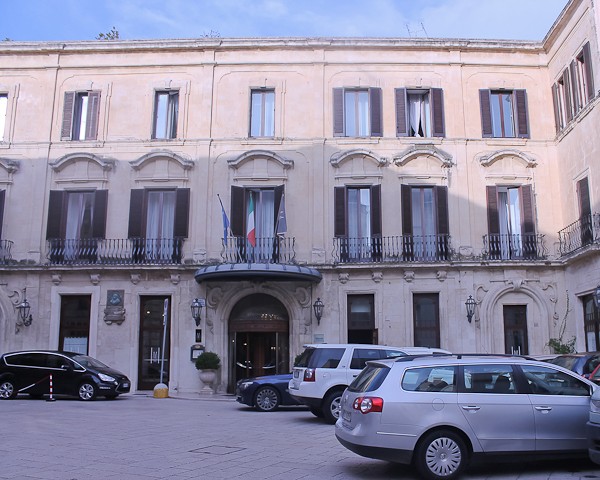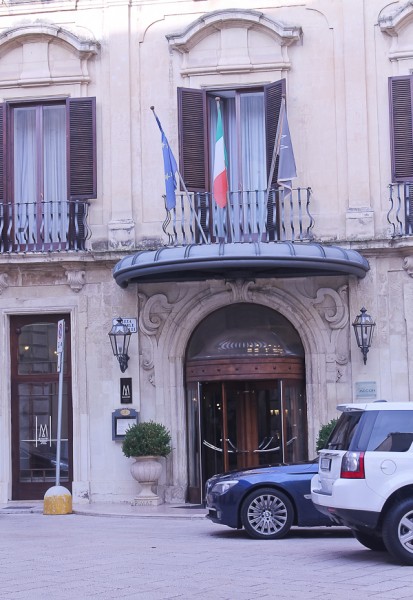 This boutique hotel is breath-taking.  Our room was large and very comfortable.  They even had recipe cards on the table.  Unfortunately, all in Italian, but I kept them anyway!  After we settled in, Kristina and I just wanted to take a peek around outside before the evening events.  Look what we saw right out the front door: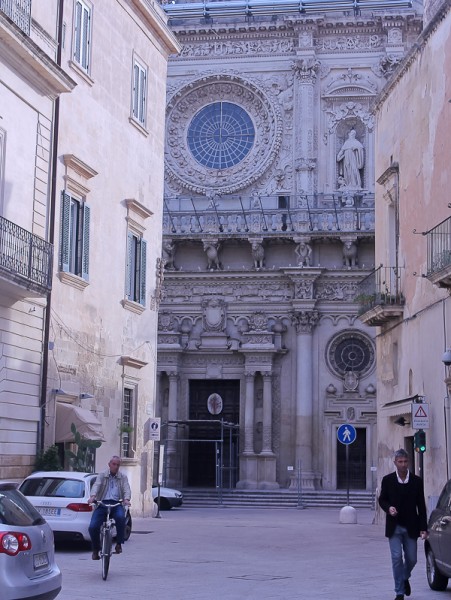 The historic and beautiful Basilica di Santa Croce was only steps away.  Lecce is a beautiful baroque town, filled with gorgeous palaces and churches that look like this one, intricately sculpted from local soft sandstone.  Kristina and I wanted to take a closer look, even though parts of it were under repair.  We were astonished to discover that the doors were open!  What we saw inside took our breath away.  We were also the only ones in the church.  It was eerie yet comforting, and like taking a step back in time.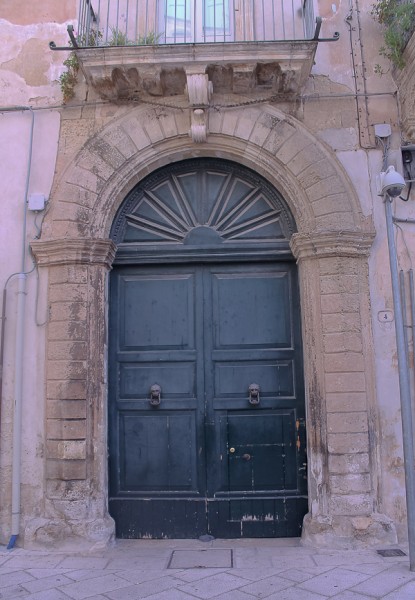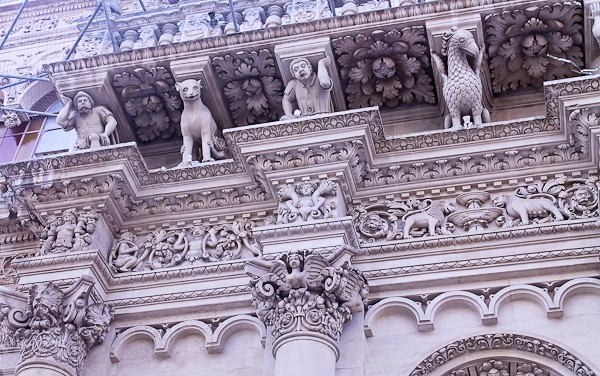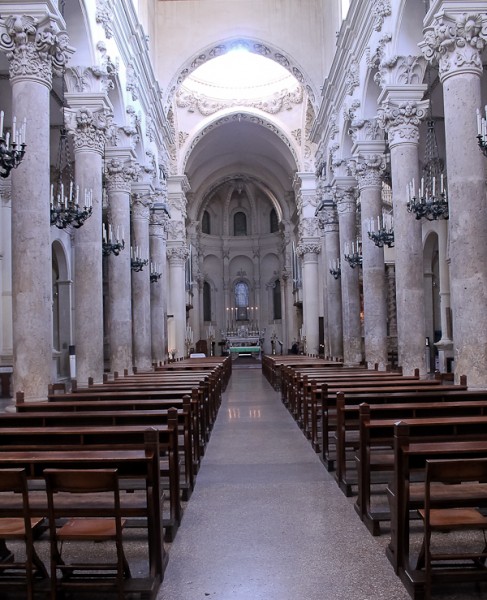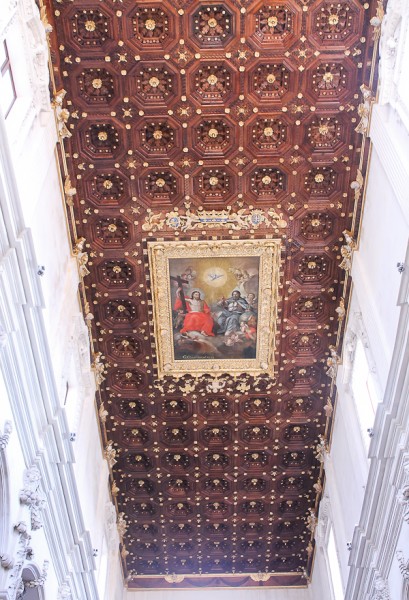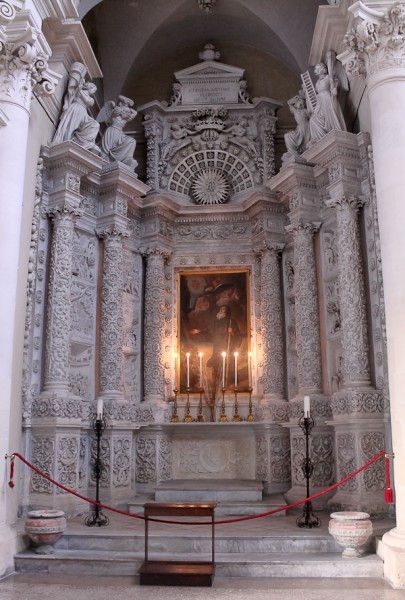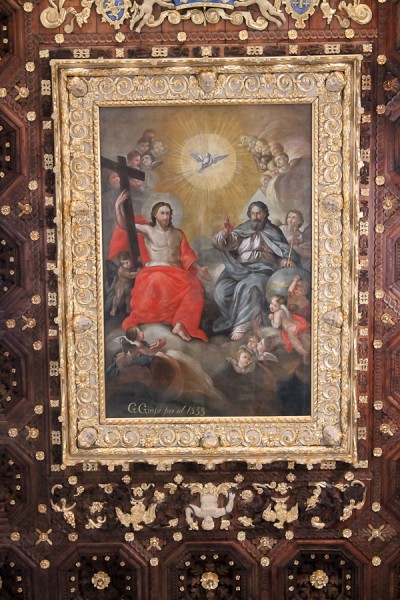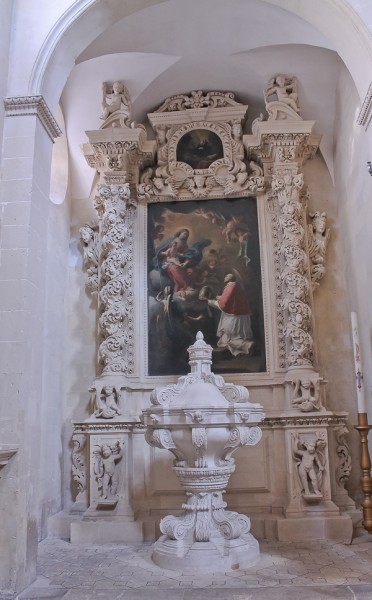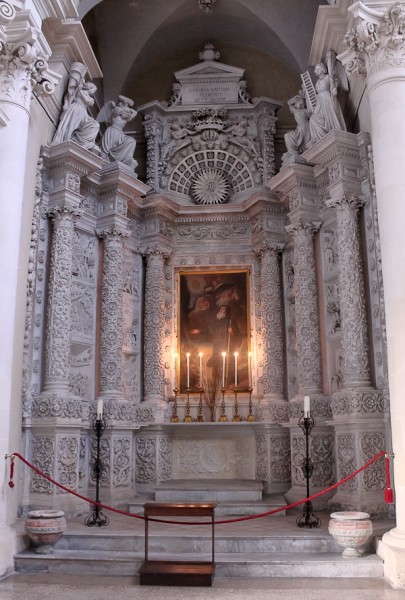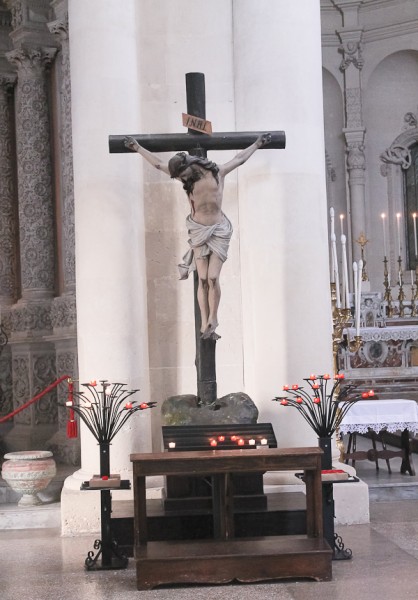 We exited the church and walked around a couple small streets and found our first gelateria!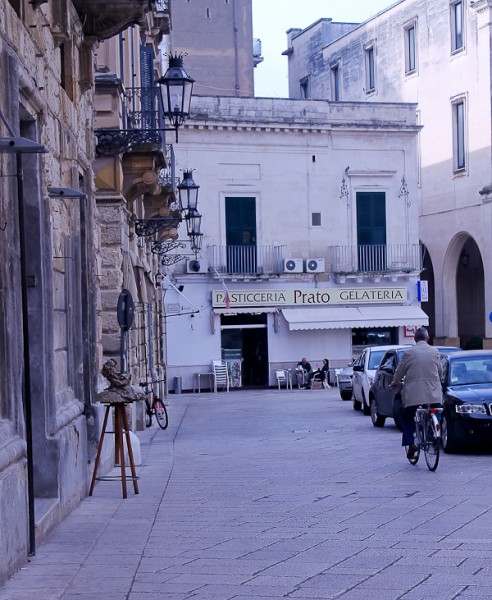 We were excited to call my daughter Kara in New York City, because while she was a student at NYU, she went on a study abroad program to Lecce.  We wanted to ask her about her time here and where she lived.  It turned out that she lived right off the famous Piazza del Duomo, the exact place were we standing when we called her!  She then instructed us to turn and look to a certain area and find a certain building, which we did.  We were looking at exactly where Kara lived!  And she also used to pass by the Patria Palace Hotel and the Basilica di Santa Croce every day on her way to class.  Gave me goosebumps.  Kara also reminded us of something very important she did while in Lecce.  My Uncle Warren Klug, died not long before she left for her semester in Lecce.  Uncle Warren was a navigator on a bomber in World War II and stationed in Lecce.  His wife, my Aunt Joyce, asked Kara if she would take some of Uncle Warren's ashes to Lecce and set them out to sea.  She did, along with a note.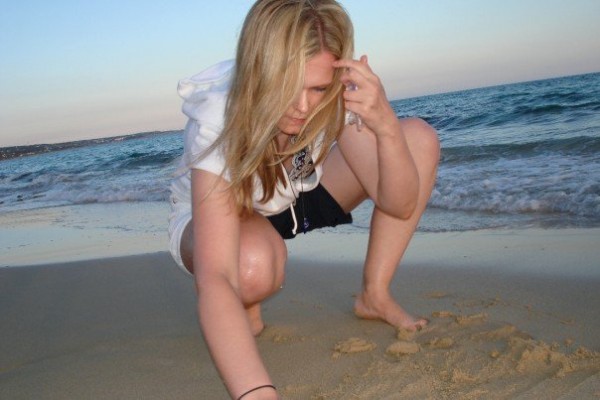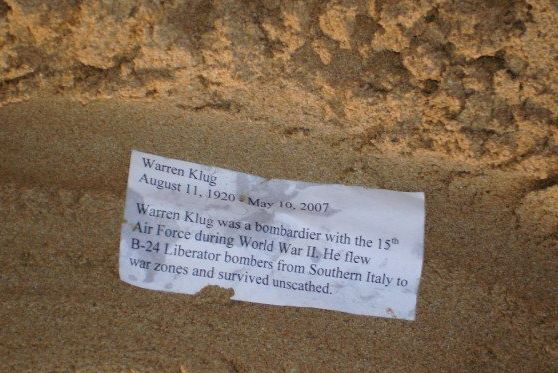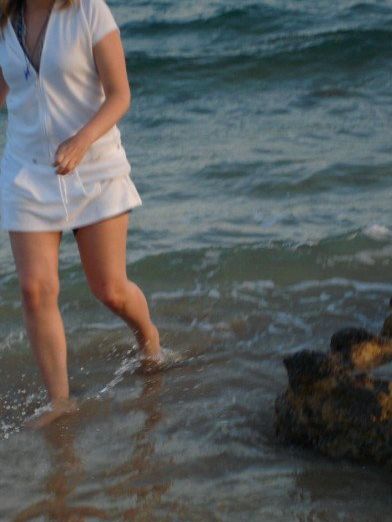 So here we were, in Lecce, a place we had never been, but full of memories of family.  It was very odd to know that Kara had walked the exact places we were walking, and my uncle's ashes and note were somewhere out at sea forever.  We already had a connection to Italy.
Wednesday's blog will be about our first wine-tasting and dinner in a castle!  Caio for now.