After settling into our charming room at the Patria Palace in Lecce and dressing up for a gala dinner in the evening, it was time to take the short, lovely walk to Castello di Carlo, a 16th century castle.  Our first adventure would be wine tasting with Zonin.  As Kristina and I ascended up the ancient stairway, we already knew it was going to be a good night.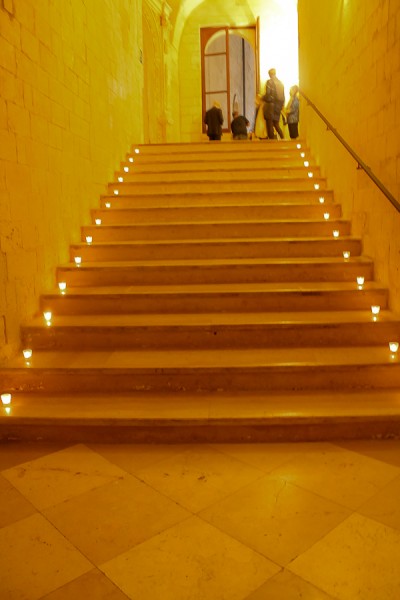 A table greeted us at the top of the stairs.  It was only the beginning.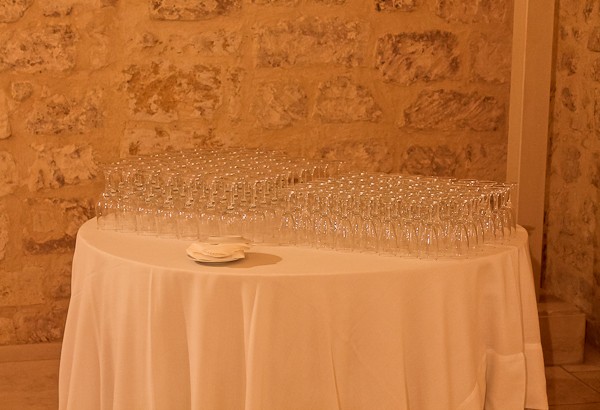 We entered the next room.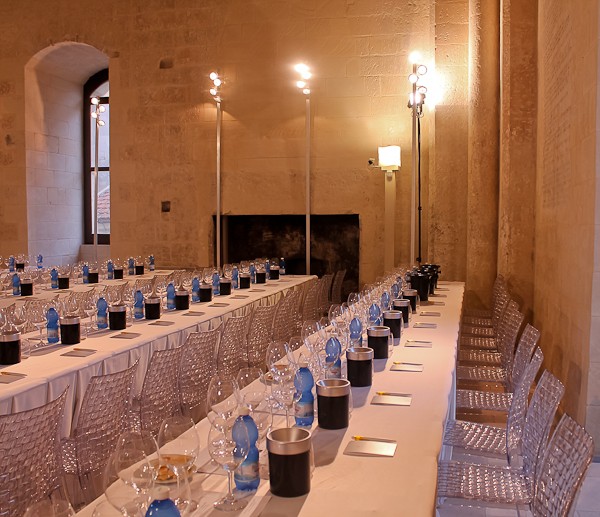 Fairly soon, every chair was filled and a buzz filled the air.  Everyone was given a "Tasting Notes" pad.  At the top was a line to write the wine, followed by photos of an eye, a nose, and a mouth for jotting down thoughts.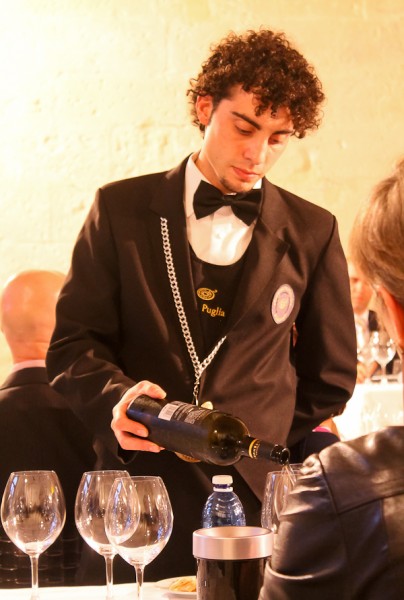 Our servers were very efficient.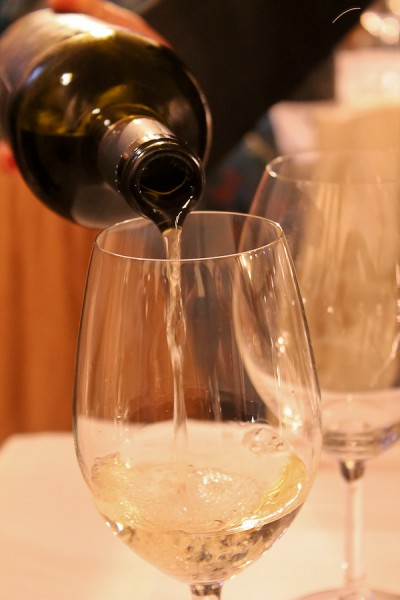 Each wine was discussed and explained.  I learned a lot that day! Pretty soon, we had quite a variety.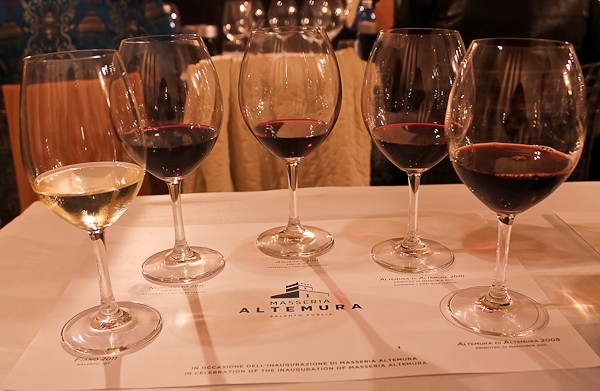 Following the wine tasting, there was to be a gathering down on the lawn before dinner.  Kristina and I left the wine tasting room and looked out one of the enormous castle windows.  The workers were busy setting up.  It looked like a dream from above.  The sun was just starting to set and everything was glowing.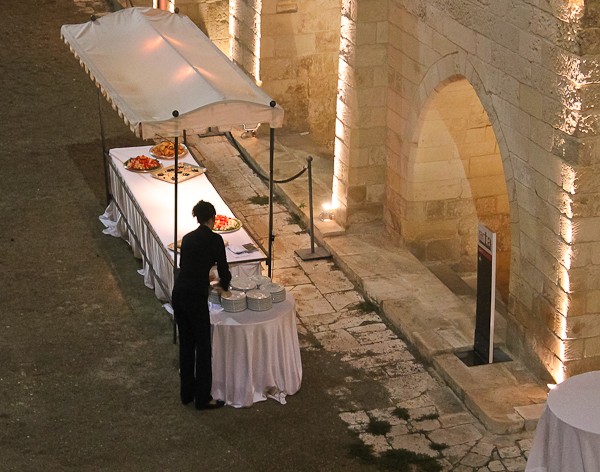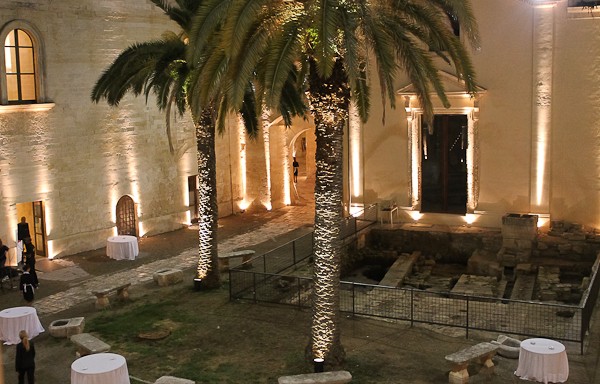 The servers started taking their places, chefs arrived at their stations, and it was time to descend down those amazing stairs to the courtyard.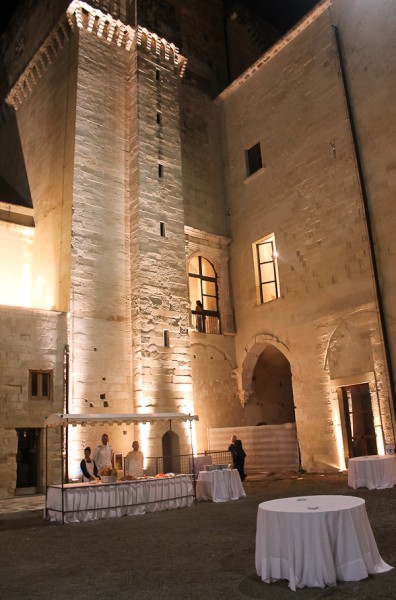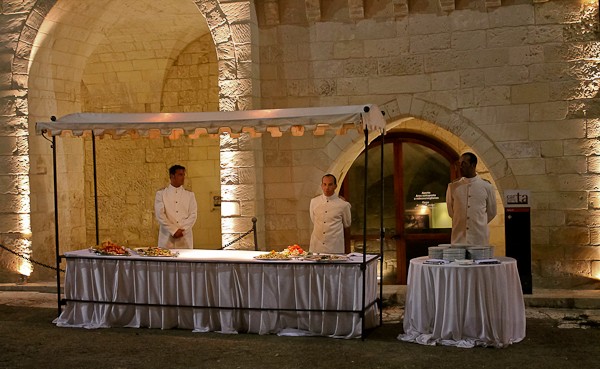 The chefs began cooking.  Aromas filled the air and we wanted to run through the smoke and breathe it all in.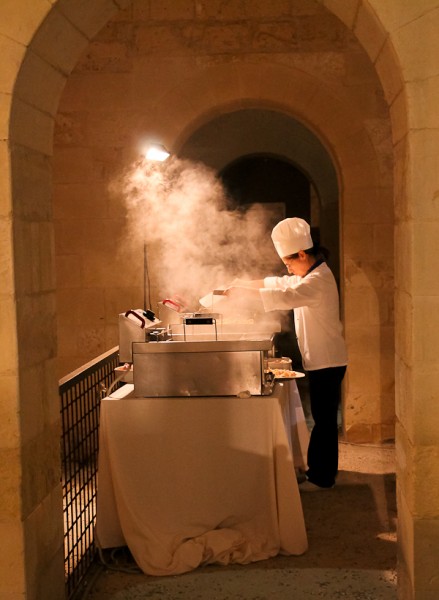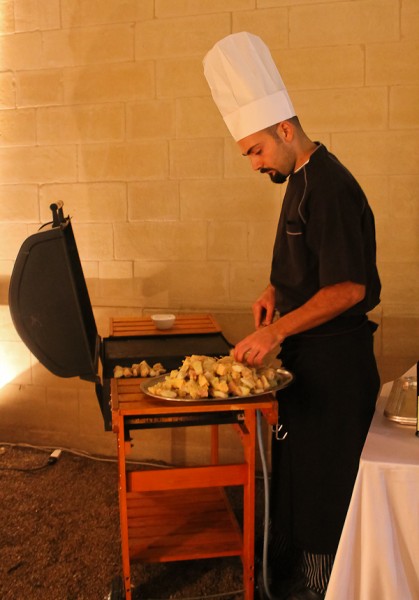 Within no time, the place was alive with guests.  Remember, this is just appetizers!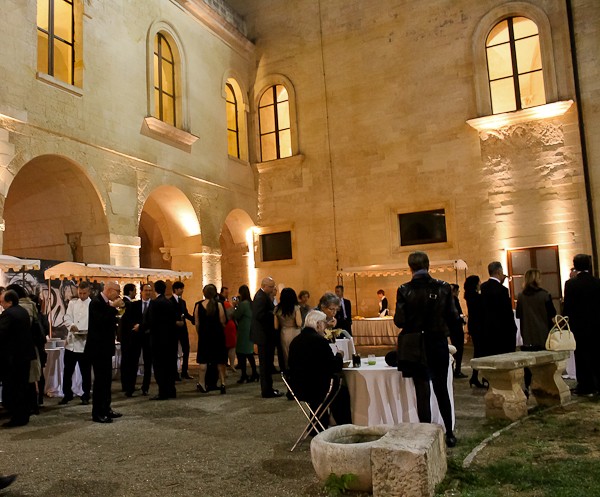 There was even music with a dancing girl!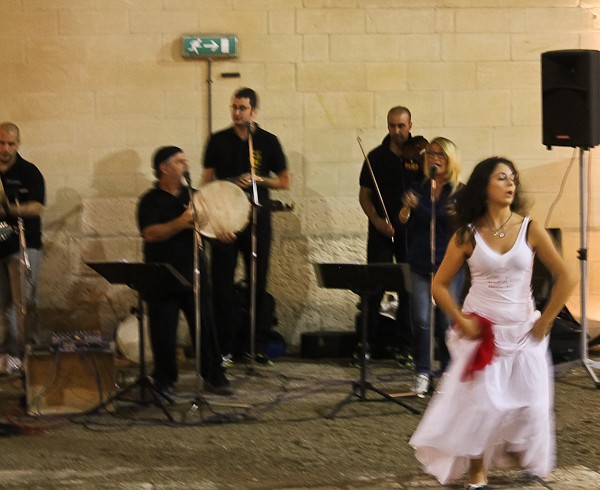 The food was wonderful, but we had to pace ourselves as we knew dinner was coming up next.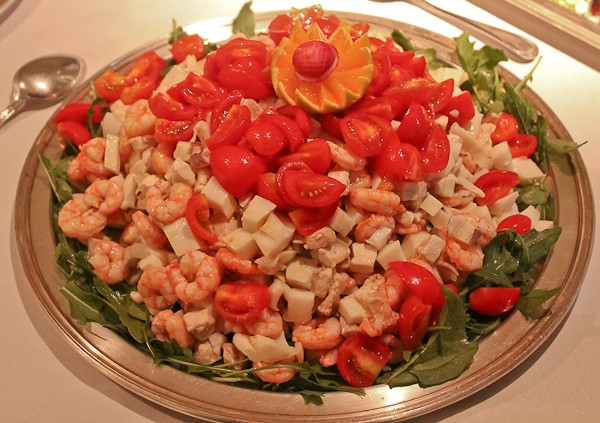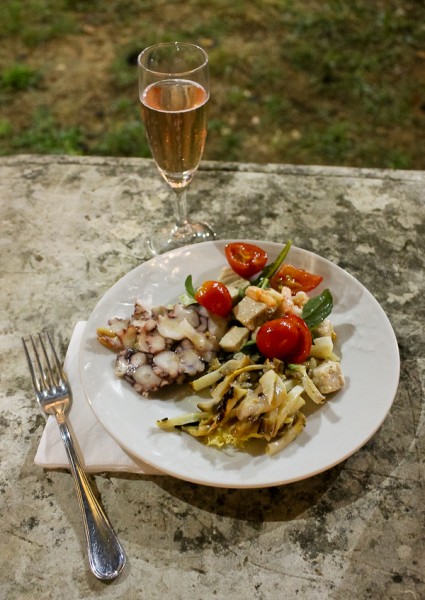 Well… we tried to pace ourselves.  Didn't work out, did it?  I've never had such fresh seafood.
Soon everyone was checking a board that we realized was the seating chart for the dinner inside.
This was a huge party.  We wondered what the room looked like that would hold all those people, then remembered this was a castle, so no problem.  Actually, now that I think about it, a Game of Thrones episode should be filmed here.  A tame one.  This castle is too magnificent to mess up.
Everyone found their respective table seatings and headed up the castle stairway once again.  We had to navigate through massive hallways to find the room, but when we came upon it, there was no doubt this was the place.  It was like walking into a dream.  This couldn't be real.  The pictures may be breath-taking, but in reality, they don't come close.  I swear our feet were floating as we walked in.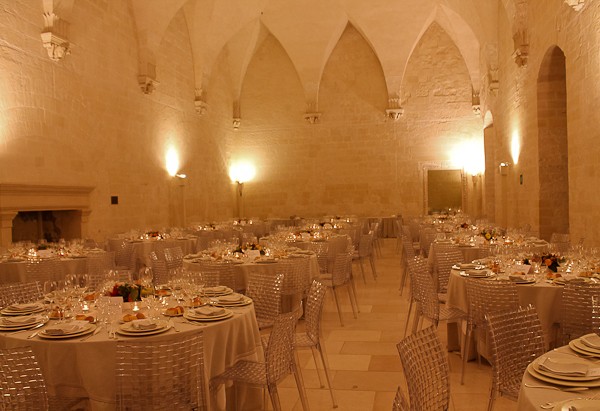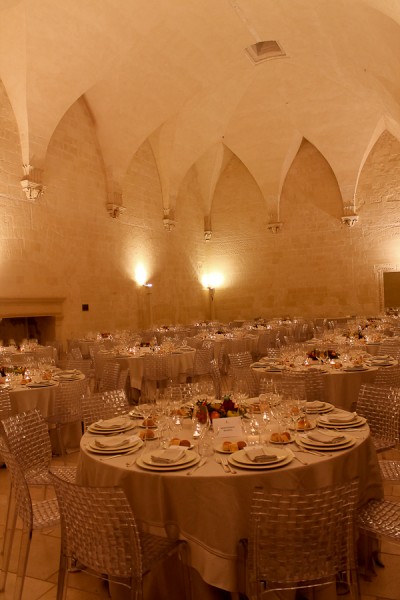 Kristina said, look up!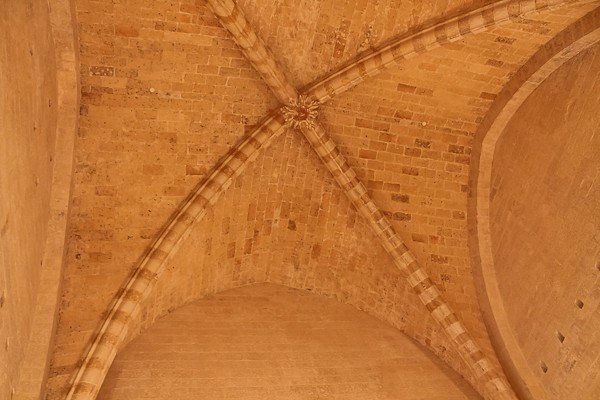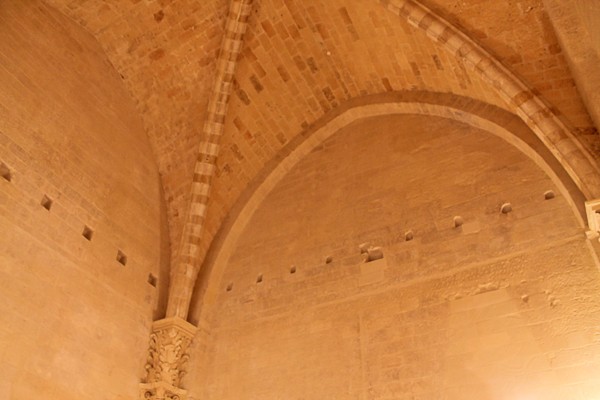 I can't even guess how high those ceilings must be.
We walked around and finally found our assigned table.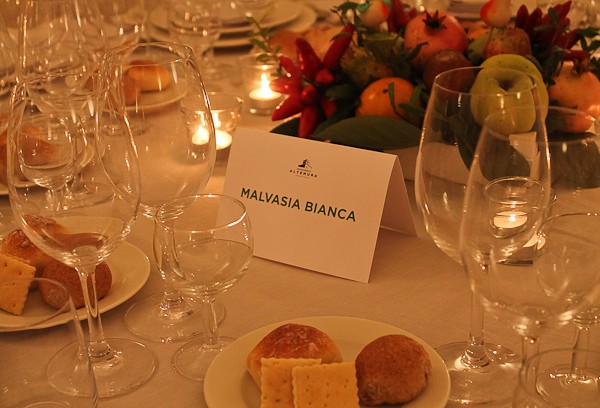 We were seated with a couple of people from our group, along with engaging new guests.  Dinner was wonderful.  The menu was in Italian, but you can probably figure out the food by looking at it!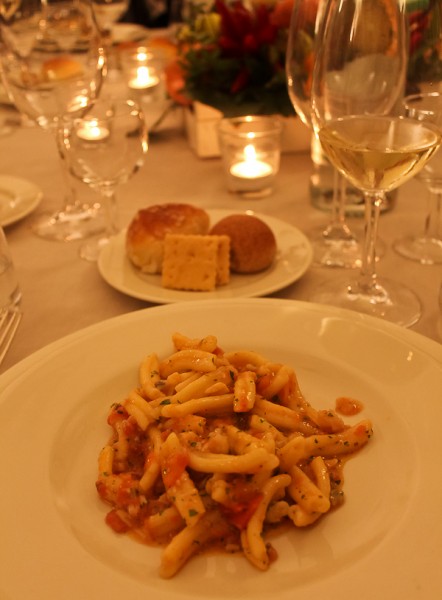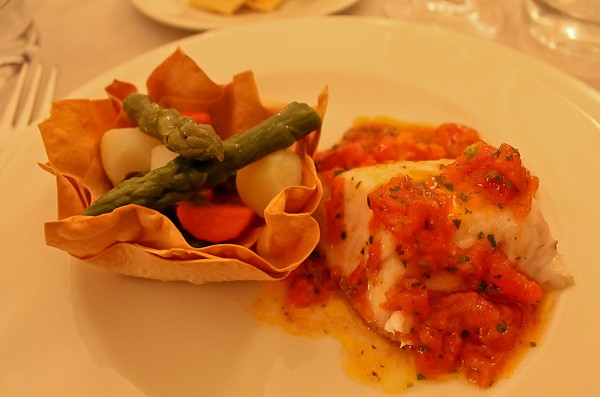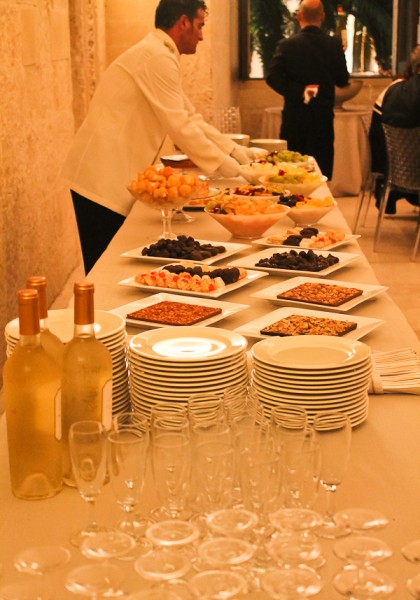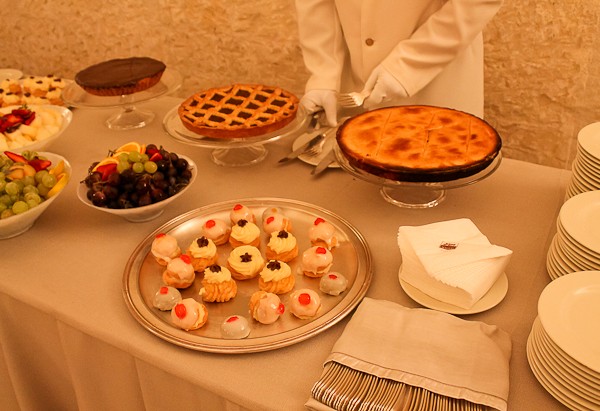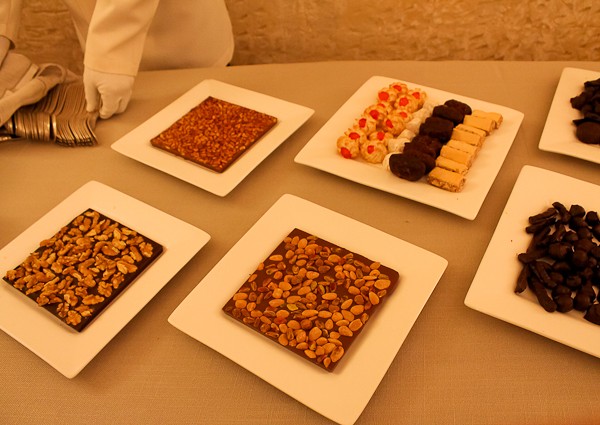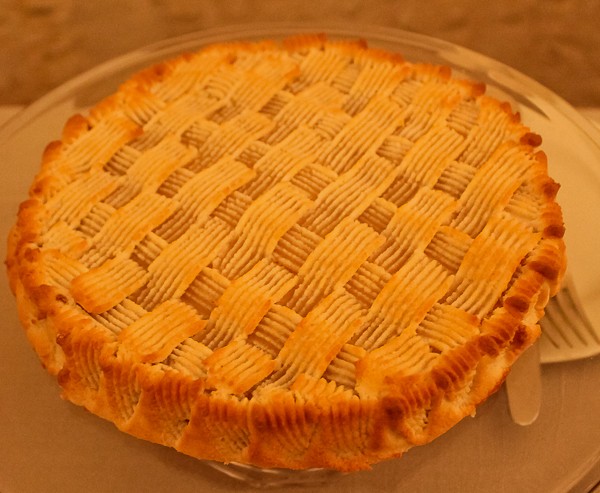 After dinner and of course, wonderful Zonin wines, we were presented with the most stunning and appreciated gift from Zonin.  It was a gorgeous serving dish;  a souvenir of local Puglian craftsmanship on the occasion of the inauguration of Masseria Altemura, where we would be going tomorrow –  for more food and wine, and for the next blog for you to read!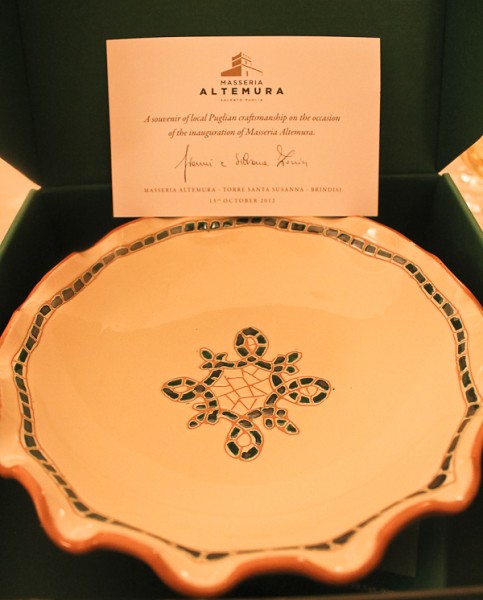 Some of you may recognize this dish because I have used it in several blog posts!  It is one of my favorite dishes.
Wait until the next event.  You might just meet a Cardinal.  And his bodyguards.  And lots and lots of Prada, Armani, etc..  It's quite a party.