About a sixty minute drive outside of Lecce is the Zonin estate of Masseria Altemura.  This day would mark the opening event of the new winery, bringing guests from near and far, including many dignitaries.  Camera crews were everywhere, and even police to guard the event, and the dignitaries!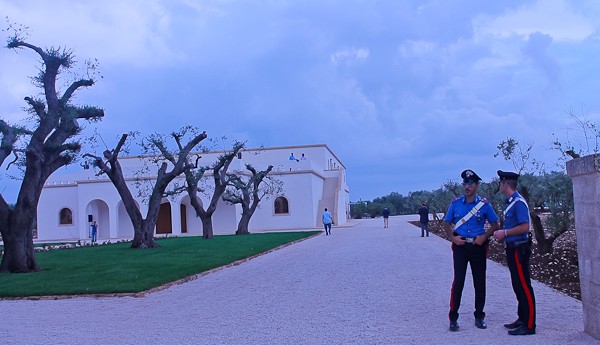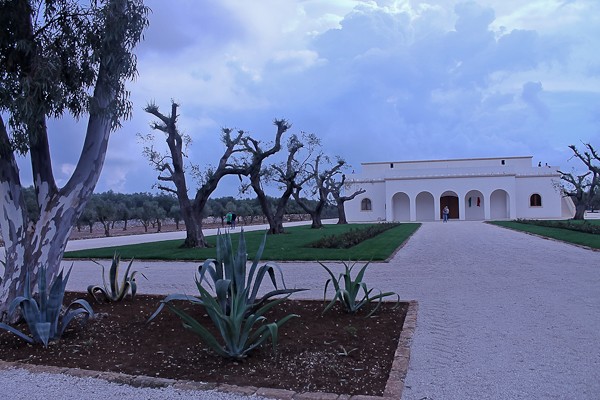 Masseria Altemura is stunning, with the new winery next to the beautiful castle where the celebration luncheon was to be held.  Along one side is an impressive stone wall.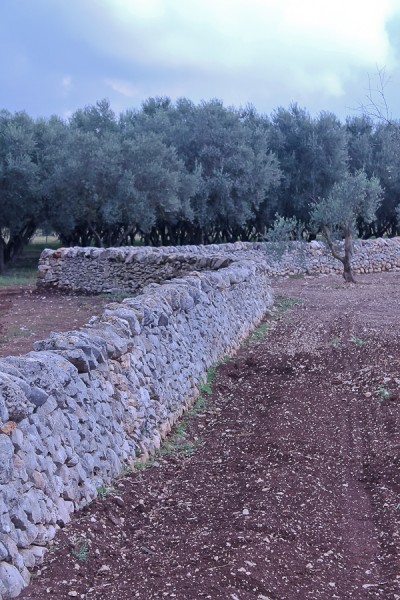 A tent was set up to greet the guests with wine and other beverages.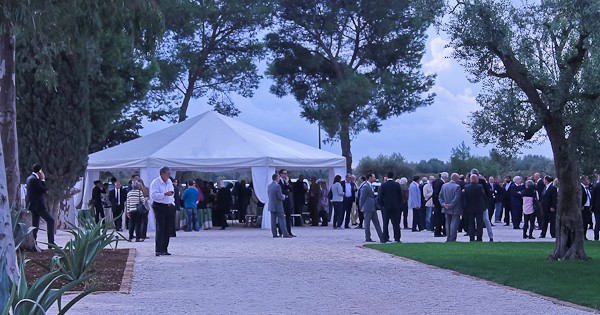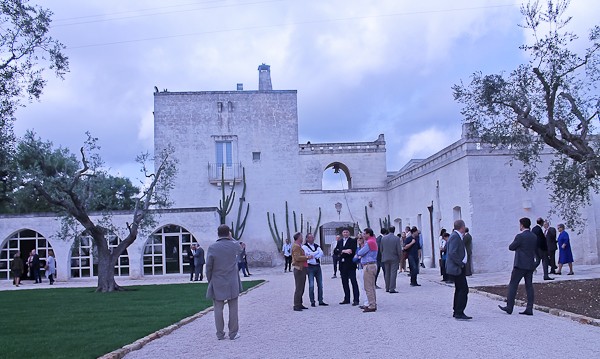 While we waited for the official ceremony to begin, Kristina and I looked around at the guests and decided that Italian men and women are gorgeous.  Most looked like they just stepped out of an Armani or Prada photo shoot. Their clothes were stunning.  I just sighed and sipped my wine, and quietly slipped away from the woman standing next to me who looked like Sophia Loren.
The grand opening was about to begin and we strolled over to the winery.  There were camera men awaiting the unveiling of the official plaque for the winery.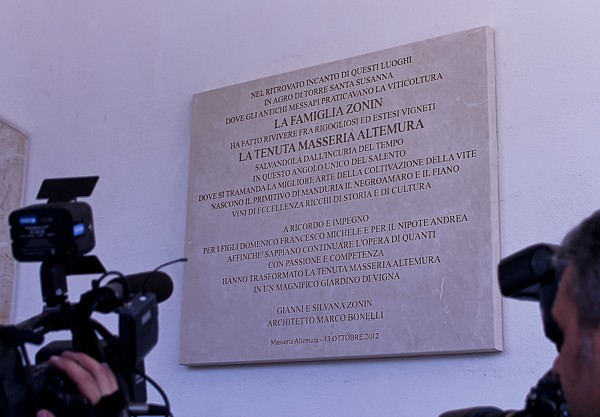 Sorry I can't translate, but this was a very important event for the Zonin family and a huge celebration was in order.  Everyone then went inside to look around before the luncheon was to begin.  There were gorgeous barrels of wine, along with some lovely old photographs gracing the walls.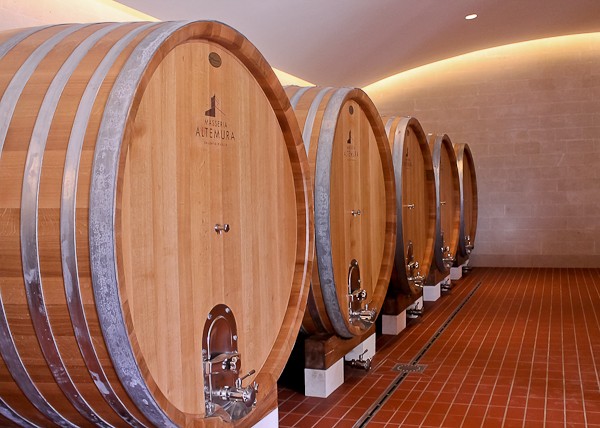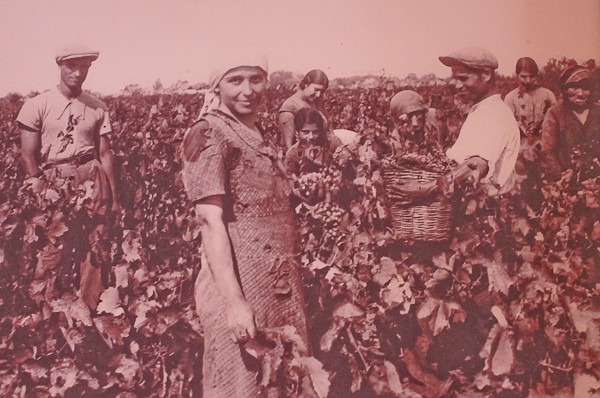 One room had a table filled with flavorings that were there for the tasting.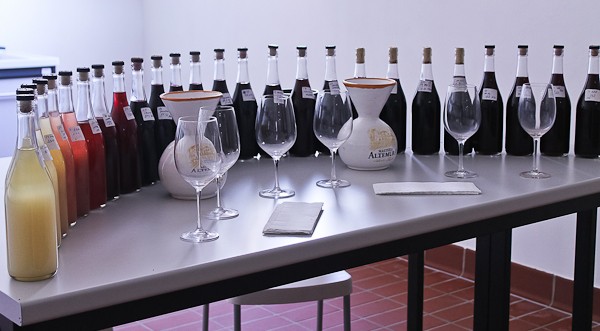 Eventually the crowd made their way back to the castle for the celebration luncheon.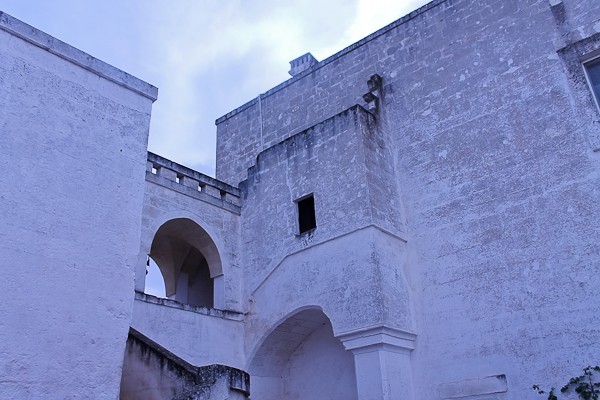 On the way in, I had to stop and admire an iron bench, water faucet, and a beautiful grape decoration.  I swear, every time you turn around, there is something that is begging for a photo!  Is there anything that isn't gorgeous in Italy?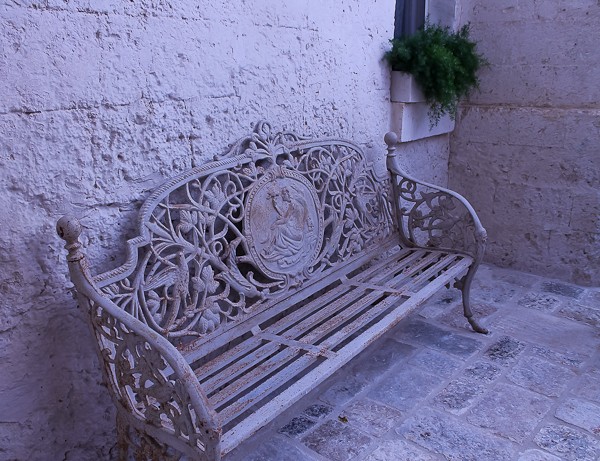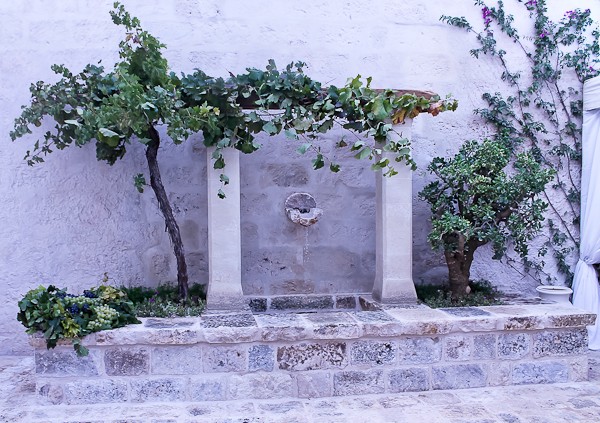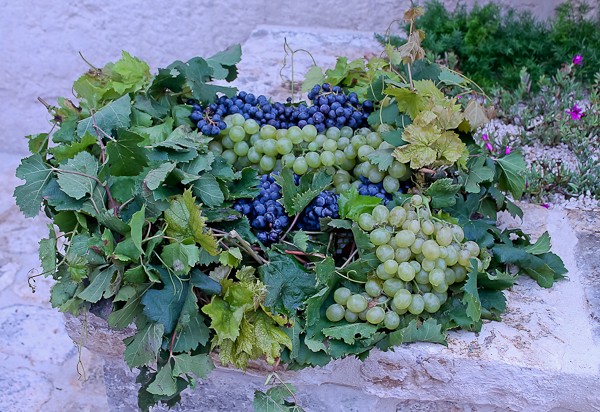 We followed the crowd down a narrow sidewalk that opened up into the courtyard.  What a sight!  It was a huge area with people milling everywhere, and something smelled heavenly.
We then realized that the entire perimeter was nothing but food and beverage stations.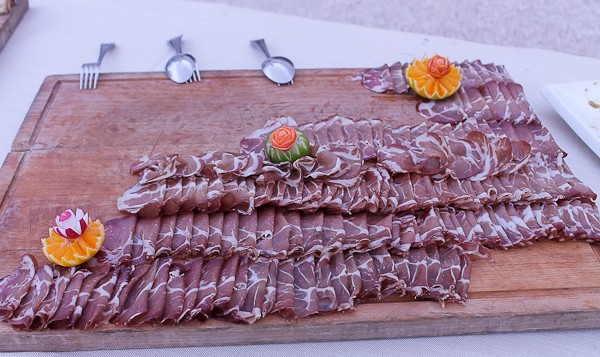 Prosciutto like I have never seen!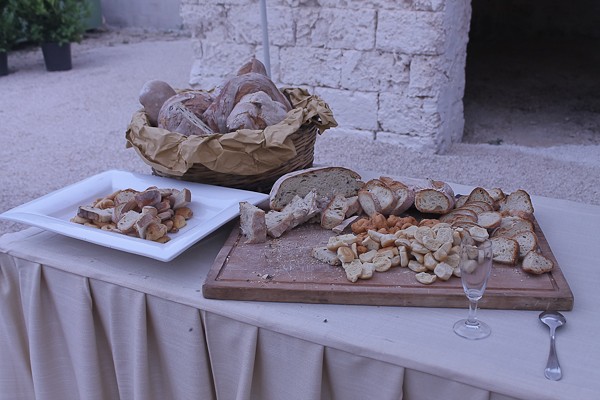 Breads!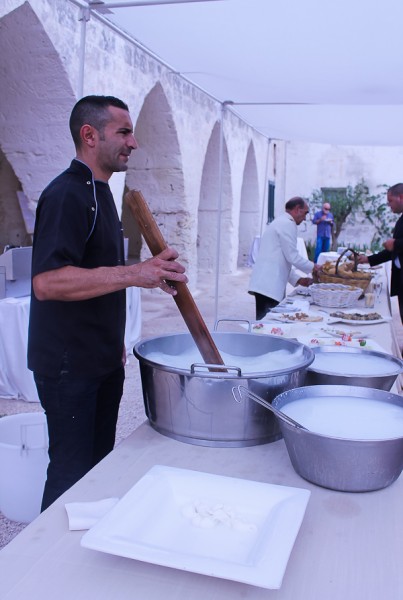 Homemade mozzarella!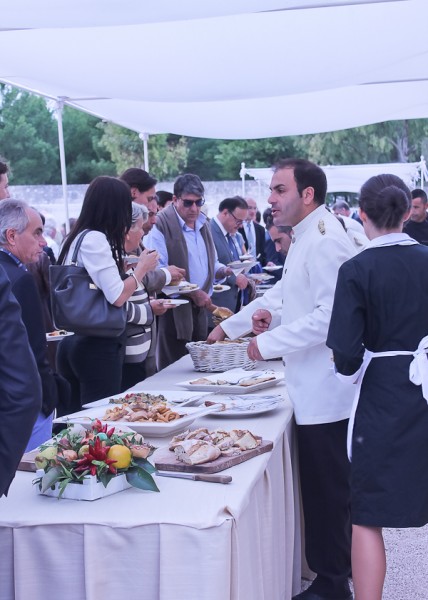 Anything you could possibly want.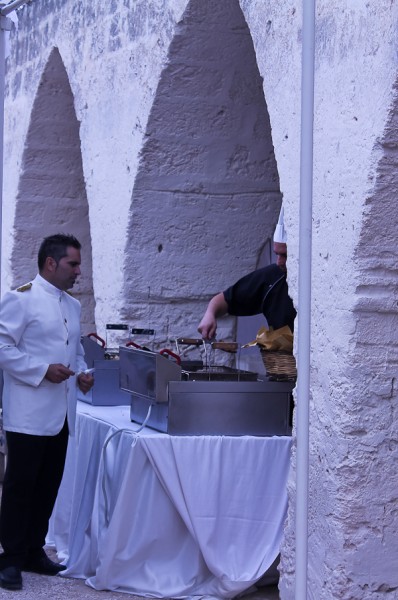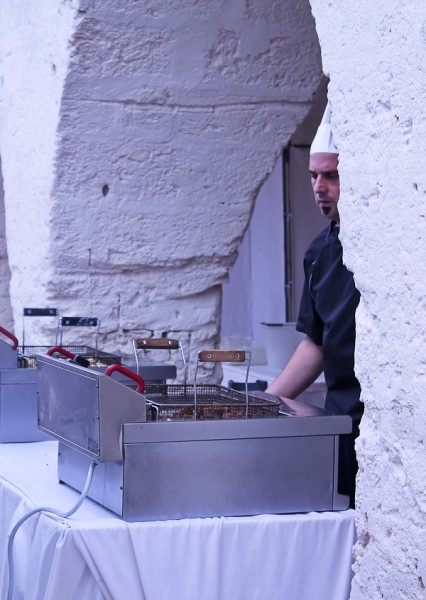 As we turned around looking for the tent to sit down, look who we spotted: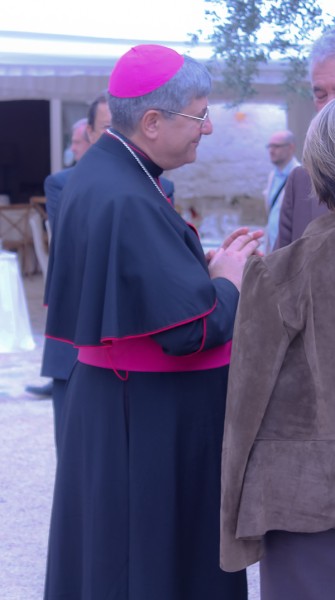 Looks like the Cardinal is having a good time.  I hope he enjoyed some of the wonderful food too.
We found the tent and sat down for a minute before going inside for the luncheon.  Yes, once again, all this food is only the beginning.  Italians love to cook and eat!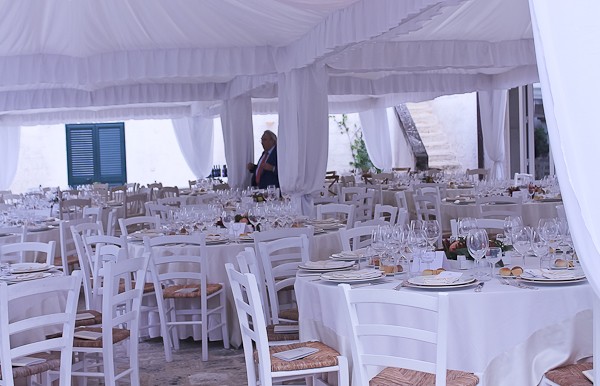 Some were assigned these outdoor tables, but ours was inside.  It was just as lovely inside.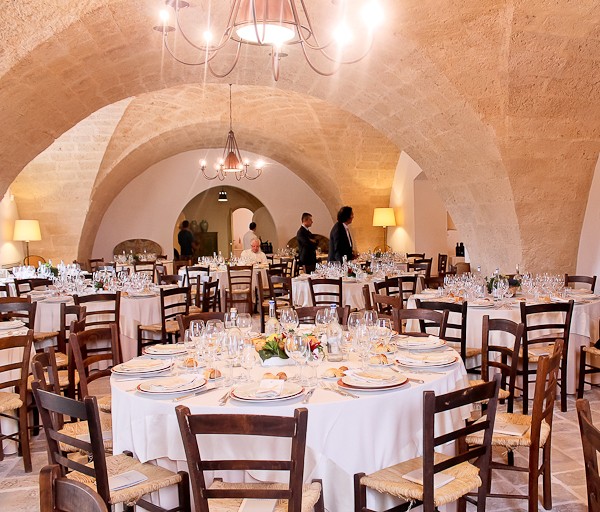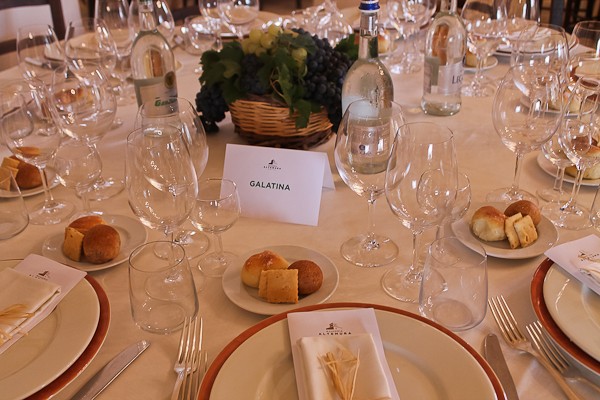 Our table.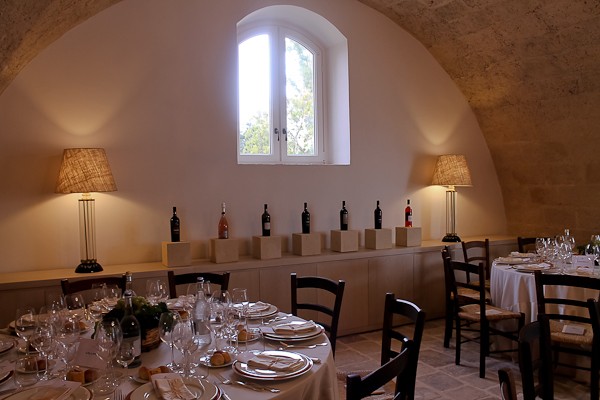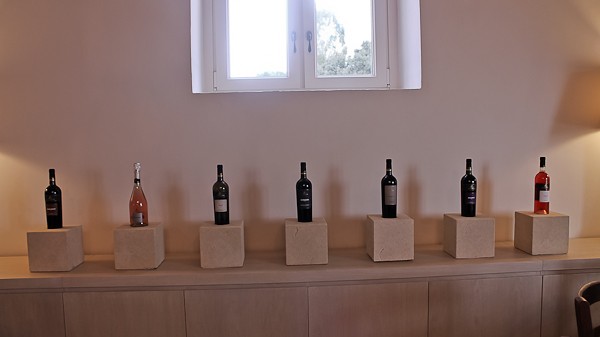 After the celebration, we returned to the Patria Palace in Lecce and freshened up for dinner and wine tasting that night to be held a short walk from the hotel at a charming little restaurant, Risorgimento Resort.  The wines that evening were from the Zonin Family Estates and matched with the aromas and flavors of the Salento Peninsula.  On the walk to the restaurant, Kristina and I could not resist stopping at one of the small shops along the way that had many handcrafted items.  Kristina bought some adorable hand painted small dishes to use for photo props.  I found a few items too, my favorite being a hand carved and polished pizza cutter.  It was not just any pizza cutter, it was a mini work of art!  I wish I had a photo of it to show you, but in my hurry to pack at one point in the trip, I forgot to put it in my checked luggage and it ended up in my carry-on in a bag with something else.  So of course security confiscated it and I lost my one-of-a-kind pizza cutter forever.
We arrived at the restaurant just as everyone was sitting down and enjoying some incredible breads.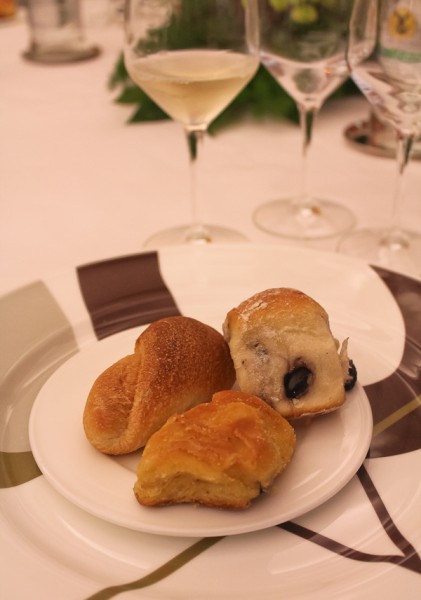 The first course was one of my favorites, tuna tartare.  It was made from red Mediterranean tuna with a cream of young Maglie sheep's cheese, served on a salad of semolina gnocchetti and courgettes in flower.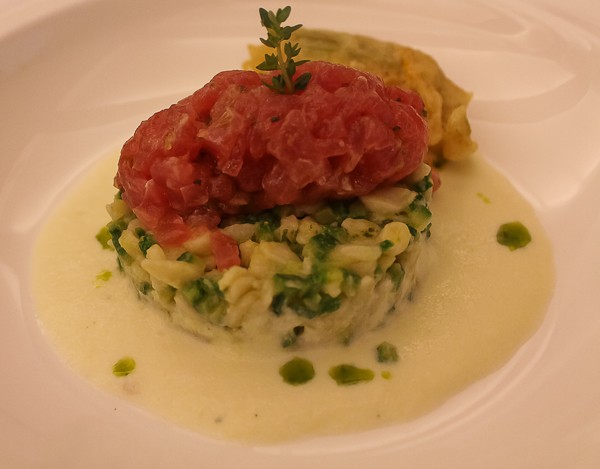 Next was "Carnaroli" rice cooked in a seafood stock with saffron and purple Gallipoli shrimp.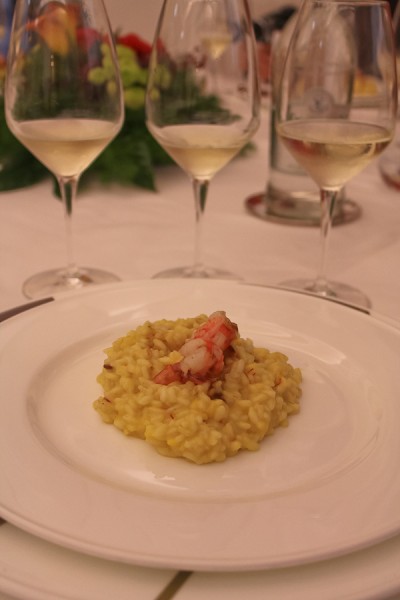 A pork dish followed which was a loin of suckling pig stuffed with "cardoncello" mushrooms and chopped lard, cooked in a wood-fired oven, on a puree of fava beans, with wild chicory and extra virgin olive oil.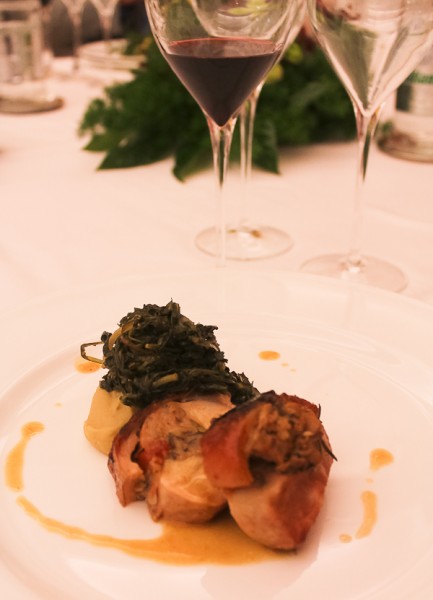 The dessert was an almond and walnut millefeuille with a dark "Manjari del Madagascar" chocolate, chili pepper, and "Ferrovia" cherry mousse.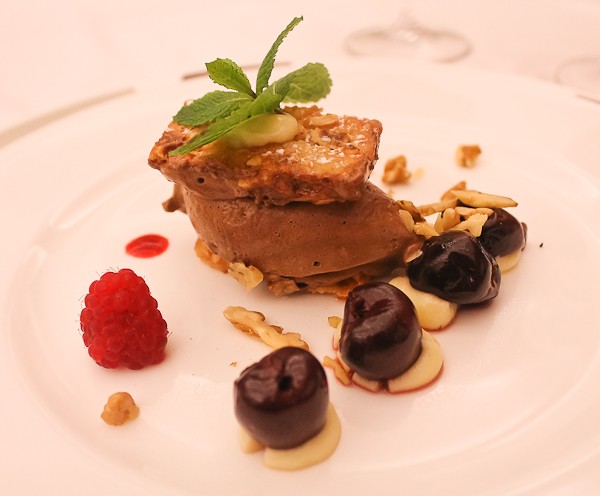 We left the restaurant happy and full and practically fell into bed after our long day.  The next day our group would be leaving the hotel at 8:45 to board a plane in Brindisi for a flight to Sicily.  Little did I know that Sicily would be the place where I would feel more at home than any other place we would go.