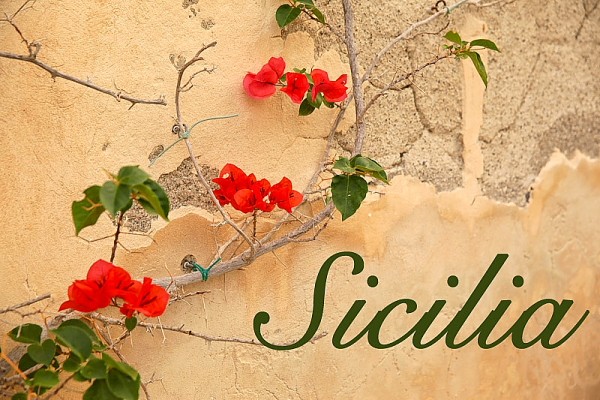 I could do nothing but post my photos of Sicily here and you would fall in love with it.  Sicily doesn't even need words.  Funny, I always thought if I ever visited Italy, Sicily would not have been high on my list.  I might have said Rome, Florence, or the Almalfi Coast.  But how grateful I feel to have experienced Sicily before all those others.  Something about Sicily enveloped me and heightened all my senses.  It was like the whole country gave me a hug.  I have no Italian heritage at all, but I didn't question it, I cherished it.
Our flight arrived in Catania and our group then boarded a bus for a two hour ride deep into Sicily, to Feudo Principi di Butera.  It is an estate that once belonged to noble families including Sicily's first prince, Ambriogio Branciforte, who lived there in 1543.  King Phillip II of Spain bestowed the title of Prince of Butera on Branciforte.  The Zonin family acquired and restored the estate, for its hilly terrain, proximity to the sea, optimal elevation, and abundance of sunlight, combined with rich soil, all which provide ideal conditions to yield outstanding wines.
On the bus ride, we passed Mount Etna and numerous small towns, which I loved.  Residents were always on bicycles with loaves of bread hanging off their backs or in baskets, or sometimes the baskets were filled with fresh produce.  Children played in the streets and nuns in full habits walked around with the wind billowing their clothing.  I will never forget one sight that I only had for an instant out the bus window.  It was a middle-aged nun wearing the whitest, brightest habit I have ever seen, almost glowing.  She looked like an angel walking down a small cobblestone side street with her head held high.  How I wish I could have captured her in that moment.  It will just have to live in my mind.
We finally reached Butera and drove up the long road and entered through a gate that led right into a courtyard.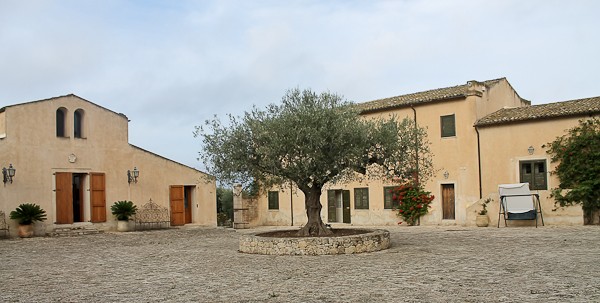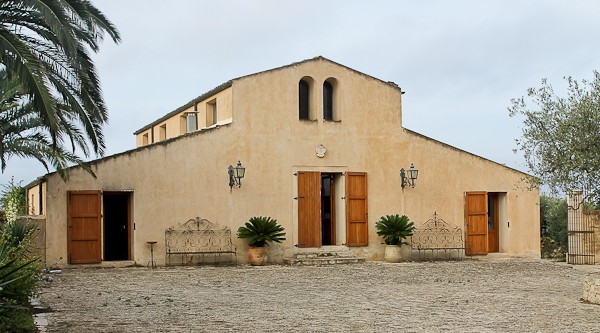 This main building would soon be the site for our wine-tasting and dining area, but first we had to check into our rooms.  Off to the sides of the main building in a L-shape were the rooms and residences.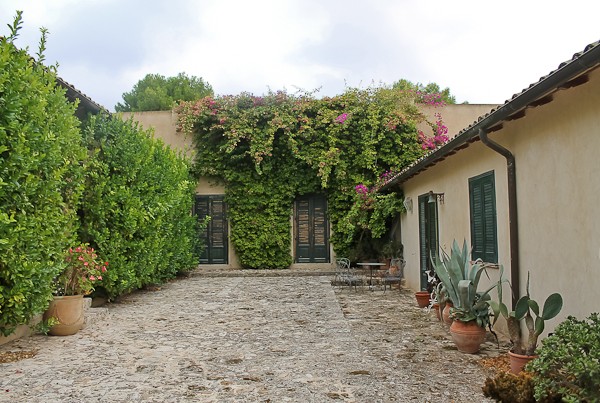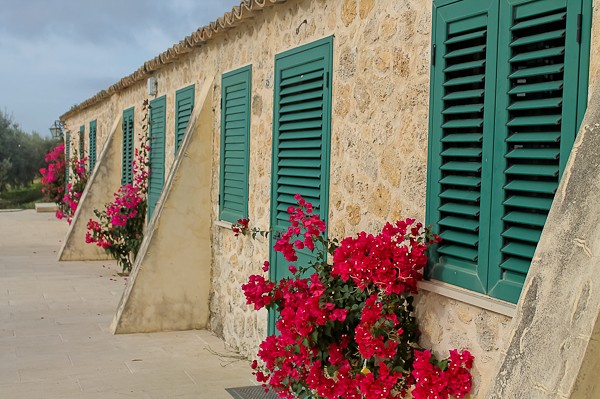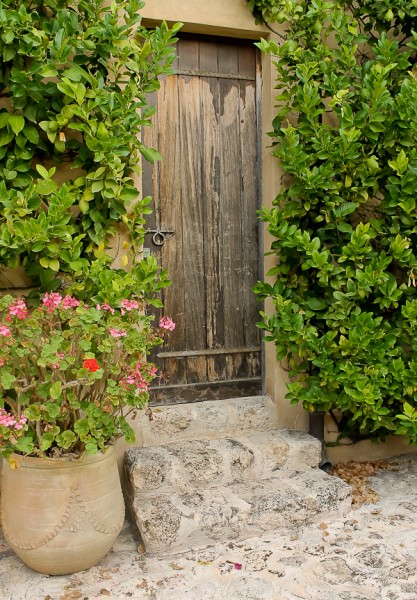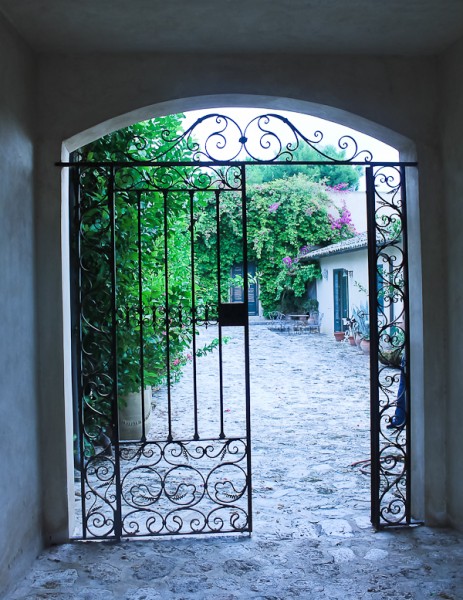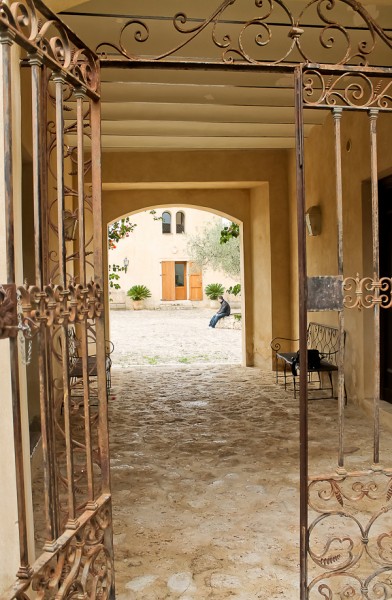 We found our room through this gate.  Just inside was a little sitting area and small cozy kitchen with beautiful hand-painted tiles and dishes.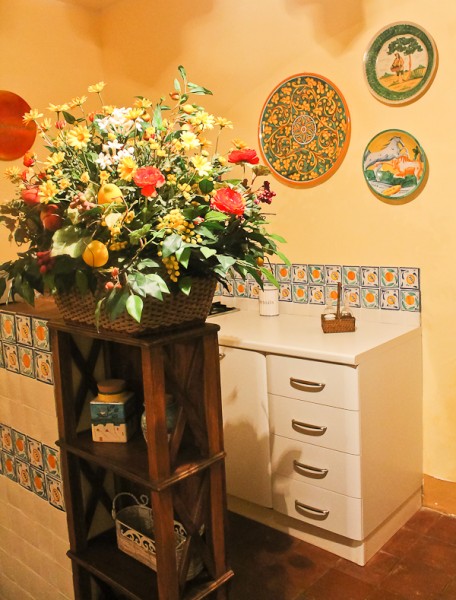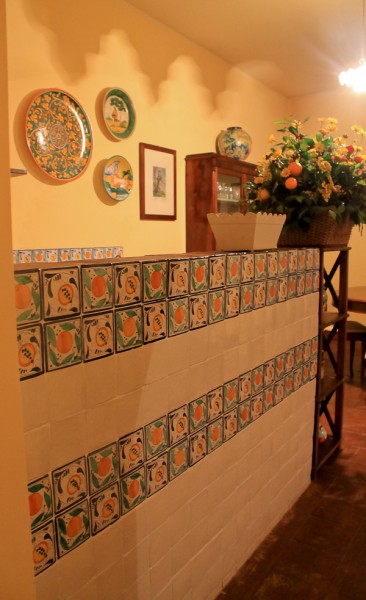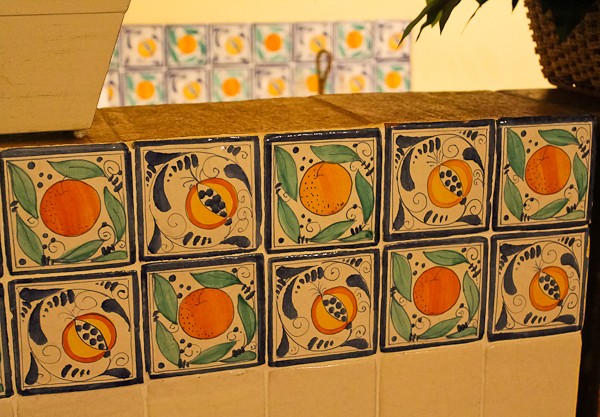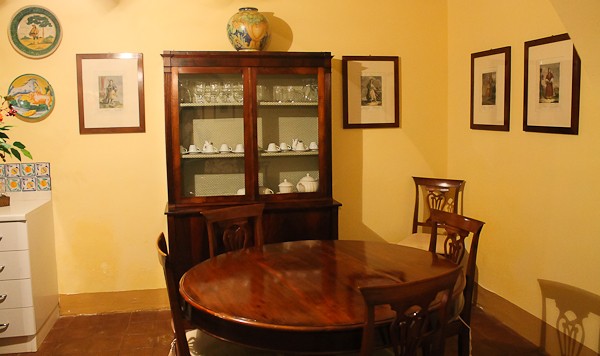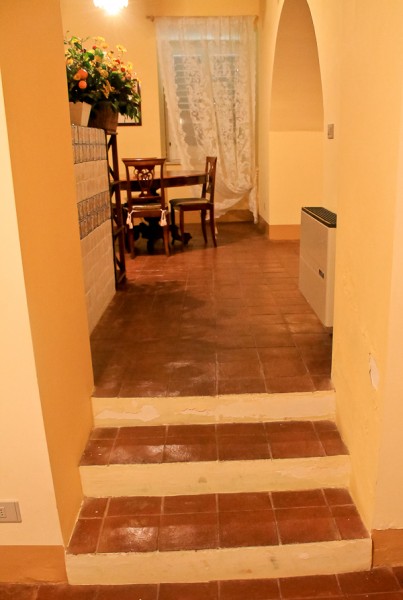 To the left of the steps was our room.  It was just as charming as the kitchen.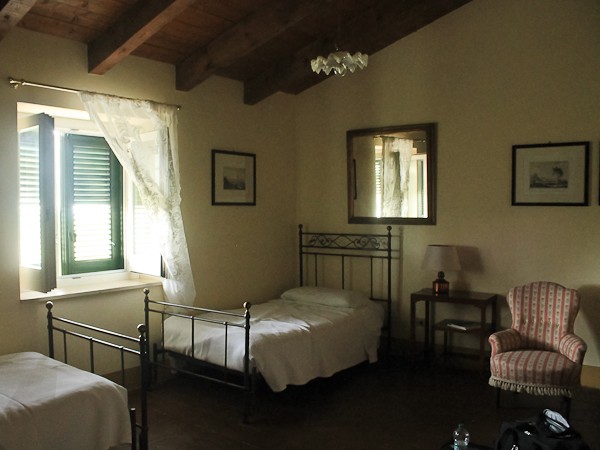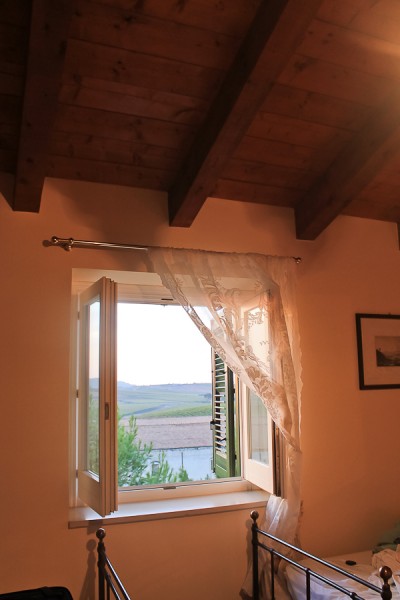 As you can imagine, Mother Mary is seen everywhere in Sicily.  There was a painting of her on tiles propped up on our dresser and I couldn't resist sitting her in the window for a photo.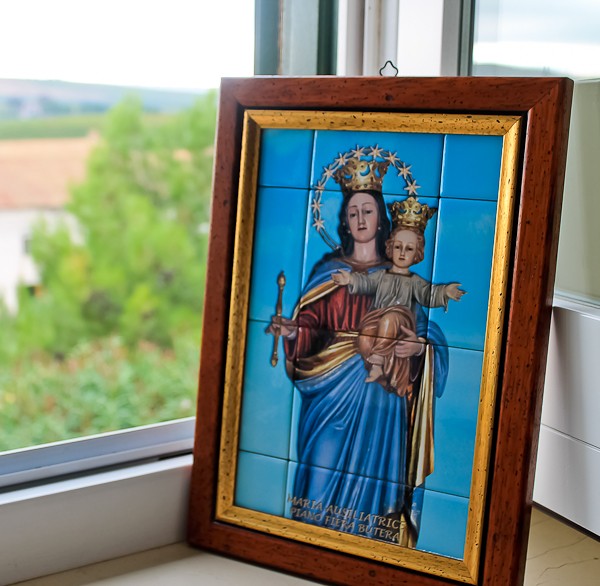 After we unpacked for our stay, we headed for the main building for our wine-tasting and dinner to follow.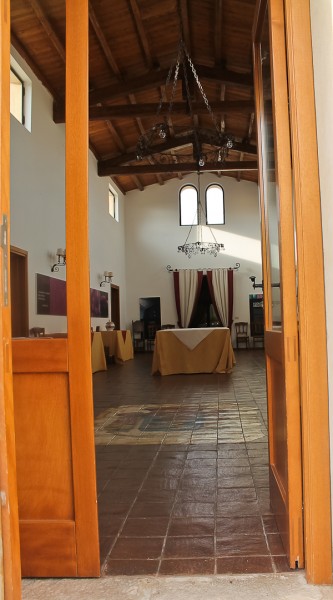 Wine-Tasting Room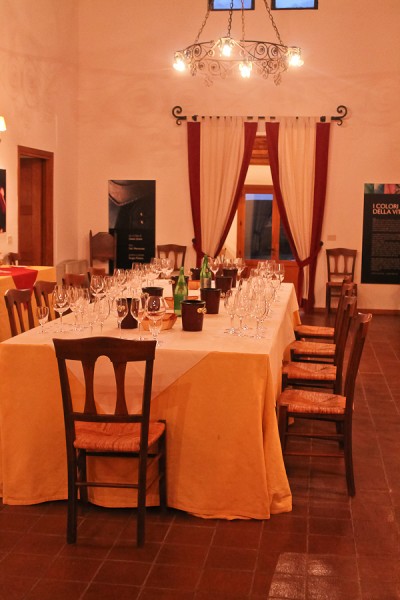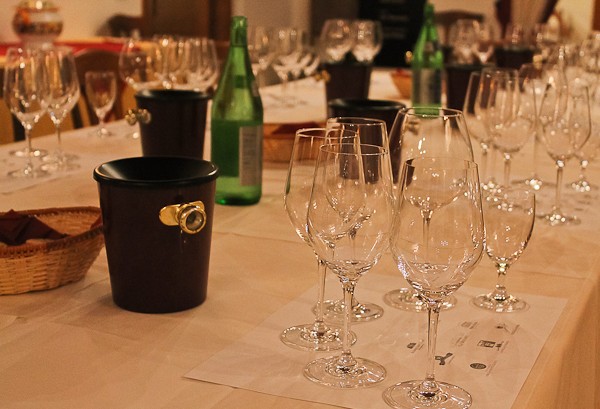 After well over an hour of learning about the incredible wines, we moved to the dining room.  There was more wine, and my favorite, Prosecco!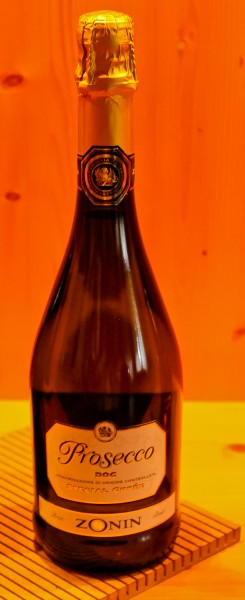 The dining room filled with gorgeous dishes and furniture.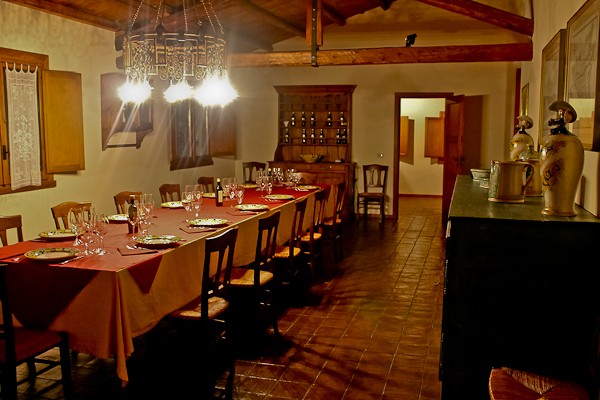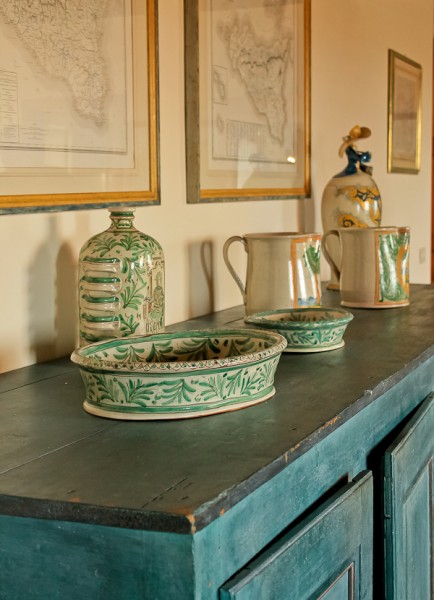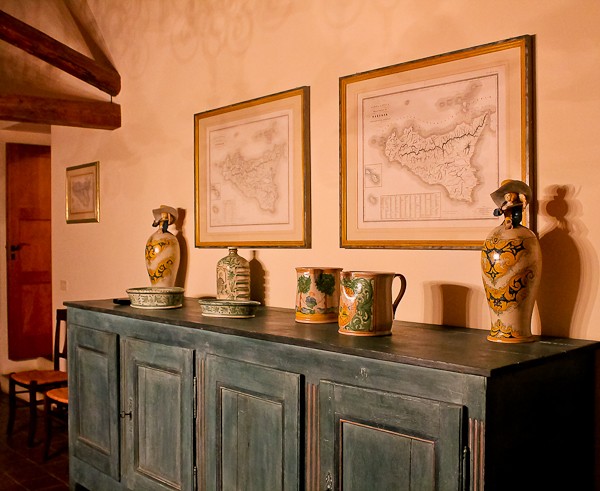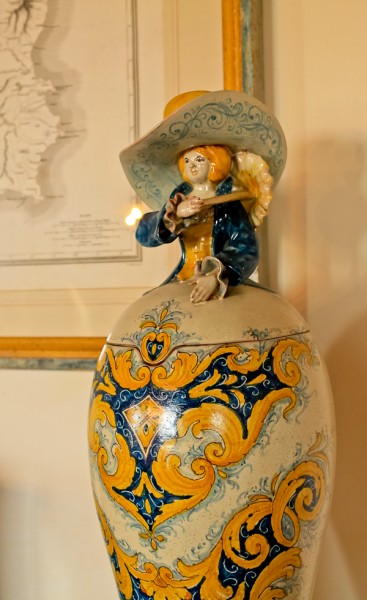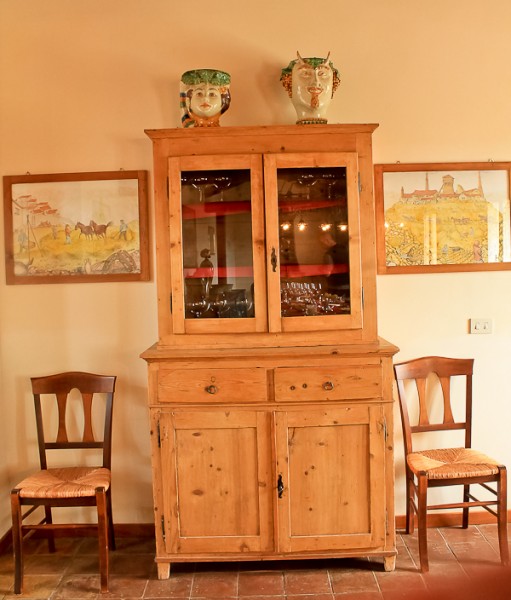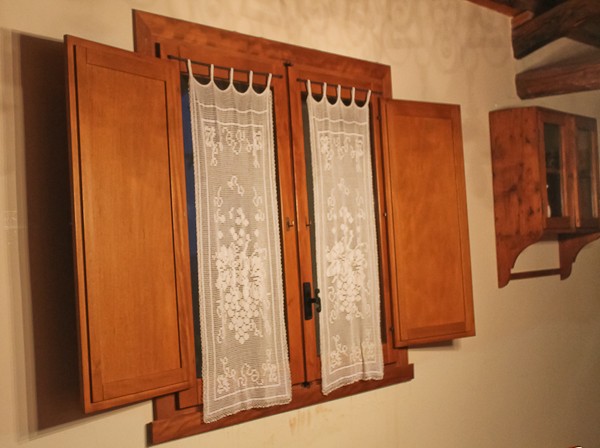 Dinner was served the Sicilian way, family style.  The dishes were all passed around and enjoyed immensely with more of our favorite wines.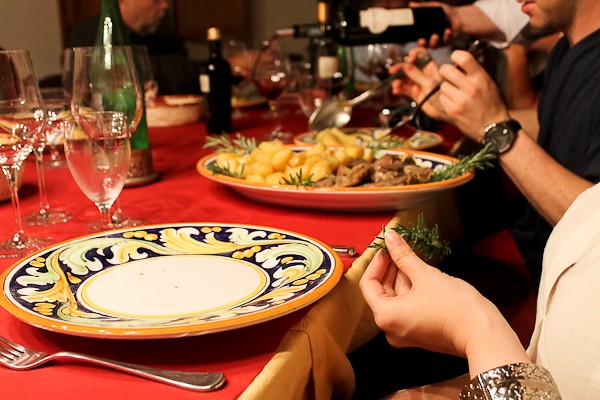 I love this-  you can see Kristina getting ready to add more rosemary for a photo on her plate!  She's always working! The lamb was delicious.  (keep that rosemary in your head because wait until the next blog when rosemary comes up again!)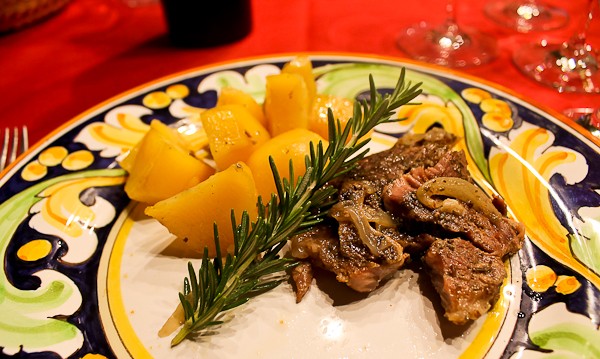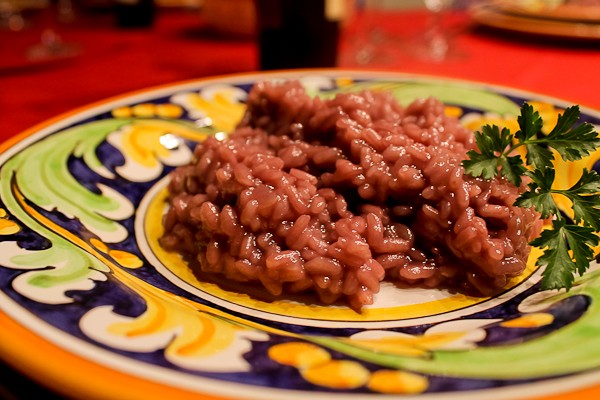 Red wine risotto!  Bellissimo!
Some of our favorite wines: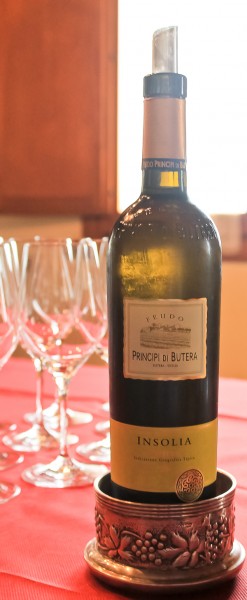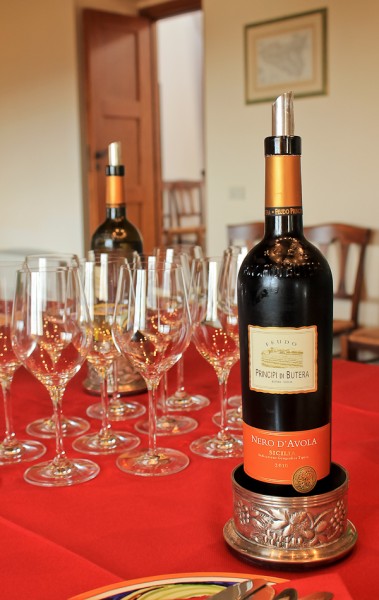 After that wonderful meal of great food, wine, and company, everyone retreated back to their rooms.  Even though Kristina and I were tired, we were still a little jet-lagged and would wake up early in the mornings.  It turned out to be a joy to wake up and see the sun coming up through our shutters and lace curtains.  These are a couple of my favorites from the trip.  I think I took at least a few dozen!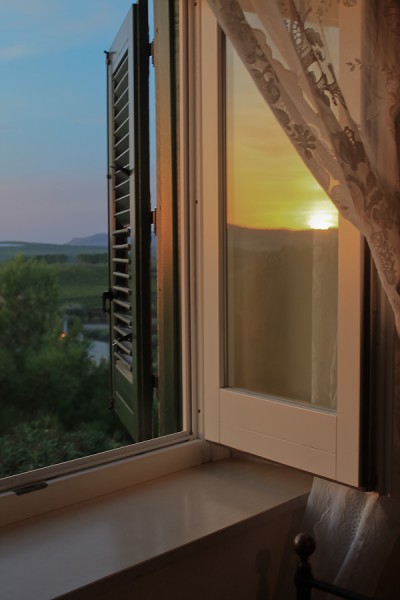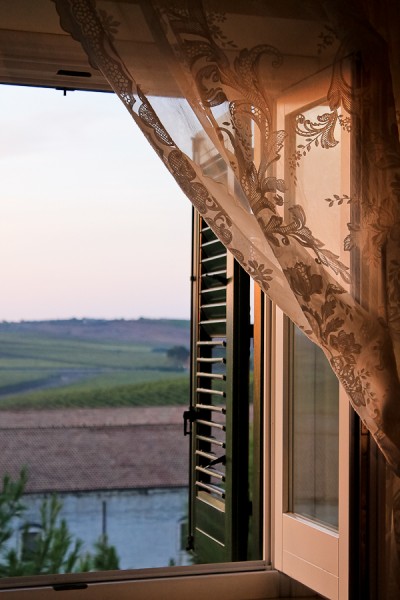 Next up will be an early start on our tour of the Butera winery, and of course more food and wine.  Are you hungry yet?