For all you Julia Child fans, you are probably thinking Julia and Paul refers to Julia and her husband Paul.  The Julia part is right, the Paul is a different Paul. So what do they have in common?  Julia and Paul were birthday gifts yesterday from my daughter Kristina.  First of all, check out Julia's iconic book: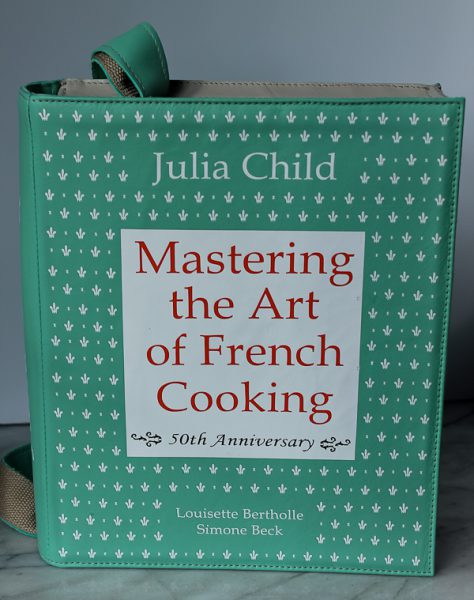 But wait… are you sure that is Julia's cookbook?
Looks like it, right?  That's what I thought when I first opened the box Kristina mailed to me, until I picked it up. Then I knew it wasn't a cookbook; it wasn't heavy enough.  You'll never guess what it is.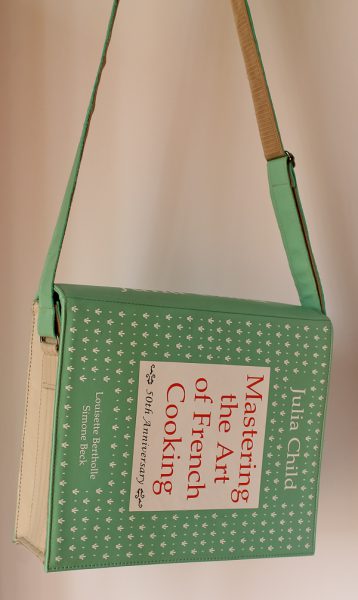 It's a purse!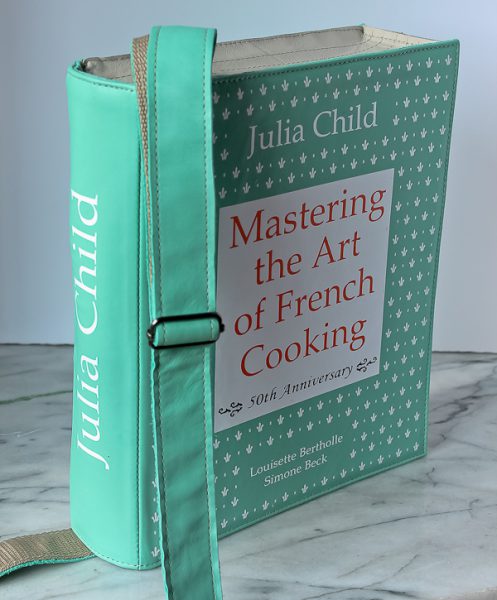 Can you believe it?  I've never seen anything like it!  It's so beyond cool.  I called Kristina immediately and asked where she found it.  Turned out she had it custom-made from Russia!  Kristina was looking through etsy and found a woman who custom-makes handbags to look like book covers.  All Kristina had to do was send her the image she wanted and voila!  There is Julia!  It's a fairly good-sized shoulder bag, sturdy, and good stitching.  In fact, the sides are stitched to look like pages in a book: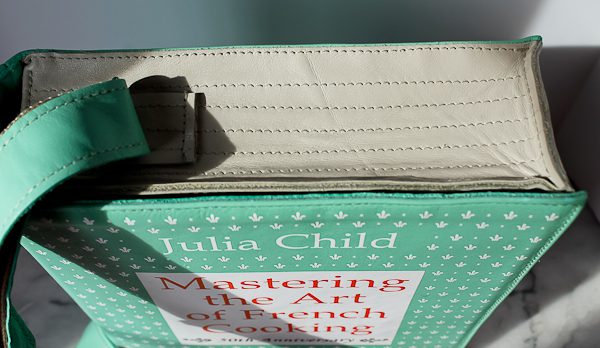 I went into my Culinary Cellar and found this copy of Julia's book.  Different volume and color, but looks basically the same!  You can also find more photos and info about the artist on Instagram and Facebook.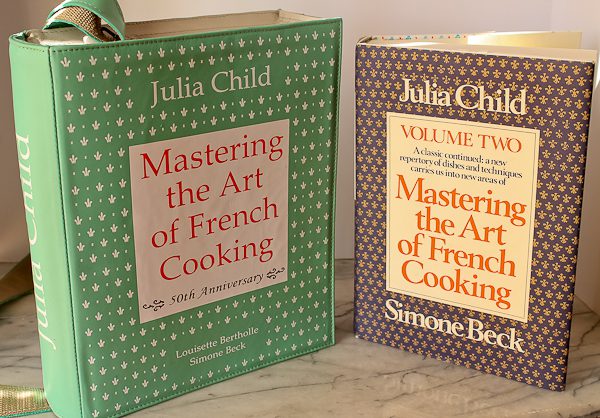 Just when I thought nothing could be more exciting than this, Kristina called a few hours later.  "Mom, are you sitting down?"  Yes, I said.  "No, I mean are you really sitting down?"  I assured her I was.  Kristina then took a deep breath and yelled – "WE ARE GOING TO A PAUL MC CARTNEY CONCERT!!  Me:  silence.  Then, WHAT????  My childhood-dream-come-true happens on my 64th birthday.  How strange is that?  I even matched the Beatle song.  So on August 7th, Kristina and I will be going to New Jersey to see Sir Paul and listen to him sing all the old Beatle songs.  I still can't believe it.  I won't be carrying my Julia purse to the concert, but I might tuck a few of my old Paul bubble gum cards that I've had since 7th grade into my pocket.
The Paul and "When I'm 64" references still had not stopped as far as gifts were concerned.  Bill wanted me to open my  gift from him and had me sit down at the kitchen table.  He placed in front of me a Waterford crystal box and a copy of the lyrics to the "When I'm 64" song.  A note alongside said, "From Sergeant Pepper."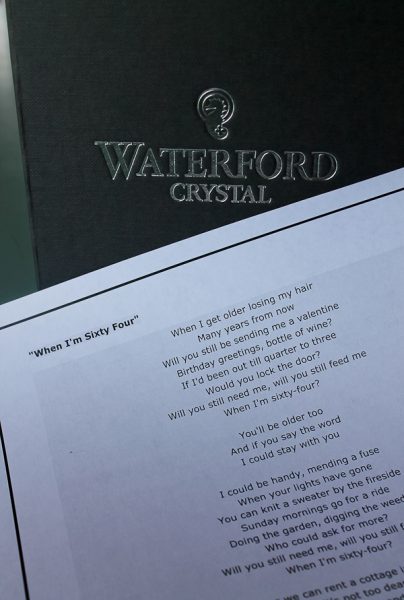 You can guess what was inside – salt and Pepper shakers!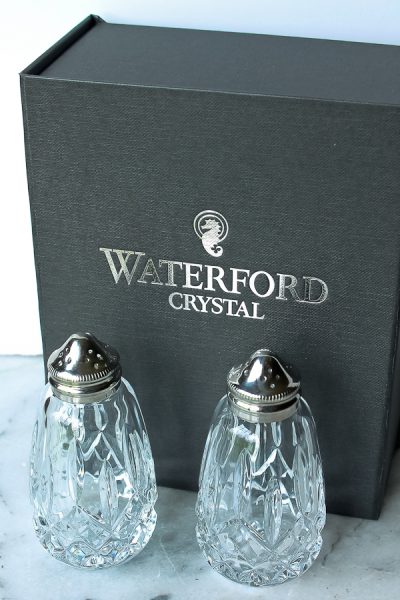 I have been wanting to add these to my Waterford Lismore set for a long time.  He also bought a couple of water goblets I needed to make an even number but they are on back order.
Bill then said he had one other surprise.  He pulled out another sheet of paper with his own version of "When I'm 64" which reads as follows:
When You're 64
I will still need you forevermore when we're 64;
I will be handy cutting the grass and plowing the snow;
I will send you a Valentine, buy a bottle of wine, and always have a birthday cake.
Who could ask for more?
Give me an answer; are you mine forevermore?
If you still need me, will you still feed me, when we're 64?
Love,
Your Bill
I'd say I have a pretty sweet guy, don't you?
I also have a very sweet mom who sent me tulips!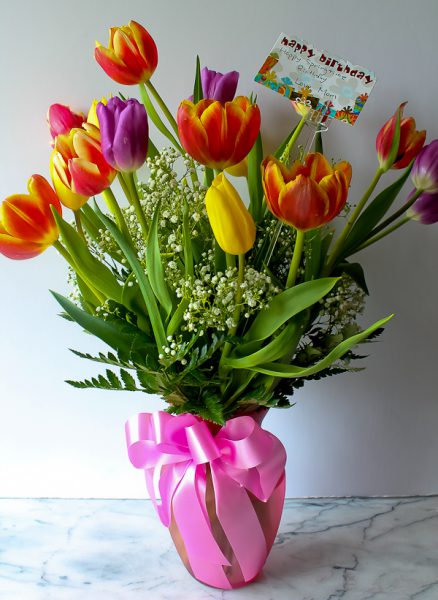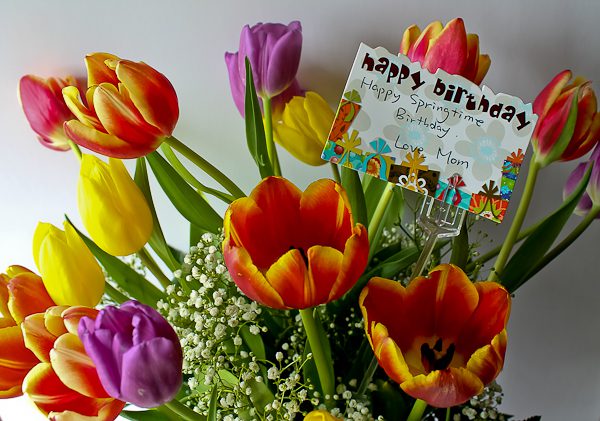 And a sweet daughter Kara who sent me a beautiful trio of small Finnish Iittala dishes, perfect for photographing items on the blog.  I love the different shapes!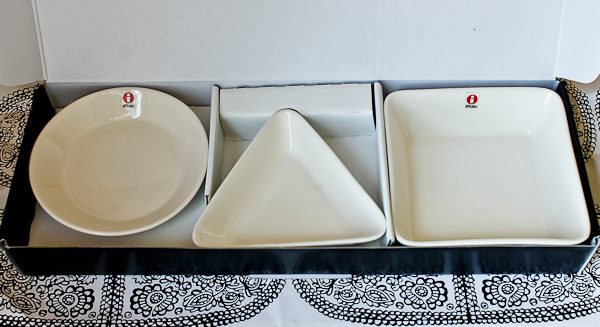 It was a wonderful birthday.  Thank you to everyone for the dozens and dozens of messages on Facebook, the phone calls and cards sent, and the caring and love attached to them.  You are all the best!