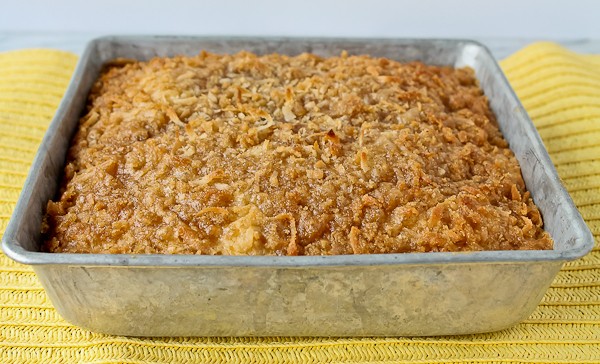 My husband is fond of coffee cakes, sweet rolls, or anything on the sweet side for the weekends.  I found this easy Pineapple Coconut Coffee Cake recipe yesterday in the pile of vintage recipe clippings I bought last month at Bonnie Slotnick Cookbooks.  I have a feeling I will be making many items from those recipes over time.  There are so many, I should just draw one from a hat each week!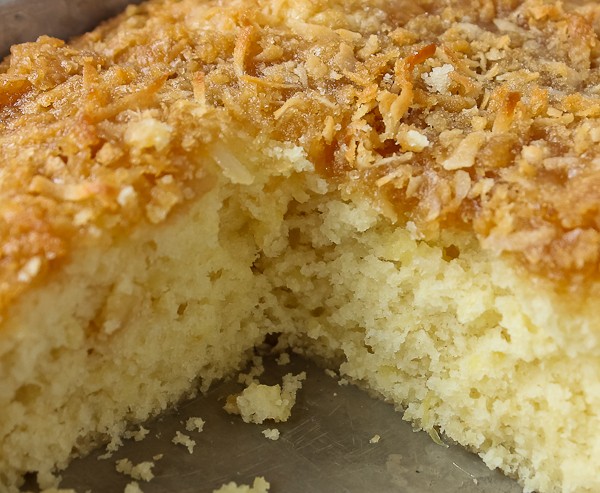 This one turned out to be a good choice.  The coffee cake goes together in minutes and is very moist and wonderful.  It uses a can of crushed pineapple with the juice in the cake.  The topping is a streusel of coconut, brown sugar, butter, and flour.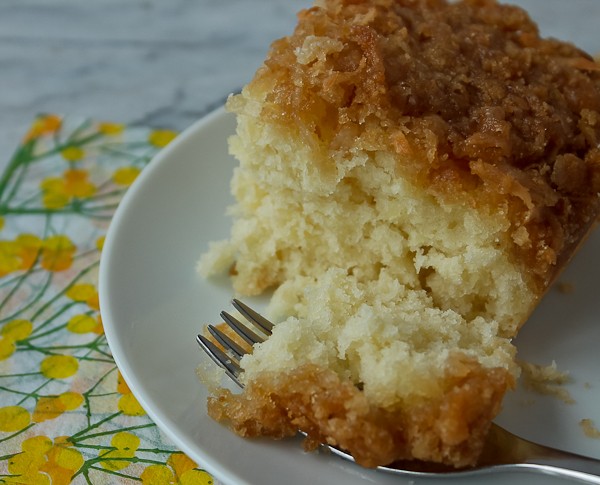 It can be served warm or at room temperature.  Serve alongside a bowl of fresh fruit and some hot coffee or cup of tea.  Guaranteed to make you smile!

Pineapple-Coconut Coffee Cake
Ingredients
Coffee Cake:
1 egg
½ cup granulated white sugar
¼ cup (4 Tablespoons) unsalted butter, melted and cooled
1 can (8 ounces) crushed pineapple in its own juice, undrained
1-1/2 cups all-purpose flour
2-1/2 teaspoons baking powder
½ teaspoon salt
Coconut Topping:
½ cup sweetened flaked coconut
½ cup packed light brown sugar
2 Tablespoons all-purpose flour
2 Tablespoons cold unsalted butter, cut into bits
Instructions
For Coffee Cake:
Heat oven to 350 degrees. Grease and 8-inch square baking pan; set aside.
In bowl of electric mixer, beat together egg, white sugar, melted butter, and undrained pineapple until well blended.
Add 1-1/2 cups flour, baking powder, and salt. Mix until well blended. Scrape into prepared baking pan and smooth evenly; set aside.
For Topping:
Place coconut, brown sugar, and 2 Tablespoons flour in small mixing bowl. Toss to combine. Add the 2 Tablespoons butter and using a pastry blender or your fingers, mix gently together to incorporate butter until crumbly. Sprinkle mixture evenly over coffee cake batter in pan.
Bake at 350 degrees for 30 to 35 minutes or until a cake tester comes out clean in the center. Remove to wire rack to cool. Serve warm or room temperature. Cut into desired size squares to serve.